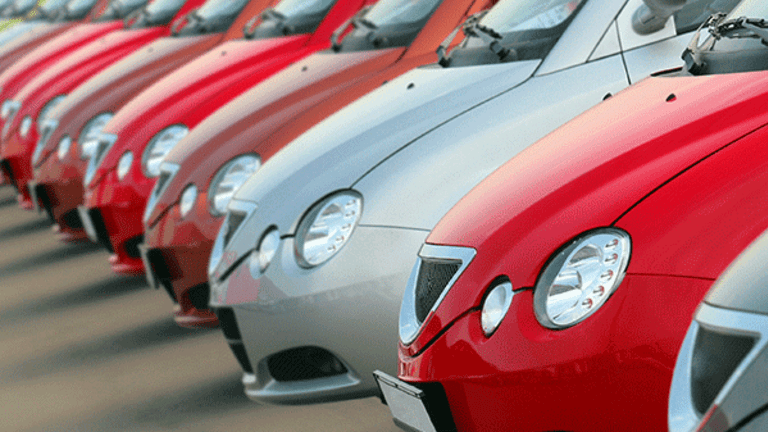 European Auto Stocks Rise on Strong Registrations; VW Gains Market Share
German auto firms post solid volume gains, but Renault leads the pack.
European auto stocks rose broadly Thursday after industry data showed most major manufacturers recorded strong growth in new vehicle registrations last month, according to the European Automobiles Manufacturers Association.
VW (VLKAY) posted its second consecutive month of market share gains, despite some slippage for the core Volkswagen brand, with group registrations up 6.3% for the month and 2.9% year to date, according to AECA data. It's overall market share edged up 20 basis points to 24.8% for the month.
Other German car manufacturers also saw growth, with Daimler (DDAIF) registrations up by double digit for both November and the year to date while its market share also jumped 20 basis points in November to 6.3%.
BMW (BMWYY) was also a double digit gainer in terms of registration volumes, with market share up by 40 basis points to 7.2% in November.
VW stock rose by 0.2% in early trading to €137.5 ($145.22) Daimler stock was up by 0.3% to €69.31 while BMW fell by 0.7% to €88.75.
The Stoxx Europe 600 Automobiles & Parts Index traded 0.3% higher at 535.51 by 09:20 GMT, trimming the year-to-date decline to 5.23%.
While the German advance on Europe continued to bear fruit in the recent month, France's Renault (RNSDF)  topped the board with November registrations rising 16.5% and its market share rising 100 basis points to 10.6%. The stock gained 1% to trade at €83.72 by 10:30 Paris time.
The big loser among European car firms from the recent month's trading, however, was Peugeot maker PSA (PEUGF) , which saw registrations fall by -4.2% in November, while its market share lost 100 basis points when it fell to 9.2%. PSA stock rose by 0.4% to €15.5.
At the continental level, registrations in EU countries jumped by 1.1 million units for the month, representing growth of 5.8%. Spain was the biggest contributor to gains in the latest month, with registrations up by 13.5%.
For the year to date, the number of new vehicles registered in EU countries grew by 13.5 million units, representing an increase of 7.1%. Both Italy and Spain were the predominant drivers of gains for the year to date, with registrations rising by 16.5% and 11.1% respectively.
The latest figures come against a backdrop of increased political scrutiny of VW and the emissions scandal involving Volkswagen cars.
The European Commission said last week that it is investigating a number of countries over their alleged failure to implement legislation that will allow them to prosecute or fine companies like VW, when they are found to have flouted environmental regulations.
It also said that it could refer both the U.K. and Germany to the European Court of Justice over their respective failures to impose fines on VW, despite having the legislative means to do so, and took issue with refusals to share information gathered during the course of their investigations.
The numbers also come as European car manufacturers and their global counterparts scramble to prepare their businesses for the much vaunted arrival of electric cars and autonomous vehicles.
VW announced in November that part of its turnaround strategy will involve major changes to its operational infrastructure and its workforce designed to help it adapt to a world where manufacturing operations are centred on the production of electric engines as opposed to those that operate on traditional diesel fuel.