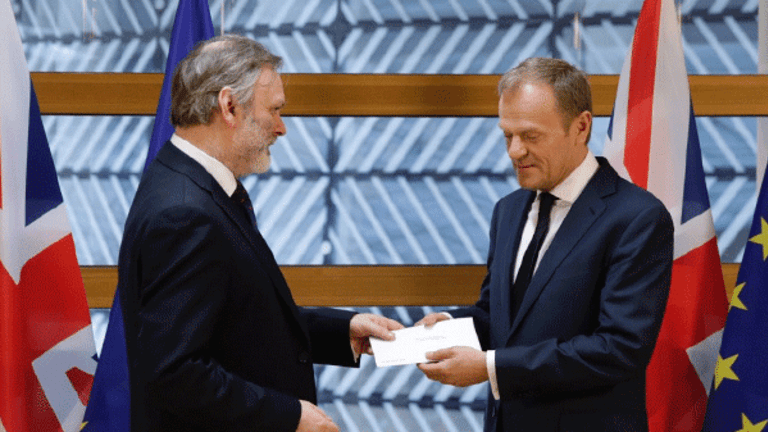 Publish date:
Europe Lays Out Approach to Brexit Negotiations
Pound weakens as EU lays out Brexit negotiation guidelines.
Pound weakens as EU lays out Brexit negotiation guidelines.
The European Union on Friday laid out its plan for Brexit negotiations, saying parallel divorce talks and trade negotiations would not take place, weakening the pound.
In a document the leaders of the remaining 27 nation bloc said there will be no talks on the U.K.'s future relationship with the EU until "progress" had been made on the exit.
The EU's overall objective in the negotiations will be to preserve the Union's interests, those of its member states, its citizens and its businesses.
The first phase of the negotiation will be to settle the U.K.'s exit from the union. The EU put emphasis on providing clarity to European citizens, businesses, stakeholders and international partners early in the negotiations.
The guidelines come in response to British Prime Minister Theresa May formally starting Brexit negotiations on Wednesday, when she triggered Article 50. On Thursday, the British government introduced the Great Repeal Bill, which will begin the process of unravelling the U.K.'s laws from those of Europe.
The pound weakened following the release of the plan. It was 0.24% down against the greenback at 11 am in London at $1.2437, as the EU also took a hard line of a possible transitional period.
"Once, and only once we have achieved sufficient progress on the withdrawal, can we discuss the framework for our future relationship. Starting parallel talks will not happen," European Council President Donald Tusk said in a press conference.
The council will closely monitor the process and determine when sufficient progress has been made to move on to the next stage of negotiations.
The plan also outlined a tough stance on any transitional period, saying that any transitional arrangement must be clearly defined, limited in time and subject to enforcement mechanisms.
"Should a time-limited prolongation of Union acquis be considered, this would require existing Union regulatory, budgetary, supervisory and enforcement instruments and structures to apply," the document said.
Tusk said the he expected the talks to be difficult, complex and "sometimes confrontational. He stressed, "The EU will not pursue a punitive approach ... Brexit itself is already punitive enough."
An EU official told Bloomberg that negotiations will begin on May 22 and any meeting until then would be about planning.