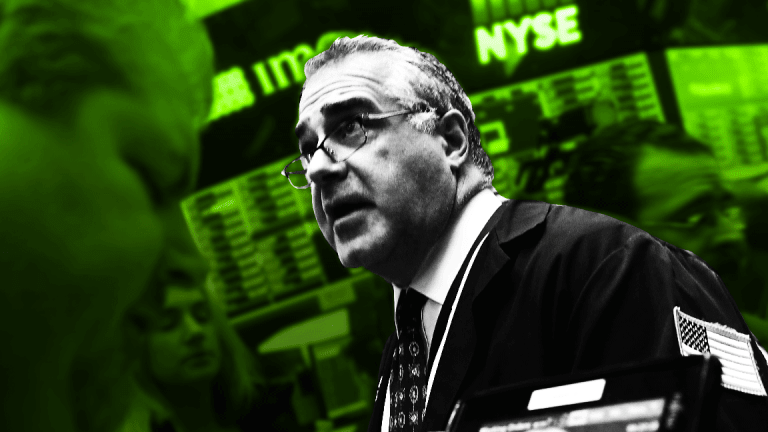 U.S. Futures Up, Global Markets Mixed on Geopolitical Tension
Oil remained near a three-year high despite falling back slightly on Thursday.
Here Are 3 Hot Things to Know About Stocks Right Now
Wall Street futures were gaining ground with the Dow expected to jump 116 points when markets open. 
BlackRock Inc. (BLK) shares gain in premarket trading after earnings per share for the quarter topped estimates.
General Electric Co. (GE) shares gained on reports that it was exploring exploring a public offering for one of its divisions and discussing hybrid deals with companies to combine assets.
Markets Overview
Wall Street futures were gaining ground in the early hours Thursday, April 12, amid escalating tension in the Middle East and signals from the Federal Reserve about the direction of its monetary policy.
At 7:30 am ET the Dow Jones Industrial Average is expected to jump 116 points when markets open. S&P 500 futures tied to June contracts were up 0.47% and Nasdaq futures up 0.57%. Stocks finished lower on Wednesday after President Donald Trump hinted the U.S. could intervene in the Syria crisis.
However, Trump on Thursday attempted to quell concern about a possible attack, tweeting that he "never said when an attack on Syria would take place."
General Electric Co. (GE) was up 077% in premarket to $13.10 after the Wall Street Journal reported that the company is exploring a public offering for one of its divisions and discussing hybrid deals with companies to combine assets as part of a strategic review announced nine months ago. 
BlackRock Inc. (BLK) shares surged 2.32% in premarket trading to $537.50 after the world's biggest asset manager reported first-quarter earnings and revenue that surpassed analyst expectations. BlackRock reported earnings per share of $6.70 a share and revenue of $3.58 million, while assets under management came in at above $6.3 trillion.
Facebook Inc. (FB) shares were up 1% in premarket trading following two days of testimony by CEO Mark Zuckerberg in front of U.S. lawmakers. Over the course of Zuckerberg's 11 hours of congressional testimony on Tuesday and Wednesday, Facebook's market cap increased by about $17.3 billion - or roughly $1.57 billion an hour, according to TheStreet's Francesca Fontana.
Delta Air Lines Inc. (DAL) saw shares fall 0.7% in premarket trading after it reported net income fell $547 million in the first three months of the year, despite reporting a 9.5% rise in quarterly revenue, driven by higher average fares and passenger traffic.
European markets were lacking direction on Thursday, with London's FTSE 100 was up 0.04% to 7,260 as Prime Minister Theresa May looks prepared to support a U.S.-led attack on Syria, saying, "all the indication are that the Syrian regime was responsible" for a chemical attack in the country last week. May will convene an emergency cabinet meeting Thursday afternoon to discuss the possibility of strikes.
France's Cac 40 was up 0.25% at 5,285 and Germany's Dax gained 0.45% at 12,349.
Norwegian Air Shuttle ASA (NWARF) gained more than 40% after reports that British Airways owner International Consolidated Airlines Group (ICAGY) was considering making a bid for the low-cost airline, which operates routes from Europe to the U.S. IAG already holds a minority stake in the airline and considers its an "attractive investment." 
Shire plc (SHPG) climbed to the top of the FTSE 100, rising 2.77% to 3,689 pence on reports that Takeda Pharmaceutical Co. (TKPYY) had spoken to major creditors about loans to finance a possible bid for the rare-disease specialist. An offer, which has to made by April 25, under U.K. takeover law, could top $40 billion. The company's American Depository Receipts stocks were up 3% in premarket trading. 
Greyhound bus operator Britain's FirstGroup plc (FGROY) surged to the top of the FTSE 250, gaining 9.5% to 111 pence a share after it said it had rejected a takeover offer from private equity firm Apollo, saying that it "fundamentally undervalues the company and is opportunistic in nature."
Investors are also mulling signals from the Fed how when and how often it plans to raise rates. Minutes from last month's meeting showed greater confidence that inflation would rise to their 2% target over the coming year.
Asian markets were down on Thursday, Japan's Nikkei lost 0.12% and the Topix was down 0.39%. China's Shanghai Composite Index fell 1.01% lower and Hong Kong's Hang Seng was down 0.73%, while South Korea's Kopsi lost 0.06%.
Oil dipped slightly on Thursday after hitting a three-year high on the tensions in the Middle East. The West Texas Intermediate was down 0.24% to $66.66 a barrel and Brent Crude lost 0.62% to $71.61 a barrel.
Gold fell 0.67% to $1,344.31 an ounce its first fall in a week. 
The yield on 10-year Treasuries were steady at 2.77% and the dollar was up less than 0.05% against a basket of currencies.
The Dow Jones Industrial Average lost 218 points, or 0.90%, on Wednesday. The S&P 500 fell 0.55% and the Nasdaq declined 0.36%, after Trump traded barbs with Russia over Syria.
In a tweet Wednesday, Trump said: "Russia vows to shoot down any and all missiles fired at Syria. Get ready Russia, because they will be coming, nice and new and 'smart!' You shouldn't be partners with a Gas Killing Animal who kills his people and enjoys it!"