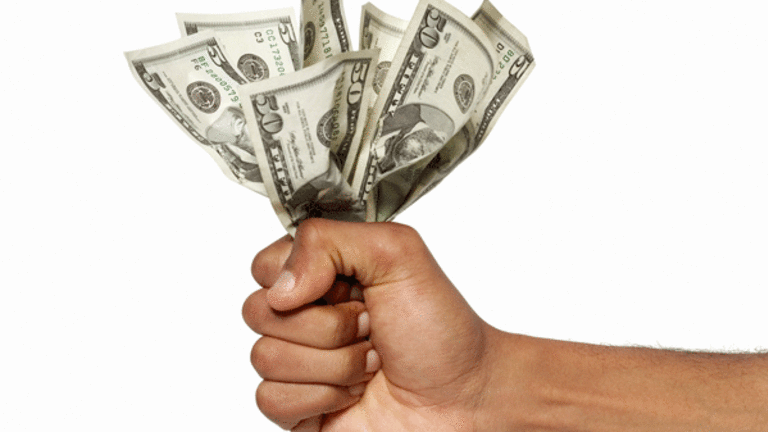 Euro-Dollar Parity Is Now the New Economic Normal
The dollar's strength simply reflects the strength of the U.S. economy.
NEW YORK (Real Money) -- The euro has been falling through support after support lately, threatening to hit parity with the dollar. And why not? The dollar was stronger than the single European currency all those years ago right after the euro was launched, and there really is no reason why it shouldn't be stronger than the euro now.
In economic terms, the U.S. is a stronger economy. It is bigger in absolute terms than the eurozone, too -- GDP in the euro area was $12.7 trillion in 2013 vs. $16.7 trillion in the U.S. -- and it has been recovering much quicker from the financial crisis that started in 2007.
If the Federal Reserve starts raising interest rates in the summer, as more and more analysts expect it to do, it will be the best proof that the U.S. has left that crisis behind. The weak dollar has had a lot to do with the recovery -- by printing money, the Fed has helped the U.S. government issue more debt and therefore put more money in the economy. It has also boosted exports.
But besides the easy monetary policy and the lax fiscal one, the U.S. has had other advantages that played an important part in its recovery and that are impossible to replicate in the eurozone. Just a few examples: a flexible labor force, with easier hiring and firing of workers (consequently, it is much easier for people to jump from one job to the next), fiscal union with a federal budget, and a common language, which means workers can move easily from state to state searching from work.
Apart from these structural differences, there are differences in business environment as well, with much less red tape and regulation clogging business processes in the U.S., and a go-getter mentality that is sometimes missing from Europe's largest economies. This mentality has encouraged investing in shares in the U.S., where retail investors help allocate capital efficiently and therefore help the economy move on. In the eurozone, by contrast, savers usually prefer passive savings accounts to shares, so stock markets are usually much smaller, sleepier places.
There are indeed some green shoots in Europe, with macroeconomic data such as investors' confidence, PMIs, unemployment and retail sales improving everywhere, even in the periphery countries. However, much of this has to do with the effects of a weaker euro, rather than with a fundamental strengthening of the eurozone's economy. RBS's strategist Alberto Gallo has illustrated the link between the weaker euro and the economic surprise index for Europe as calculated by Citigroup in a chart:
Gallo said that the markets could have been getting "a bit overoptimistic" on Europe. "To get a long-lasting recovery, Europe needs investment in the real economy, lending and hiring," he said. "And investment, which fell 18% since the crisis, is still flat."
The European Central Bank started buying sovereign bonds on Monday, and this had an immediate effect on bond prices, which rose -- especially the prices of bonds issued by core eurozone countries. Various market participants said the ECB had bought mainly German, French, Dutch and Belgian sovereign bonds. (The ECB did not comment on its purchases; it is due to publish detailed breakdowns of its program once a month.)
There were some economic data on Monday and Tuesday that had been expected to provide more clarity on the eurozone recovery -- but in fact they prolonged the uncertainty. The Sentix index of investor sentiment came in at 18.6 points in March, the highest level since August 2007, signaling strong confidence.
French industrial output surprised on the upside, rising by 0.4% in January compared with expectations of a fall of 0.3%. Automobile production and energy output showed strong rises, helped by the weak euro and lower energy prices. This points to a continuation of France's economic recovery, but the same thing cannot be said about Italy. Industrial production in Italy fell by 0.7% in January, reversing December's 0.4% rise and disappointing expectations of a 0.5% increase. In other words, things are still mixed for the eurozone's economy, despite the ECB's bond-buying program.
The continuing spat with Greece doesn't help either. A meeting of eurozone finance ministers ended Monday with an agreement that technical discussions between Greek finance experts and eurozone ones will begin on Wednesday, but also with a warning to Greece to stop wasting time.
Interestingly, an opinion poll published by Greek paper eKathimerini shows that nearly 70% of Greeks want the government to reach an "honorable compromise" with the EU to avoid having to leave the eurozone, with only around 27% opting for no compromise even if it means leaving the eurozone.
At this point, any good news from Athens is so unexpected that it would be about the only thing that could trigger a reversal of the euro's sinking trend vs. the dollar. However, with reports that Greece has cash for only three more weeks doing the rounds on Bloomberg, investors shouldn't count on it.
Editor's Note: This article was originally published at 12:00 p.m. EST on Real Money on March 10.