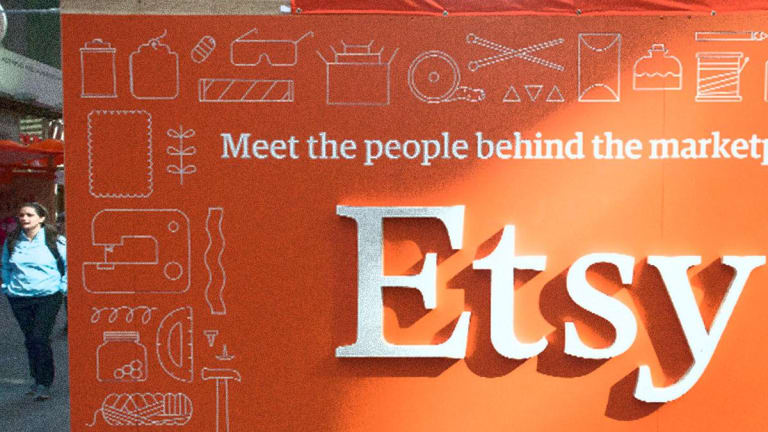 Etsy Shares Slide on Second-Quarter Revenue Miss
Etsy is falling after the online marketplace misses Wall Street's second-quarter revenue expectations.
Shares of Etsy (ETSY) were falling 5.3% to $64.50 Friday after the online marketplace missed Wall Street's second-quarter revenue expectations.
The New York-based company reported earnings of $18.2 million, or 14 cents a share, up from $3.3 million, or 3 cents a share a year ago, and beat analysts' expectations of 13 cents.
Revenue totaled $181.1 million, up from $132.4 million a year ago, but fell short of Wall Street's call for $183.1 million. 
Etsy increased its revenue guidance for the year, adding $12 million to its previous guidance range, and now expects annual net revenue of $797 million to $809 million.
In the second quarter, active buyers and active sellers accelerated to 19.3% and 17.7% year over year, respectively, the company said.
Last month, Etsy signed a definitive agreement to acquire Reverb, a privately held marketplace for new, used and vintage music gear for $275 million in cash. The transaction is expected to close in late third quarter or early fourth quarter.
Total operating expenses were $104.6 million, up 41% year over year. The increase in operating expenses was driven primarily by marketing expense, Etsy said, specifically the investment in a TV campaign, and an increase in headcount related to product development.
Save 76% with our Summer Break Sale. Subscribe to our premium site Real Money and become a smarter investor! Click here today to sign up!