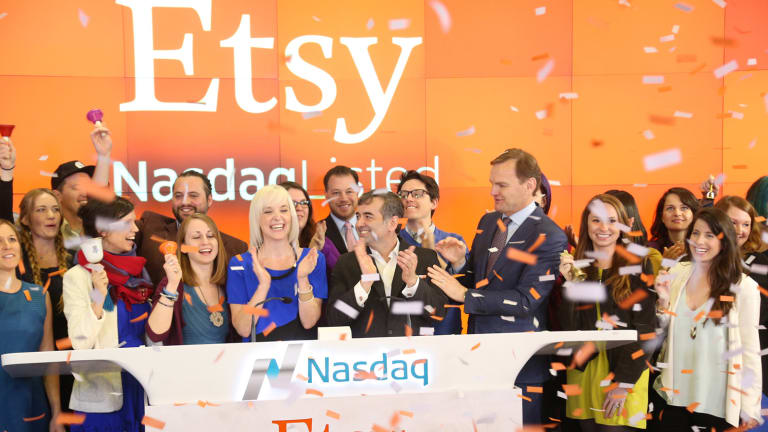 Etsy Is a Reminder That Amazon Doesn't Crush Everyone It Targets
Though Amazon's resources and competitive strengths make it a nightmare for some companies, a number of tech firms have weathered direct attacks quite well.
Not every company that has been in the path of Hurricane Bezos ends up getting torn to shreds.
The 26% gain posted by Etsy (ETSY) on Thursday is a pretty good reminder of this. The vintage/craft goods marketplace's surge came after it announced it's hiking its transaction fee to 5% from 3.5%, and that the fee will now also apply to shipping costs. Thanks in large part to the fee hike, Etsy raised its 2018 revenue growth guidance to a range of 32% to 34% from a prior range of 22% to 24%.
Etsy, now up about 500% from its early-2016 lows, has also unveiled plans to launch a pair of subscription services -- Etsy Plus and Etsy Premium -- for active sellers. And it has slightly improved its 2018 gross merchandise sales (GMS) guidance to a range of 16% to 19% from a prior range of 16% to 18%.
Needless to say, it's unlikely a marketplace that was having its lunch eaten by Amazon.com (AMZN) would carry out a fee hike that large, even if (as Etsy is eager to note) its fees are still less than what Amazon and eBay (EBAY) charge for similar transactions. Nor would it offer such strong sales and GMS guidance.
However, if one dials the clock back to 2015 and 2016, fears that the Handmade by Amazon service (it launched in mid-2015, and is now called Amazon Handmade) would eat Etsy's lunch were running very high. Together with worries about counterfeit goods and slowing GMS growth, fears about Amazon pushed Etsy down over 70% from its 2015 post-IPO opening price of $31.00, before eventually finding a bottom.
Etsy is hardly the only smaller/more focused tech company to have weathered a direct attack by Amazon fairly well. Other names include:
The streaming hardware and platform provider has been competing against Amazon's Fire TV streaming devices since 2014. Roku's shares are up over 200% from their Sep. 2017 IPO price, and (due to strong software/services revenue growth) the company is expected on average by analysts to see its revenue rise 32% in 2018 to $922 million.
Groupon (GRPN)
Though the local deals provider faces its share of challenges, Amazon by and large is no longer one of them. Amazon shuttered its Groupon rival (known as Amazon Local) in 2015. And in 2016, Groupon acquired the assets of rival LivingSocial, which Amazon had taken a large stake in.
Netflix (NFLX)
This doesn't need much explanation. Though Amazon has been bundling Prime Video with Amazon Prime subscriptions and has reportedly grown its annual video spend to $5 billion, that hasn't done a lot to slow down Reed Hastings's company. Netflix's streaming subscriber base grew by 23.8 million last year to 117.6 million, and is expected to close 2018 around 145 million.
PayPal (PYPL)
Amazon launched a payments service for third-party websites and apps (known as Pay with Amazon) in 2013 that works with a user's Amazon login. Nonetheless, PayPal has kept chugging along: The company's revenue rose 21% last year to $13.1 billion, and its total payment volume (TPV) grew over 27% to $451.3 billion. That's worth keeping in mind following a recent Bloomberg report that indicates Amazon is now willing to undercut PayPal's pricing to gain share.
Numerous enterprise and cloud software providers

Over the last few years, Amazon Web Services (AWS) has launched apps and services that compete against the likes of Box
(BOX)
, Tableau Software
(DATA)
, Okta
(OKTA)
and Citrix Systems
(CTXS)
, just to give a few names. Business remains quite good formany of these firms.
The ability of the software firms -- some of which, it should be noted, run apps on AWS -- to hold their own against Amazon isn't too hard to grasp. Amazon is often just one of several deep-pocketed rivals these companies are squaring off against. And though Amazon's giant AWS customer base and penchant for aggressive pricing can make it a tough competitor, that by itself usually isn't enough to dominate a market.
For the other companies, it's hard to collectively assign one reason why they've been able to fend off Amazon. However, looking at the particulars of each story, one general theme is that the head-starts possessed by these companies allowed them to develop a large amount of mindshare in their core markets. For example, Netflix has long been associated by consumers with streaming services, PayPal with online payments and Etsy with craft goods sales.
Another general theme is how the customers, revenue and/or ecosystem partners amassed thanks to these head-starts helped create valuable moats. Roku built up a large base of content and hardware partners; Etsy's base of craft goods buyers and sellers yielded a powerful network effect; and Netflix created a revenue base that has helped it finance a content budget even larger than Amazon's, while also amassing enormous amounts of viewing data to improve personalization and inform its future content buys.
Focus is another common trait for these companies. Unlike Amazon and for that matter other tech giants, the attention of the aforementioned companies is directed towards a pretty limited number of addressable markets. Here, it worth pointing out that PayPal's execution appears to have improved meaningfully since the company was split off from eBay in 2015.
One final similarity for at least some of these companies: There are limits to the damage that Amazon could inflict on them due to the competitive strengths that have helped it take so much retail share, such as Prime's popularity, Amazon's fulfillment/logistics infrastructure and the company's huge third-party seller base. While these strengths have made Amazon a nightmare for quite a few online and offline retail rivals, they can't do as much harm to, say, a craft goods marketplace or a platform for selling deals for local business services.
To sum it all up, simply because the likes of eBay, Best Buy and Barnes & Noble have suffered mightily at Amazon's hands doesn't mean that a focused tech company with considerable market share and major competitive strengths will suffer likewise when Amazon tries to encroach on its turf. When Amazon does go after such a company, it's worth taking a close look at how much share Jeff Bezos's firm can realistically be expected to gain rather than rushing to hit the sell button.
This column originally appeared on Real Money, our premium site for active traders. Click here to get more great columns like this.
Amazon and PayPal are holdings in Jim Cramer's Action Alerts PLUS member club. Want to be alerted before Jim Cramer buys or sells AMZN or PYPL? Learn more now.