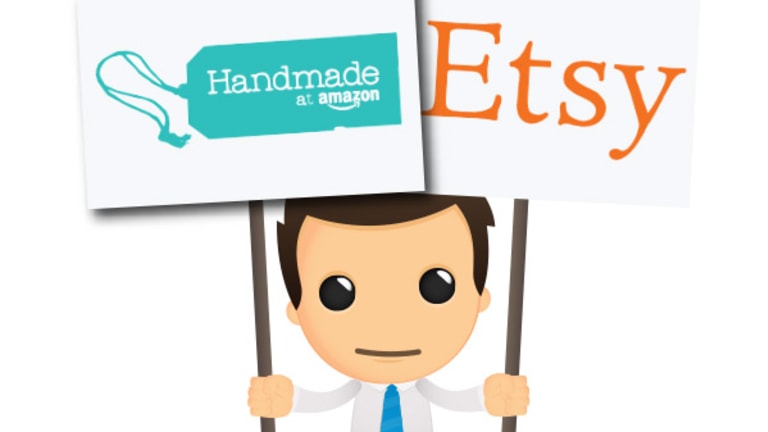 Etsy Faces Holiday Challenges From Amazon Handmade
Cyber Monday is expected to reach $3 billion this year and Etsy gears up to grab more market share and challenge Amazon Handmade.
Americans are predicted to spend a record $3 billion on Cyber Monday this year and e-commerce sites are gearing up to grab market share.
New York artisan Milly Itzhak makes decorative custom stamps which she's been selling on Etsy (ETSY) - Get Etsy, Inc. Report for the last three years. The handmade crafts platform has allowed her to transform her hobby into a growing business. "It takes out some of the anonymity out of the online market place thing and makes it very human," she told TheStreet.
Etsy isn't the only one cashing in on the growing demand for homemade, hand crafted goods. In October, retail giant Amazon.com (AMZN) - Get Amazon.com, Inc. Report launched Amazon Handmade, a new platform featuring the artwork of around 5,000 sellers from over 60 countries. Craft maker Seylah Kopelman says that with fewer sellers on Amazon Handmade, her jewelry might have less competition: "I'm getting more exposure, more orders in general," she said. "It's easier to order on Amazon because most people already have that platform set up."
Despite the threat, Etsy is putting up a valiant fight against Amazon, with transactions across its platform rising 21.7% year over year. The Brooklyn-based company has been cultivating its marketplace dynamics for the last 10 years and has roughly 1.6 million active sellers. But since Amazon threw its hat into the handmade arena, Etsy has seen its share price tumble around 60% and missed estimates for its third quarter revenue.
Bryan Gildenberg, chief knowledge officer for Kantar Retail, says Etsy will stand its ground. "The community that Etsy has built is of enormous value both in terms of the sellers and the buyers and the network that exists between them," he told TheStreet. "It's a real discovery process, which I think on Amazon is just going to be harder to do."
Both companies now have express delivery options for the holidays, after Etsy launched its new ASAP service. However, Etsy has just a tenth of the number of the active users that can be found on Amazon, potentially making it an uphill battle for the company.
In terms of revenue, Etsy charges a 3.5% transaction fee and a listing fee of 20 cents per item. Sellers also pay for extras like promoted listings and shipping labels. Amazon Handmade is taking a more aggressive stance, with a transaction fee of 12% or 50 cents, whichever is larger. Sellers get discounts on shipping, but starting in August they'll have to pay a monthly fee of $39.99.
Etsy has just launched Etsy Manufacturing, a feature that connects sellers with factory owners and manufacturers. The company announced in a blog post that the new service would "make it easier for our sellers to source responsible production assistance when they need it." It has also forged new retail partnerships with brick and mortar brands including Macy's (M) - Get Macy's Inc Report and Whole Foods (WFM) . But some critics remain nervous that the pressure to scale up could tarnish the company's wholesome, home spun ethos and make it harder for artisans like Itzhak, who are banking on customers looking for handmade goods.