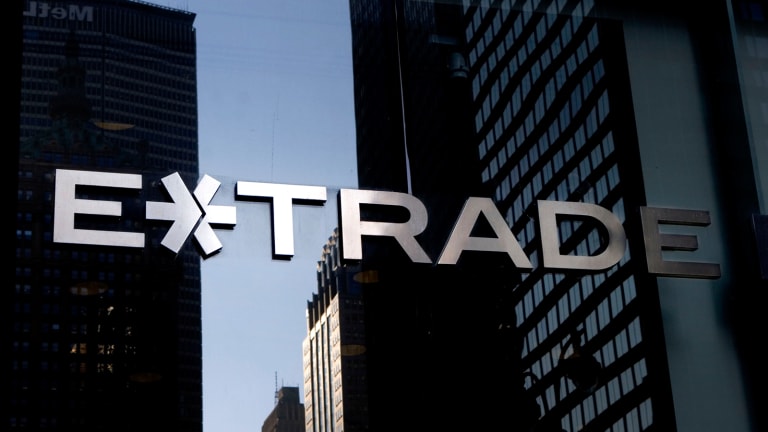 E*TRADE Dangles Dividend Lure After Years Spent Shackled by Debt
All the big online brokerages have outperformed the market, but E*TRADE Financial stands alone, and new capital freedom could spell dividend payouts or buybacks.
CORRECTION: This article, originally published at 12:46 p.m. on Tuesday, May 26, has been corrected to indicate that Michael Tarkan is an analyst with Compass Point Research.
NEW YORK (TheStreet) -- E*TRADE's stock has outpaced shares of the two largest online brokers in the past year after the company posted the highest profit since the financial crisis and dangled the lure of potential dividends or share buybacks.
The surge is driven by earnings growth, debt restructuring and the disposal of lower-quality home mortgage loans made before the housing bubble burst, all of which have given the company flexibility it hasn't had in years, analysts and executives say. 
Since 2007, E*TRADE trimmed its corporate debt by about $2 billion, almost reaching its goal of $1 billion, which would be a third of its 2007 levels. By comparison, competitors Charles Schwab (SCHW) - Get Report and TD Ameritrade (AMTD) - Get Report have both increased borrowing, with Schwab more than doubling its corporate debt to $1.9 billion, while TD Ameritrade tacked on an additional 21% to $1.7 billion. The company also refinanced long-term debt at record low rates, while pushing out maturities to 2023 from 2019.
"E*TRADE is kind of unique because it has this capital balance freedom," said Christopher Allen, a capital markets research analyst with Evercore. "They have capital being freed up and are able to deploy it upon regulatory approval."
Company executives have acknowledged the possibilities for using that money, without committing to any of them.
"Our most-prominent options include balance sheet growth and the acceleration of legacy risk reduction, meaning potentially eliminating wholesale funding obligations ahead of schedule and selling the remainder of the loan portfolio," CFO Matthew Audette said on earnings call in April. "Obvious uses include share buybacks, dividends and investing in the business where we see opportunity for healthy returns." A company representative didn't immediately respond to a request for comment on Tuesday.
While all three online brokerages have outperformed the broader market in the past year, E*TRADE has fared the best. Its shares have jumped 47%, compared with a 23% gain for Schwab and a 22% increase at TD Ameritrade. By comparison, the S&P 500 rose 10% and the Dow Jones Industrial Average 8%.
"With E*TRADE, the other piece of the story that Ameritrade and Schwab haven't seen is the deleveraging part," said Michael Tarkan, an analyst with Compass Point Research. "That has driven earnings higher and has provided some flexibility on the capital front that they haven't had in years ... Now they're in a position where they can be more offensive."
Analysts attribute much of E*TRADE's rebound to its ending the financial crisis in much worse shape than rivals. The company was saddled with nearly $3 billion in corporate debt and $37 billion in a legacy loan portfolio with a significant share of mortgage-backed securities that pre-dated the crisis.
That meant the company was disproportionately affected by the market downturn, Tarkan said.
"As they've shed those assets, they've been able to improve their fundamentals," said Macrae Sykes, an equity analyst with Gabelli & Co. 
E*TRADE cut its legacy loan portfolio to $6.1 billion, as of the end of the first quarter, while slashing corporate debt 27% in the past year alone, according to a regulatory filing. With a market value of $8.6 billion, the company is dwarfed by both Schwab at $41 billion and TD Ameritrade at $20 billion.
"Certainly, coming out of the financial crisis, TD and Schwab were in a better positions than E*TRADE, and all three of them have benefited from the bull market" as well as more investors taking advantage of platforms that let them control their portfolios directly, Tarkan said. "They have a lot of options on the table: Basically, they've touched on the possibilities of a buyback, dividends and additional balance sheet growth."