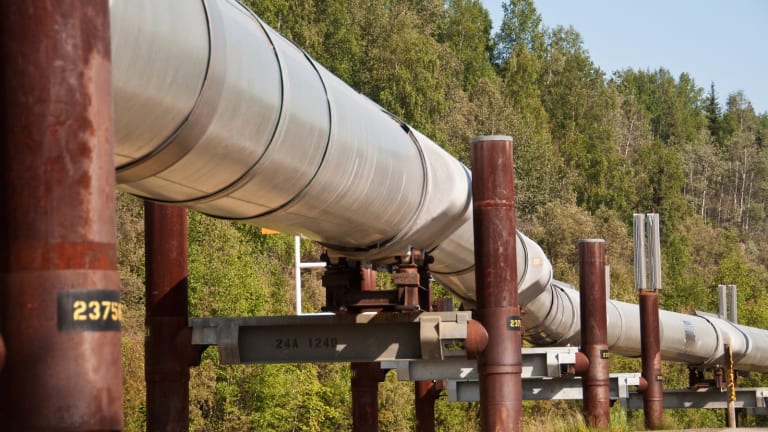 Trump Team Reiterates Support of ETP, Sunoco Logistics' Dakota Access Pipeline
The Army Corp of Engineers dealt the pipeline operators a setback Sunday, but the Trump administration said it supported the project's construction Monday and analysts feel rerouting won't be necessary.
Shares of pipeline operators Energy Transfer Partners (ETP) and Sunoco Logistics (SXL) closed down Monday following news that the U.S. Army Corp of Engineers wouldn't grant the companies a permit to construct the highly controversial Dakota Access pipeline project without rerouting around Lake Oahe in North Dakota.
But calls of support for the $3.8 billion oil pipeline project from an incoming Trump administration a few hours into the trading day helped pare potentially greater losses during the frame.
On a call with the press at around 10:45 a.m. ET Monday, Trump spokesman Jason Miller said of the Dakota Access pipeline project, "that's something that we support construction of."
Miller added that the Trump administration will review the situation once it is in the White House in order to make a decision at the appropriate time.
The Army's Assistant Secretary for Civil Works Jo-Ellen Darcy had said Sunday that the department, along with the companies, needs to explore alternate routes for the Dakota Access Pipeline crossing.
The Army Corp of Engineers announced on Nov. 14 that it would delay the decision on the easement to allow for discussions with the Standing Rock Sioux Tribe, whose reservation lies a half mile south of the proposed crossing.
Tribal officials have expressed concerns that a pipeline spill could pose a threat to its water supply. 
ETP and Sunoco Logistics, master limited partnership affiliates of Dallas billionaire Kelcy Warren's Energy Transfer Equity (ETE) , which also saw its stock decline significantly Monday, issued a statement late Sunday denouncing the move as a political action aimed at delaying a decision until President Obama was out of office. 
"The White House's directive (Sunday) to the Corps for further delay is just the latest in a series of overt and transparent political actions by an administration which has abandoned the rule of law in favor of currying favor with a narrow and extreme political constituency," the companies said in the statement. "As stated all along, ETP and SXL are fully committed to ensuring that this vital project is brought to completion and fully expect to complete construction of the pipeline without any additional rerouting in and around Lake Oahe. Nothing this Administration has done today changes that in any way."
The move has implications for the owners of the pipeline and oil producers in North Dakota's Bakken formation, such as Continental Resources (CLR) - Get Continental Resources, Inc. Report, Hess (HES) - Get Hess Corporation Report and Whiting Petroleum (WLL) - Get Whiting Petroleum Corporation Report, Stifel Nicolaus analysts wrote Monday. 
But the analysts said with President-elect Donald Trump's stated support for the Dakota Access pipeline, they're confident that ETP and SXL will succeed in getting the project completed without rerouting. 
Seaport Global analysts agreed Monday that a Trump administration will likely give the $3.8 billion pipeline project the green light, but the industry watchers warned that investors should be aware of headline pressure on Dakota names, including EOG Resources (EOG) - Get EOG Resources, Inc. Report, Marathon Oil (MRO) - Get Marathon Oil Corporation Report, ETP, Sunoco Logistics, ETE, Whiting Petroleum, Continental Resources and Hess, in the meantime. 
ETP shares closed Monday about 1.7% below the previous frame at $33.79 apiece, while Sunoco Logistics had fallen nearly 1.9% to $22.75 per share. ETE's stock was down 2.5% to $16.07 at the closing bell.