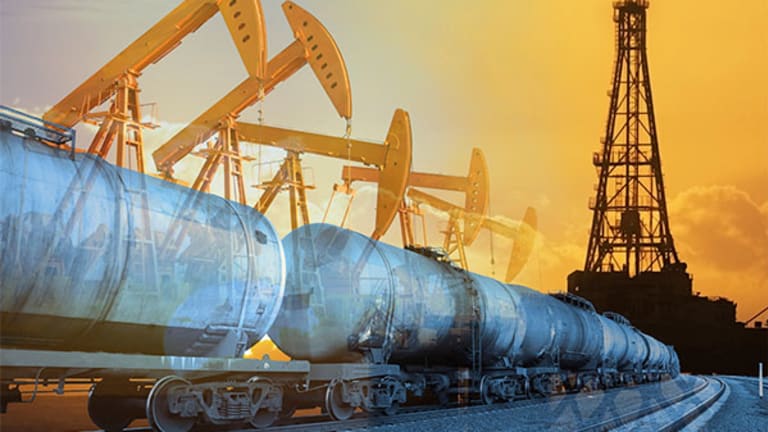 With This One Trade, You Can Reap Exponential Profits From Rising Oil Prices
If the energy industry's smart money is right, the oil price rebound has legs. Here's a fund that can can turbocharge profits from the energy bull.
Many investors assume that "buy and hold" is the only investing strategy needed. The thinking goes like this: Find an inherently strong and reasonably valued stock, buy it and sock it away in your portfolio for the long haul. That's all fine and good, but it's no way to get rich.
Below, we pinpoint a single trade that can generate exponential gains and it's pegged to one of the most exciting growth opportunities now available: rising oil prices.
Oil prices have staged a stunning comeback in recent months after crashing to a 13-year low of $26 a barrel in February. Now, some of the best minds in the oil industry, people who've made vast fortunes on the movement of oil, are projecting a bull market in energy.
The global economic recovery appears to be on track, especially in the U.S., ensuring sufficient demand to keep energy prices from collapsing again. At the same time, supplies are tightening.
Before the markets opened on Monday, the price of West Texas Intermediate, the U.S. benchmark, stood at $46.96. Oil needs to reach $50 a barrel for energy companies to "break even" on their operations. But if you listen to some of the most influential experts, oil will shoot past that threshold.
Raymond James & Associates recently forecast that WTI crude oil will average at least $80 a barrel by the end of next year, as demand picks up and the global oil glut eases.
Former Royal Dutch Shell president John Hofmeister in January predicted that the price of oil will reach $80 a barrel this year. Hofmeister reiterated his bullish forecast in a July podcast interview with billionaire oilman T. Boone Pickens. The legendary Pickens also is bullish on energy; he predicts oil prices have bottomed and will hit at least $60 a barrel this year.
According to recent data from the New York Mercantile Exchange and the U.S. Depository Trust & Clearing Corp., options traders expect oil prices to rise to more than $80 per barrel this year and reach close to $110 per barrel.
Strategists at the exploration and production giant BP also expect oil prices to climb back to $100. They argue that fossil fuels will still be providing 80% of the world's total energy supply in 2035, despite the inroads from renewable energy sources such as solar and wind power.
Fact is, we still live in the age of hydrocarbon, and the world will always be thirsty for oil.
If the bulls are right about oil prices and you're an aggressive investor with an appetite for risk, you can reap a windfall on energy's momentum by purchasing the VelocityShares 3x Long Crude Oil ETN (UWTI) .
With net assets of $1.11 billion, UWTI is a commodity exchanged-traded note that seeks to replicate three times the daily performance of the S&P GSCI Crude Oil Index Excess Return. The latter is a widely followed benchmark that's composed entirely of WTI crude oil futures contracts.
VelocityShares 3x Long Crude Oil ETN is a levered product. With three times long leverage, UWTI triples the performance (up or down) of its benchmark index on a daily basis.
Over the past six months, VelocityShares 3x Long Crude Oil ETN has gained 54%, compared with 11% for the S&P 500.
It's true that individual energy equities move in tandem with oil prices, but they face a host of challenges. Energy majors such as Exxon Mobil and Chevron are still trying to recover from the recent bear market in oil. Even as oil prices rise, they remain hard-pressed to boost revenue. Heavily indebted oilfield drilling companies such as Transocean are particularly vulnerable and they're trying to buy enough time to clean up their balance sheets. But if you agree with the energy bulls and make a bet on VelocityShares 3x Long Crude Oil ETN, you won't have to wait for the energy sector's laggards to turn around their fortunes.
---
Five Years From Now, You'll Probably Wish You'd Grabbed This Opportunity:As we've just explained, UWTI is a great way for aggressive investors to profit from rising oil prices. If you're looking for other outstanding moneymaking opportunities, we've found a genius trader who turned $50,000 into $5 million by using his proprietary trading method. For a limited time, he's guaranteeing you $67,548 per year in profitable trades if you follow his simple step-by-step process. Click here now for details.
John Persinos is an editorial manager and investment analyst at Investing Daily. At the time of publication, he owned none of the stocks mentioned. Persinos appears as a regular commentator on the financial television show "Small Cap Nation." Follow him on Twitter.