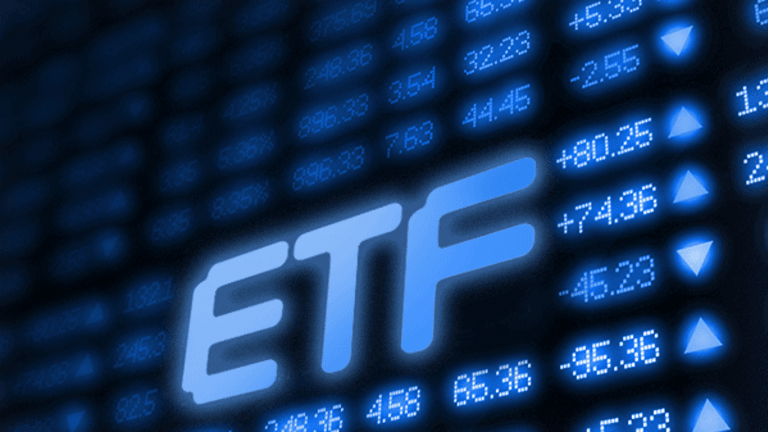 Publish date:
With Rising Rates, Is It a Bullish Or Bearish Outlook For Small Cap ETFs?
Higher interest rates make it more difficult for small cap companies to get financing - will that hurt small cap ETFs?
Higher interest rates make it more difficult for small cap companies to get financing - will that hurt small cap ETFs?
For the past eight years, small cap companies caught a break with barrel-bottom interest rates. Even smaller companies with big cash flow problems could count on easy-peasy financing, with near-zero interest rates across the fruited plains.
But with the Federal Reserve's recent 0.25% boost in its key Federal Funds rates, along with a call for two or three more rate hikes in 2016, could those days may be over, even as small cap stocks are booming since the presidential election?
Probably not, small-cap experts tell The Street.com.
"Since small caps tend to have a higher sensitivity to the market, they historically have outperformed large caps on the upside," notes Joseph Tenaglia, an asset allocation strategist at WisdomTree, in comments to Investor's Business Daily. The company reports that small cap firms do better in periods of higher rates and consistently outperform large cap stocks in such periods.
So far, the numbers that sentiment out.
In the seven weeks following the election, the S&P Small-Cap 600 Index is up a whopping 16%, compared to some 5% for the S&P 500 Index SPX, and about 1% for the S&P 400 Mid-Cap Index.
Still, not every market watcher sees small caps taking off this new year.
"In general, stocks prosper during periods of falling interest rates," says Robert R. Johnson, president and CEO of The American College of Financial Services, in Bryn Mawr, Pa. "Rising interest rates also impact small cap companies much more than larger cap companies and the empirical evidence is consistent with that notion. In marked contrast, small stocks perform remarkably poorly when interest rates are rising."
Johnson says that from 1966 through 2013, an investor applying a small cap strategy (by investing in the smallest 20% of listed stocks) would have earned over 28% per year, whereas the same strategy would have earned the investor only 5.8% when interest rates were rising. "In fact, the smallest quintile of stocks returned almost double the return of the largest quintile of stocks when rates were falling -- 28.4% for the smallest quintile and 14.4% for the largest quintile," he adds. "During rising rate periods the smallest and largest quintiles each returned 5.8% annually."
"What we found is that it appears that the small-firm effect is really a small-firm-during-falling-interest-rates-effect," Johnson adds. "The evidence is clear that small stock investors have experienced a decided advantage in falling interest rate environments."
Small cap exchange-traded funds are especially vulnerable to shifting interest rate scenarios.
"As rates go higher and higher, investor views on risk will start to shift," says Victor Chiu, a veteran investor and author of Wall Street Kitchen: The Recipe Behind a Housewife's 1,000% Stock Return. "They ask, 'Why should I knowingly expose my money to more risk when I know I can get a much safer return elsewhere?"
Generally, ETFs won't fair well due to this investor mentality, Chiu adds. "However, the benefit a rising rate could bring depends on the type of exposure a particular ETF is involved with," he explains. "An example is a small cap ETF that is exposed to financials such as banks and insurance companies, whom by nature, is an interest-sensitive sector. These companies benefit from a rising yield curve - in turn, will benefit those small cap ETFs that have this kind of financial sector exposure."
Others disagree, stating that a business-friendly Trump administration is just what the doctor ordered for small cap funds.
"Expectations that the Trump administration will introduce industry-friendly, domestic-focused policies have helped small caps post record gains over the last month," says Swarup Gupta, an analyst at Zacks Research. "This is why the category has set a frenetic pace ever since his surprise victory, easily outpacing the broader market's gains."
Fund investors who agree with Gupta's mindset may want to start their ETF hunt with the iShares Russell 2000 ETF (IWM) - Get Report or iShares Core S&P Small Cap ETF (IJR) - Get Report . Both funds have performed well this year, with IWM returning 23.07% and IJR returning 27.76%. IWM gets an "A-Plus" rating from ETFDB.com, scoring especially well in the liquidity and expense categories, while IJR, too, earns an "A-Plus" from the financial data analytical firm.
If history really is a guide, small caps should continue to do well in 2017. But with a huge "X-factor" occupying 1600 Pennsylvania Avenue starting later this month, nothing is guaranteed, high interest rates or not.