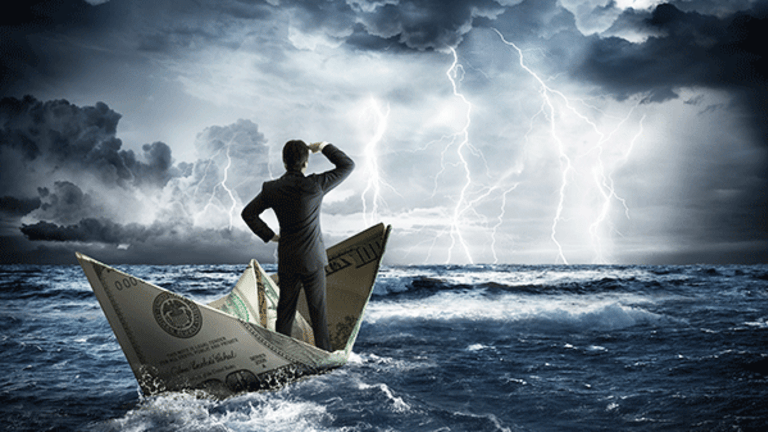 With Market Volatility Up, Why Is the Benchmark VIX ETF Down?
The primary VIX volatility fund is having a tough year, even in a chaotic market environment.
It hasn't exactly been a banner 12 months for the iPath S&P 500 VIX ST Futures ETN (VXX) - Get Free Report . The benchmark stock market volatility fund is down over 68% on a year-to-year basis and has fallen 17% since the beginning of January.
In a strange twist, VXX has been trading off since the U.S. presidential election last November, which has fueled significant stock market volatility in the past two months - a scenario that would seem to favor a fund that makes its bread and butter on frequent stock market gyrations.
But that hasn't been the case, as the long knives are out on volatility funds. ETF Daily News, for example, has slammed VXX with a "strong sell" rating. "Year-to-date, VXX has seen modest inflows with about $48 million entering the fund in spite of continuing floundering returns," notes Paul Weisbruch, vice president of ETF/options sales and trading at Street One Financial, in a new research post.
Yet the most widely used barometer for fear and anxiety in the trading markets, the CBOE Volatility Index VIX, hit a two-and-a-half month high on January 12, indicating that uncertainty is the order of the day on Wall Street right now.
That may be so, but the disconnect between higher VIX volatility and the performance of volatility-themed funds is explainable, trading experts state.
"By and large, volatility ETFs, generally, are not designed to mimic the VIX Index itself," notes Kyle J. McCauley, an investment advisor with City Center Financial, LLC, in Troy, Mich. "In fact, there's no direct way to replicate what the VIX Index is doing and in order to actually harness the VIX's movement - you need to have substantially higher volatility than today's 12.78."
McCauley says that if you take a snapshot of all of the volatility ETFs available, some are doing quite well while others are falling substantially behind. For instance, the Velocity Shares VIX Short Volatility Hedged ETN (XIVH) is up 15.25% on a year-to-date basis, even as VXX is down.
The reason has more to do with the methodology that the ETF manager is using to harness volatility, he explains. "The primary method that volatility ETF's use to provide returns is through the purchase of futures contracts," McCauley says. "You'll notice that the majority of the funds are losing so far, but the reality is that this is because of when their futures contracts came due, and are coming due in the future."
"Also, as volatility increase, futures contracts become more expensive, so if the fund manager doesn't make a winning bet, his losses can be substantial when volatility is high," he adds.
Gabriel Pincus, president and portfolio manager of GA Pincus Funds, says the benchmark volatility index is more stable than some investors may think.
"The low price on the VIX was 10.93 on December 21, 2016," he says. "Since then, it reached a high of 14.66 on 12/30 and is now trading at 12.35. That's a pretty tight range for a product that can and has traded up or down 100% or more in a single day."
Pincus says the reason products that track the VIX have high tracking errors is because the VIX is not a traditional index based on stock prices. "Instead, the VIX is a 30-day forward-looking estimate of volatility based on the implied volatility of derivatives on the S&P 500 Index," he explains.
"It sounds complicated because it is," Pincus adds.
VIX watchers also say the index isn't really up that much, once you crunch some longer-term numbers.
"The VIX isn't up by historic standards, it's actually pretty low," states Carol Schleif, deputy chief investment officer at Abbot Downing. "It's really not surprising that volatility funds have been muted. Most of the perceived movement has been biased in one direction, and that's up."
One other trend that could be muting volatility-based funds are inflows into equity funds after eight years of withdrawals, Andrews says. "Every time there's a dip, buyers are coming in, so that's limiting the downside," she adds. "While headlines and tweets have been volatile - investors are in a 'wait-and-see' mode. Fundamentals have been strong and rhetoric is optimistic. So that's biased market trends to the upside."