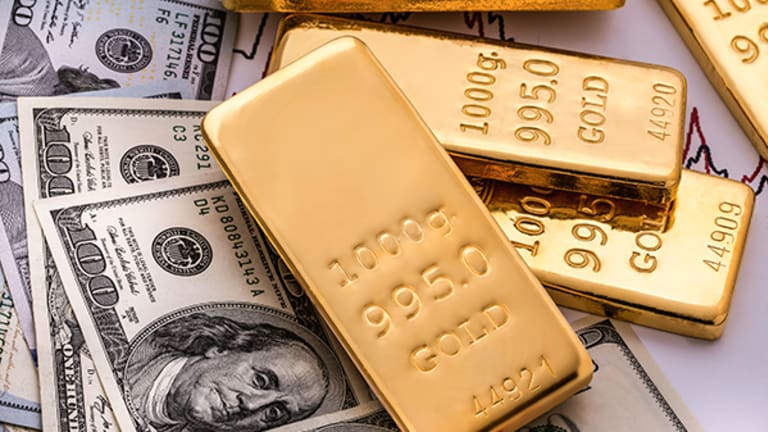 With Gold Prices Rising, ETF Investors Are Ready to Pounce
Gold prices should be at $1,400 by the end of 2016, experts say, and that's a big 'buy' signal for gold ETF investors.
Gold prices are on the move again, settling at $1,260 per ounce at market close on Monday, according to Apmex.
That's after gold prices fell 5% last week, the largest decline in the metal of Midas since 2013. "Gold prices are quite appealing after the recent correction," notes Richard Xu, portfolio manager at China-based HuaAn Gold. "In China, what we see today is that there is some demand to buy gold following its dip."
Former U.S. Congressman Ron Paul concurred with that assessment in an appearance on CNBC last week. A healthy economy "will be fundamentally good for gold," Paul said.
Paul says that an ongoing low-interest rate policy by the Federal Reserve will boost gold prices and that the volatile U.S. presidential race, no matter which candidate emerges victorious, won't substantially impact precious metal prices.
"The laws of economics are more powerful than all the politicians and all the central bankers," Paul added. "Nothing really changes, no matter who wins. Governments keep growing, deficits keep growing. The Fed keeps printing more money so I don't expect a lot to change. When you print money and you have a fiat currency, it all becomes political; deficits are looked at as benefits."
There's another school of thought that investors plowing cash into gold-based exchange traded funds are driving gold prices forward. Take the SPDR Gold Trust (GLD) - Get Report , which has outperformed at an 18% return in 2016, year to date. The fund has significantly outperformed the S&P 500 - by a 15% margin - in the past seven years, a period where S&P 500 investors saw solid growth. And, since the gold fund opened in 2004, it has generated a 157% positive return for investors, while the S&P 500 has returned 113%, over the same timeframe.
That's a remarkable figure, given that hold prices cratered in 2013, falling 28%, while the S&P 500 rose 32% in the same period, according to Morningstar. In the recent rebound in gold prices, investors are flocking to the SPDR Gold Trust, with the fund taking in $454 million in inflows, from October 3 to October 7.
But with that extra focus on GLD, precious metals experts think there is a better opportunity in other gold-themed ETFs. "Although the SPDR Gold Trust is the most popular and well-known gold ETF for investors, there is already quite a bit of crowding in this exchange-traded fund," says Joe Yaffe, co-founder of Gainesville Coins, in Lutz, Fla.
Right now, there's more opportunity for room to run in the more volatile gold mining ETFs -- the Market Vectors Gold Miners ETF (GDX) - Get Report and the highly leveraged Market Vectors Junior Gold Miners ETF (GDXJ) - Get Report , Yaffe says. "These ETFs have outpaced the returns from GLD, but remain shy of their 2016 highs, so they represent the more lucrative play in the gold ETF space," he adds.
Yaffe falls into the category of precious metals specialists who say gold prices will be higher by year-end, primarily because none of the underlying fundamentals that caused the precious metals rally in 2016 have abated.
"The consequences of ultra-low interest rates, general instability in the banking industry, persistently weak growth for the global economy, and the ineffectiveness of monetary policy from central banks, all remain risk factors," he says. "Amid these factors, demand for gold as a safe haven from potential market disruptions will remain robust. While $1,500 per ounce may be an overly ambitious target for the next three months, given gold's high point of about $1,360 per ounce so far this calendar year, $1,400 seems a reasonable target for the end of 2016."
Other gold experts share the same sentiment. "Gold prices by year end should be in the $1,420 price range," says Charles Thorngren, chief executive at Noble Gold Investments, in Los Angeles. "With the constant 'no action' by the Federal Reserve and the upcoming election, there won't be enough momentum to bring us to the $1,500 level in the next couple of months."
Whether you're an ETF buyer or a physical metals buyer, the end result is the same spot price wise, Thorngren adds. "Expect to see a consistent move up on the gold prices until the end of the year, but with caution due to the election and the ever present chatter about the Fed raising interest rates."