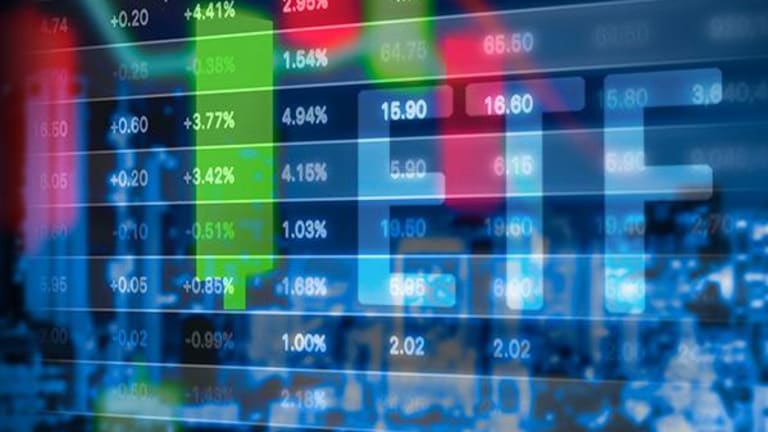 Publish date:
With Consumer Confidence Up, These ETF Sectors Should Be Standing Tall
Consumer goods ETFs should climb in the next six months, as new government policies should favor the sector.
Consumer goods ETFs should climb in the next six months, as new government policies should favor the sector.
For myriad reasons, U.S. consumer confidence climbed to its highest perch nine years in November, surging to 107.1 according to the Conference Board. That's up from 100.8 in October.
Economists say that the rise in buyer confidence is mainly because Americans know the U.S. presidential election is over, thus reducing consumer uncertainty about who's leading the economy in Washington, D.C.
In addition, U.S. consumers like the sound of American jobs staying in the country, and are generally supportive of government infrastructure programs that would create good jobs, spur economic growth, and upgrade U.S. roads, bridges and buildings - if President-elect Trump produces on these initiatives. The Fed felt we were on such certain ground that it approved the first rate hike in a year.
With a new regime in D.C., investors would do well to follow the money and see which industries benefit from a political changing of the guard.
In the exchange-traded fund market, insiders are already buzzing about two such sectors - consumer goods and industrials. Paul Weisbruch, vice president of ETF sales and trading at Street One Financial, cites two big movers in those sectors, in a research post this week.
First up is FirstTrust Industrials/Producer Durables AlphaDEX (FXR) - Get Report , an industrials fund that rose from $28 per share to $33 per share in November. The second is Consumer Staples AlphaDEX (FXG) - Get Report , which has been trading more flatly, down from $46 to $44 per share in November, but which could be poised for an uptick thanks to those strong consumer confidence numbers.
Weisbruch sees "unusually high amounts of money" going into both ETFs of late, signaling a potentially bullish run. 
Of the two sectors, consumer staples may have the most room to grow.
"Not surprisingly, rising consumer confidence can benefit many different market sectors," notes David Twibell, president of custom Portfolio Group. "The most direct impact is on consumer discretionary and retail stocks. There are several good ETFs in both areas, but investors can't go wrong with the Vanguard Consumer Discretionary ETF (VCR) - Get Report or the SPDR S&P Retail ETF (XRT) - Get Report ."
But the beneficial impact of a buoyant consumer extends to a number of other areas as well, Twibell states. "For example, entertainment stocks stand to benefit when consumers are feeling flush," he says. "A good option here is the PowerShares Dynamic Leisure & Entertainment ETF (PEJ) - Get Report , which has exposure to the airline, restaurant and casino sectors. Even more tangential areas like materials and emerging markets can do well when U.S. consumers spend more, since that generally means more demand for raw materials and imported goods."
Looking for direct paths to profits in consumer discretionary sectors is another good idea, says Kevin Quigg, chief strategist at ACSI Funds.
"Three areas to keep an eye on are consumer discretionary, tech, and financials," Quigg states. He points out that consumers usually develop long-term faith in the economy, and spending tends to shift toward personal spending and consumption, which benefits those companies focused on luxury items. "Aside from traditional luxury staples, technology providers (Apple, Microsoft, etc.) and retailers (Amazon, Nordstrom) increasingly benefit from this trend," he notes. "Additionally, investment savings and a general surge in equity performance always favor financials (Citi, BB&T)."
Although consumer confidence is a good compass to gauge which sectors are potentially poised to outperform, customer satisfaction (the collective will of each company's customers) really dictates who will emerge as the winners and losers in the market, Quigg adds. "While some sectors, like technology, consumer discretionary, and financials) are strong overweight plays when confidence surges within each segment of the market, there are always opportunities to find companies poised to outperform their peers," he states. "Customer satisfaction is a leading indicator in identifying winners in every sector as the sentiments of the buying public typically precede those sentiments being captured on firm balance sheets."
"Thus, investing, based on satisfaction, gives investors the ability to get in on the front end of consumer confidence," Quigg adds.
With infrastructure and an enhanced GDP on the radar screen in Washington, D.C. industrials and, especially, consumer discretionary funds deserve a closer look. But don't wait too long, as big money is already heading toward both sectors.