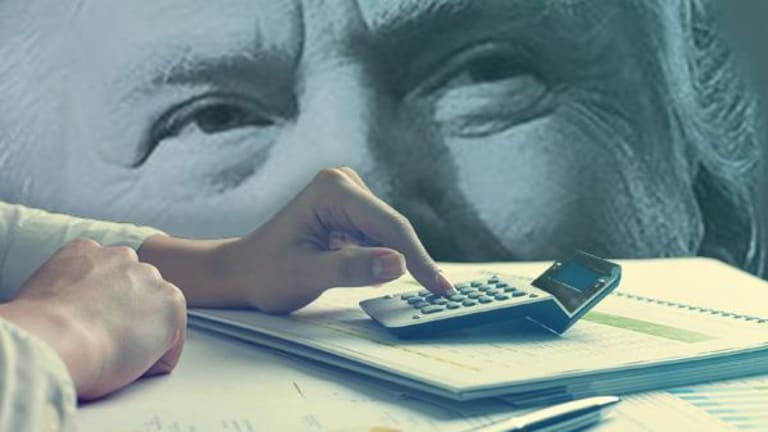 In the U.S., and across the globe, governments and businesses have a big problem with old infrastructure.
Consider these facts:
There's a big gap in what nations are doing, and what needs to be done on the infrastructure front. According to the World Economic Forum, there's a global need for $3.7 trillion in infrastructure investment annually, while only $2.7 trillion is actually is invested.
Overall, the figure needed to cover infrastructure costs for G20 nations over the next 15 years amounts to $60 trillion, states the McKinsey Global Institute. Yet McKinney predicts only 40% of that money will ever materialize and be put to work.
With numerous U.S. bridges and highways over five decades old, over $3.6 trillion is needed over the next four years to shore up the nation's infrastructure needs - about $28,000 per U.S. household.
If properly addressed, and that's what President-elect Trump has promised to do with a reported $500 billion (or more) investment in U.S. building projects in his administration, investors should take a good look at infrastructure-based ETFs, experts say.
"You have to take Trump at his word," says Dennis Gartman, the editor of The Gartman Letter, a widely-read investment publication, in an interview with ETF.com in November. "He used the word 'infrastructure' over and over in his acceptance speech. That means steel, cement, asphalt and the drilling infrastructure that goes into creating natural gas. They are things that, if you drop them on your foot, they're going to hurt."
Trump is a builder, and builders build, Gartman adds. "So, as an investor, you go out and find the simple things," he says. "I don't think Trump is particularly interested or adept at high-tech or big pharma; he's going to use simple things to build buildings, roads and bridges. If you keep it that simple, you're probably going to do O.K."
Other Wall Street professionals are bullish on infrastructure heading into the new year but want to see actual spending and programs hashed out.
"Infrastructure funds could be a good place to invest for 2017. although recent gains in the sector may have already priced in anticipated growth," states Nathan Mersereau, president of Planning Alternatives, an independent advisory firm. "That said, the breadth, depth and financing of President-elect Trump's infrastructure build-out is still unknown, so investors should not throw caution to the wind in pursing this sector. More clarity is needed on policy initiatives before the investment ripple effect can be determined."
On a global basis, some of those building blocks for an infrastructure ETF rise are already in place, as 2016 winds down. The benchmark iShares S&P Global Infrastructure Index (IGF) - Get iShares Global Infrastructure ETF Report is up to $40 per share in mid-December, from $37 in early November. On a year-to-date basis, the fund has gained 9.53%, and a good portion of that growth has come after the November 8 U.S. presidential election.
For more growth to commence here in America, investors do have to balance out the promises of actual infrastructure spending with reality, as Congress will have to act on any major building investment made by the Trump administration in 2017.
"This is the honeymoon period and Trump desperately wants to allocate money in infrastructure, but after the inauguration, we have to cross our fingers and hope Congress goes along," Lynda O'Connor, a Lake Forest, Ill. book publicist and investor who recently redirected personal assets into infrastructure funds.
O'Connor is one investor betting that Congress will support the needed spending, and drive sector investment prices up by green-lighting hundreds of billions in bridge and road repair spending. "This area will boom because having better infrastructure means faster delivery for products and unclogged roads, ports and airports, and everyone agrees this is good for the economy," she says.
Fund selection-wise, there are limits on infrastructure-only funds, so investors have to dig deeper, says Gabriel Pincus, president and portfolio manager of GA Pincus Funds.
"One of President-elect Donald Trump's main campaign promise was to put America and Americans back to work," Pincus says. "He has discussed issuing one trillion dollars of new debt to pay for costs associated with improving our nation's roads, bridges, tunnels, railways and buildings. So if you believe in Trump's rhetoric, then yes, a U.S. infrastructure ETF would be a good play."
Pincus says the majority of infrastructure funds are global in nature, which he doesn't recommend. "I would strongly warn against buying a global infrastructure ETF, as the aforementioned ongoing and future potential rally will be exclusive to U.S. owned and operated companies," he says. "I highly doubt Donald Trump would hire an internationally domiciled infrastructure company to 'Make America Great Again.'"
The closest proxy for a U.S. Infrastructure ETF would likely be IYJ iShares US Industrials (IYJ) - Get iShares U.S. Industrials ETF Report or Guggenheim Equal Weight US Industrials (RGI) - Get Invesco S&P 500 Equal Weight Industrials ETF Report , he says. "These ETF's will perform well in the scenario Trump promises, but they will not perform nearly as well as would a pure U.S. infrastructure ETF," Pincus says.
"Should an ETF sponsor issue a U.S. infrastructure ETF, I believe it would do quite well during Trump's presidency," Pincus adds.