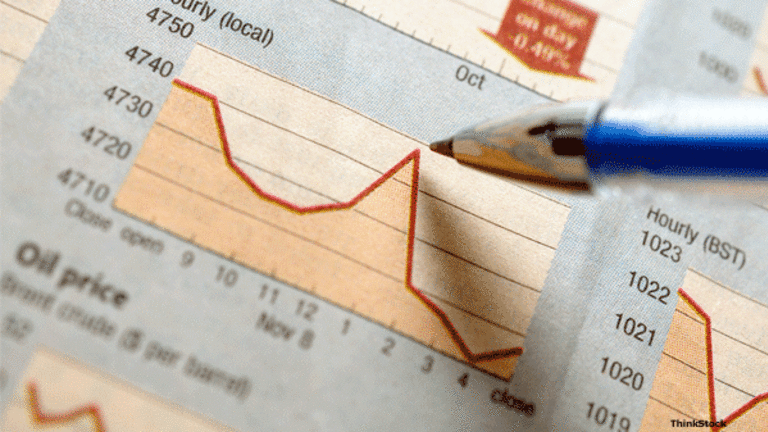 WisdomTree Unveils Managed Futures Strategy ETF
The fund seeks an absolute return that has a low correlation to equities.
NEW YORK (
) -- Four years ago, I wrote about the then new
Rydex Managed Futures Fund
(RYMFX)
for
RealMoney.com
. That fund tracks the S&P Diversified Trends Indicator which goes long or short 16 commodity futures and eight financial futures based on whether each component is above or below its seven-month moving average. The commodity and financial portions each target 50% of the index. The goal of the strategy is to offer an absolute return strategy that has a low correlation to the U.S. stock market. I bought this fund for most of my clients shortly after its debut and still hold it.
It has lived up to its billing with a low correlation to the
S&P 500
going up dramatically in late 2008 as the stock market unraveled in the face of the
Lehman
crisis. True to that first article, the fund zigged when the stock market zagged. Since inception, the fund is up 3.25% vs. a decline of 8.8% for the S&P 500. In mid-2008, ETN provider ELEMENTS came out with the ELEMENTS Linked to the S&P Commodity Trends Indicator Total Return (LSC) which applied the same strategy but only with commodities. The ELEMENTS ETN also has delivered low correlation to equities including an even larger rally during the Lehman crisis but has been far more volatile.
WisdomTree recently brought this strategy to the exchange-traded fund market with the
WisdomTree Managed Futures Strategy Fund
undefined
. The new WisdomTree ETF will strategically be like the Rydex Managed Futures fund in terms of investing in both commodities and financial instruments while having the trading flexibility of other exchange-traded products including the LSC ETN.
In general terms, the ETF is the superior wrapper because ETNs are debt obligations of the issuer, in the case of LSC that would be
HSBC
(HBC)
. In addition to more trading flexibility than the Rydex fund, the new WisdomTree ETF will be much cheaper charging only 0.95% vs. 2.05%. One hundred basis points less in fees would have had a dramatic effect on RYMFX's result since inception and that dramatic effect should be captured going forward with WisdomTree's ETF.
I have unyielding faith in the strategy and believe the ETF wrapper to be superior. But this is a fund in which proper expectations need to be set. The WisdomTree fund will go long commodities or financial instruments that are above their seven-month moving average and short those that are below their seven-month moving average (except energy) in pursuit of an absolute return that has a low correlation to equities. If you are older than 30, then you have seen equities go up the vast majority of your investing lifetime and this will resume again at some point.
So if equities go up the vast majority of the time and this fund will have a low correlation to equities, then the purpose of managed futures becomes more about protection during downturns which was the case in 2008, actually a negative correlation not just a low correlation. In 2009, the S&P 500 was up 25% while Rydex Managed Futures was down 7.6%. If 2011 turns out to be another good year for domestic equities, it is very unlikely that any fund tied to the underlying S&P Diversified Trend Indicator will lead your portfolio. If the fund will work in the future it will most likely be as a device to manage portfolio volatility and avoid the full brunt of the next large decline in the market. Since we can't know when the next large decline will be but do know that the market is now up 90% from the March 2009 low, a modest exposure looks like a good idea.
Readers Also Like:
>>5 Best Energy Stocks for $100-Plus Oil
At the time of publication, Nusbaum had RYMFX as a client holding, although positions may change at any time.
Roger Nusbaum is a portfolio manager with Your Source Financial of Phoenix, and the author of Random Roger's Big Picture Blog. Under no circumstances does the information in this column represent a recommendation to buy or sell stocks. Nusbaum appreciates your feedback;
to send him an email.