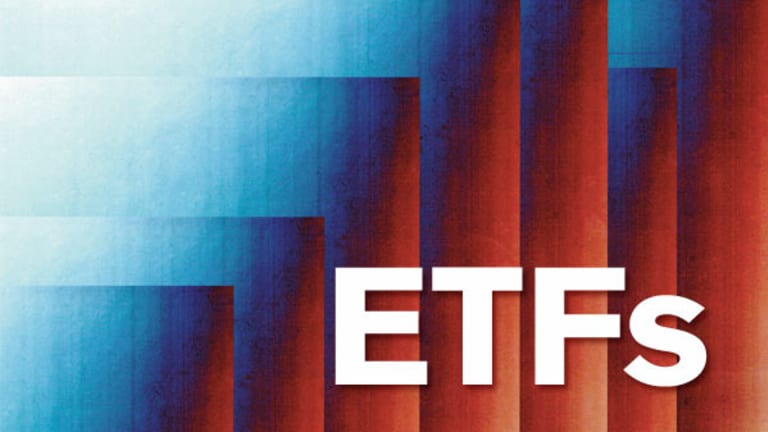 Winning Funds Bet on Companies Repurchasing Shares
Buybacks prop up returns in downturns and boost long-term results.
Buybacks prop up returns in downturns and boost long-term results.
NEW YORK (TheStreet) -- Seeking income, investors have poured into dividend exchange-traded funds. Lately the move has proved rewarding.
During the past three years,
PowerShares Dividend Achievers
(PFM) - Get Report
has returned 12.5% annually, outdoing the
S&P 500
by a percentage point, according to Morningstar.
But instead of focusing on shares with rich dividends, investors could have done even better by holding companies that have been buying back their stocks. During the past three years,
PowerShares Buyback Achievers
(PKW) - Get Report
returned 15.1% annually.
The outlook for the buyback fund remains bright. While sales of S&P 500 companies are growing at an annual rate of 1.8%, the stocks in the buyback fund are growing 9.2%. Despite their superior characteristics, the buyback stocks sell at a discount, commanding a price-earnings ratio of 13.4, compared to a multiple of 14.2 for the S&P 500.
Five Must-Watch Earnings Releases
To be included in the buyback fund, a company must have reduced its number of shares by 5% in the previous calendar year. The fund currently holds 245 stocks from a universe of 4,000 names. Big holdings include such blue-chips as
International Business Machines
(IBM) - Get Report
,
Intel
(INTC) - Get Report
and
Home Depot
(HD) - Get Report
.
Buybacks tend to prop up stocks, says Timothy Alward, CEO of Ford Equity Research, which devised the benchmark that is used by PowerShares Buyback fund. As shares are reduced, the earnings attributed to each remaining share increases. As a result, companies that repurchased shares have outperformed the markets over long periods.
Buyback stocks can be defensive holdings, says Alward. Only steady businesses with strong cash flows can afford to repurchase big chunks of their shares. "The buyback index tends to do a little better in downturns than the market as a whole," he says. "During strong rallies, the index stays close with the market."
Volcker Just Wants 'Sensible' Bank Rules
When the market collapsed in 2008, PowerShares Buyback Achievers lost 33.6%, outdoing the S&P 500 by 3.4 percentage points. So far this year, the fund is up 13.6%, compared to a gain of 16.4% for the S&P 500.
Despite the recent rally, many buy-back stocks sell at big discounts to their fair values, argues Bill Nygren, portfolio manager of
Oakmark Select
(OAKLX) - Get Report
, a mutual fund. Nygren's views are worth considering. During the past 15 years, his Oakmark fund returned 9.1% annually, outdoing the S&P 500 by four percentage points and ranking as the top-performing large blend fund.
Nygren looks for unloved companies that are increasing the value of their businesses. Over the years he has often favored dividend payers and companies that are repurchasing shares. He likes such stocks because they have strong cash flows and are using the money to enrich shareholders.
Lately, Nygren has been emphasizing buyback companies and moving away from utilities and other dividend payers. He says that in recent years, income investors have shifted away from low-yielding bonds and moved to utilities. Because utilities have been slow growers, they typically sold at multiples that were about two thirds of the figure for the S&P 500, he says. But now they trade at a premium to benchmark.
"Investors have bid up the prices of dividend stocks, and they have not paid up for many companies that use all their excess cash for share repurchases," he says.
Nygren likes
DirecTV
(DTV)
, a company that does not pay a dividend. Although the satellite TV company has grown rapidly, the shares sell for less than 10 times earnings estimates for next year.
Testy Citigroup CFO Dismisses 'Facile' Mayo Upgrade: Street Whispers
Since 2006, DirecTV has doubled its sales to about $30 billion and almost doubled profits to $2.6 billion. During the same time, it has about cut in half the number of shares outstanding. The share repurchases have increased the value of the stock, says Nygren. "While the total earnings have doubled, earnings per share have quadrupled," he says.
Another stock he likes is
Discovery Communications
(DISCA) - Get Report
, which operates such cable channels as Discovery Channel, Animal Planet and Military Channel. In the past year, the company has repurchased about 10% of its shares, and the earnings have been increasing at a double-digit rate. One of the fastest-growing channels is Investigation Discovery, a true crime specialist.
"This is a great business, but income investors have no interest because there is no dividend," says Nygren.
This article was written by an independent contributor, separate from TheStreet's regular news coverage.
Stan Luxenberg is a freelance writer specializing in mutual funds and investing. He was executive editor of Individual Investor magazine.