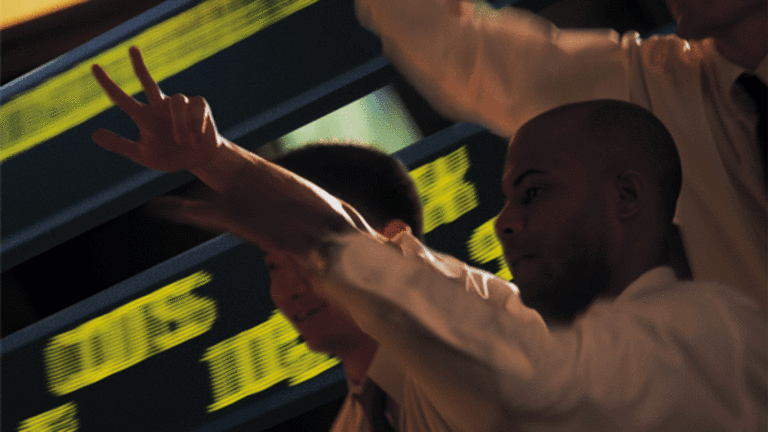 Why It Pays to Own More Than One Index Fund
Reduce risk by holding a mix of several fund types.
NEW YORK (TheStreet) -- Seeking to top the S&P 500 and other traditional benchmarks, ETF companies have developed a host of new index funds. While some have been duds, many appear to be winners.
Among the top performers are equal-weight and fundamental funds. Large-cap funds that have outpaced the S&P 500 by a comfortable margin during the past five years include
Guggenheim S&P 500 Equal Weight
(RSP) - Get Invesco S&P 500 Equal Weight ETF Report
and
PowerShares FTSE RAFI US 1000
(PRF) - Get Invesco FTSE RAFI US 1000 ETF Report
, a fundamental fund.
PowerShares FTSE RAFI US 1500
(PRFZ) - Get Invesco FTSE RAFI US 1500 Small-Mid ETF Report
, a small-cap fundamental fund, outdid the
S&P 600
small-cap benchmark.
Should you toss out your old-fashioned index funds? Not necessarily, says Sheldon Jacobs, author of "Investing without Wall Street" (John Wiley & Sons).
Jacobs says that traditional S&P 500 funds have excelled during some periods, while at other times fundamental and equal-weighted strategies have shined. To avoid lagging, he suggests holding a diversified mix that includes several kinds of index funds.
Jacobs notes that the S&P 500 was a star of the 1990s bull market. During the last five years of the decade, the S&P 500 returned 28.6% annually, outdoing most actively managed funds by a wide margin.
The equal-weight ETFs did not exist at the time. But there was a comparable mutual fund,
Invesco Equally-Weighted S&P 500
(VADAX) - Get Invesco Eq-Wgtd S&P 500 A Report
. It trailed the S&P 500 by 9 percentage points annually during the 5-year period.
The reason for the benchmark's stellar showing in the 1990s can be traced to its structure. Like most benchmarks, the S&P 500 weights its holdings according to market capitalizations. Under this system, stocks with larger market value carry greater weights.
Apple
(AAPL) - Get Apple Inc. (AAPL) Report
, currently the biggest stock in the S&P 500, accounts for 4.4% of the assets, while car dealer
AutoNation
(AN) - Get AutoNation, Inc. Report
accounts for 0.01%. As a stock rises, the weighting increases.
During the late 1990s, a small number of big technology stocks came to dominate the S&P 500. As they soared, companies such as
Microsoft
(MSFT) - Get Microsoft Corporation (MSFT) Report
and
Cisco Systems
(CSCO) - Get Cisco Systems, Inc. Report
came to account for a huge weighting in the benchmark.
By 1999, technology represented 39.6% of the S&P 500. The strong showing by a handful of stocks pulled the index to new heights. Then when technology crashed in 2000, the former stars pulled the benchmark down hard. Today technology is 18.3% of the benchmark.
Critics of the S&P 500 say that cap weighting systematically emphasizes overvalued stocks and shuns undervalued names. That pulls down long-term returns.
To correct the problem, fund companies introduced equal weighting. In an equal-weight S&P 500 fund, each of the 500 stocks accounts for about the same weight. As a result, the portfolio does not emphasis a few giant stocks.
During periods when giants lead the markets, the equal-weight portfolios tend to trail the conventional S&P 500. That happened in the late 1990s.
In this decade, small stocks outpaced large ones, and equal-weight portfolios gained an edge. During the past ten years, Invesco's equal-weight fund returned 9.2% annually, compared to 7.5% for the S&P 500.
Can the equal-weight funds continue excelling? That is hard to know. Many studies have shown that small stocks outdo large ones over the long term.
But large stocks often shine for prolonged periods. It is entirely possible that the S&P 500 will outdo the equal-weight funds for the next five or 10 years.
Fundamental funds take a different approach, weighting stocks according to such factors as total sales and dividends.
Under the system, a company with a low stock price and big sales can account for a heavy weighting.
Bank of America
(BAC) - Get Bank of America Corp Report
-- which has huge total sales -- is the fourth biggest holding in PowerShares FTSE RAFI US 1000 fundamental fund and accounts for 2.2% of assets. The bank is the 27th largest holding in the S&P 500 and represents 0.7% of assets.
Because sales and dividends are not as volatile as stock prices, fundamental funds tend to maintain relatively steady holdings and sector allocations. That can result in deviations from cap-weighted benchmarks.
In 2007, the PowerShares fund had 18.7% of its assets in financials, compared to 17.6% for the S&P 500. Then in 2008, financials collapsed, and their weighting in the S&P sank to 13.2%. The weighting in PowerShares actually climbed to 20.1%. This occurred because the sales of companies like Bank of America remained enormous, even though the stock prices fell.
The big financial stake pulled down PowerShares, which lost 40% in 2008, trailing the S&P by 3 percentage points. Then financials rebounded, enabling PowerShares to return 41.7% in 2009, compared to a gain of 26.5% for the S&P.
During the past five years, PowerShares returned 2.8% annually, compared to 2.0% for
SPDR S&P 500 ET
(SPY) - Get SPDR S&P 500 ETF Trust Report
, a cap-weighted index fund.
Proponents say that fundamental funds are better mousetraps that can outperform their benchmarks. Maybe so. But Jacobs argues that investors should proceed with care, holding a diverse basket of index funds.
At the time of publication the author held no positions in any of the stocks mentioned.
This article is commentary by an independent contributor, separate from TheStreet's regular news coverage.
Stan Luxenberg is a freelance writer specializing in mutual funds and investing. He was executive editor of Individual Investor magazine.