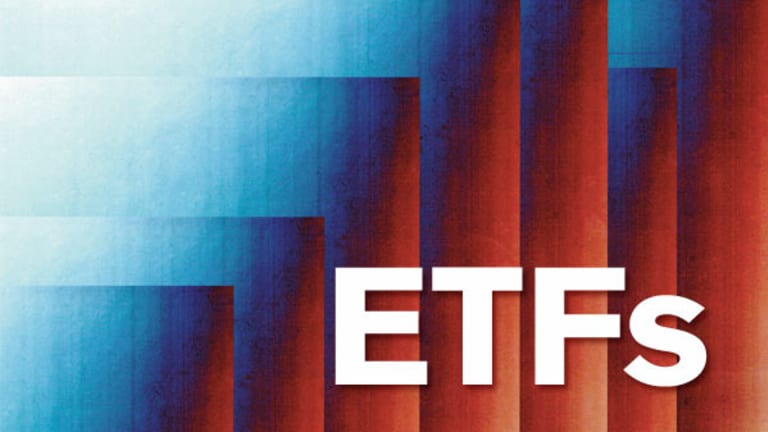 Why Inflation-Protected Bonds Look Attractive
After the recent downturn, prices have sunk. The biggest risk for TIPS holders now is that interest rates will continue climbing as investors dump bonds.
NEW YORK (
) -- While most bonds have sunk into the red lately, Treasury Inflation-Protected Securities suffered particularly steep losses. This year,
SPDR Barclays TIPS ETF
(IPE)
declined 6.7%, compared to a loss of 2.0% for the Barclays Capital U.S. Aggregate Bond index.
Now some analysts argue that the inflation securities have reached attractive levels. "TIPS are cheaper now than they have been in a long time," says Brett Wander, chief investment officer for fixed income of Charles Schwab Investment Management.
Like other bonds, TIPS pay fixed yields. In addition, the inflation securities offer special protection since their principal values rise along with the consumer price index. Say you put $10,000 into TIPS, and the CPI rises 2% in the first year. Your principal value will be $10,200.
In recent years, TIPS have taken investors on a rollercoaster ride. As markets recovered from the financial crisis, investors raced to purchase TIPS, fearing that Washington's stimulus programs would ignite inflation. All the buying pushed up prices, and yields sank sharply.
When bond prices rise, yields fall. By December 2012, the yields on 5-year TIPS dipped below -1%. So an investor who put $10,000 into TIPS was guaranteed to lose more than $100 of principal in the next five years if there was no inflation. Frightened investors were willing to accept the negative rates because TIPS seemed less risky than the alternatives.
As investors grew more confident this year, they began dumping Treasuries and taking on more risk. TIPS funds suffered outflows. With inflation muted, investors saw little reason to buy protection against rising prices.
When bond prices fall, yields rise. The yields on 10-year TIPS climbed from -0.65 in April to 0.28% now. At the current level, TIPS may not make anyone rich, but they can serve as effective insurance policies for savers seeking protection from inflation.
Analysts say that the inflation bonds look attractive compared to conventional Treasuries. Conventional 10-year Treasuries yield 2.28%. TIPS will outperform conventional Treasuries if the CPI rises more than 2.2% annually for the next decade. During the last century, the annual inflation rate was 2.8%. Analysts argue that inflation is likely to approach the historical average in coming years.
The biggest risk for TIPS holders now is that interest rates will continue climbing as investors dump bonds. To own TIPS and reduce the risk of rising rates, you can buy a fund that holds short-term TIPS. Short bonds tend to suffer limited losses when rates climb.
Shorter ETFs have proved relatively resilient during the recent downturn. Among the shorter choices are
FlexShares iBoxx 3-year Target Duration TIPS
(TDTT)
,
FlexShares iBoxx 5-year Target Duration TIPS
(TDTF)
and
SPDR Barclays 1-10 Year TIPS
(TIPX)
. Investors who prefer a traditional mutual fund can try
American Century Short Duration Inflation Protection Bond
(APOAX)
.
During the past three months, the FlexShares 3-year ETF declined 0.9%, while
Schwab U.S. TIPS
(SCHP)
-- which holds some longer bonds -- lost 6.1%. The short funds provide little or no current yields. But they offer inflation protection because their principal values rise along with the CPI.
To obtain richer income, investors who can tolerate some risk might consider
Lord Abbett Inflation Focused
(LIFAX)
, a mutual fund. Lord Abbett yields 2.2%, and it has avoided big losses. During the past year, the fund returned 2.6%, compared to a loss of 5.1% for the Schwab U.S. TIPS.
The Lord Abbett fund does not hold TIPS. Instead, the portfolio managers start by assembling a portfolio of short-term securities. Holdings include investment-grade corporate issues as well as mortgage-backed securities. About 15% of assets are in high-yield bonds, which are rated below-investment grade.
To provide inflation protection, the fund buys CPI swaps. To obtain these, the fund enters into agreements with banks or brokers that are known as counterparties.
Under the terms of the agreements, the fund will receive payments if the inflation rate exceeds about 2.25%. The value of the swaps changes every day. During periods of rising inflation, the value of the swaps will climb, helping to protect fund shareholders.
While TIPS have no default risk, the corporate bonds in the Lord Abbett portfolio could default. However, there is good reason to believe that the mutual fund would outdo TIPS in a period of rising rates. If rates rise because the economy is strengthening, then default risk would decline, and investors might bid up prices of high-yield bonds.
At the time of publication the author had no position in any of the stocks mentioned.
This article was written by an independent contributor, separate from TheStreet's regular news coverage.
Stan Luxenberg is a freelance writer specializing in mutual funds and investing. He was executive editor of Individual Investor magazine.