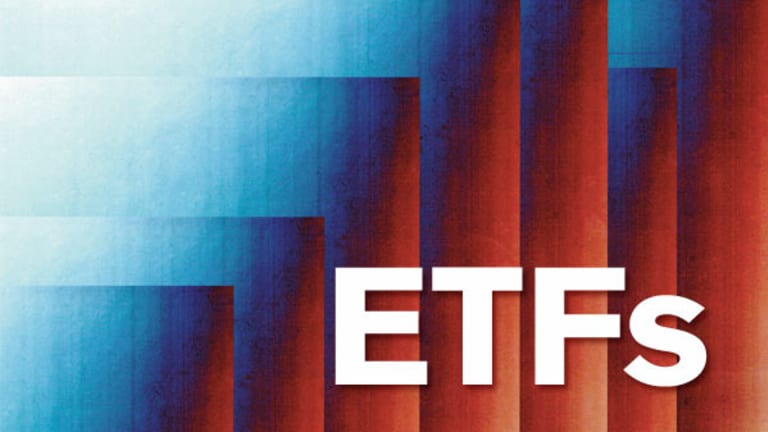 When to Taper Your Exposure To U.S. Stock ETFs
Here are some of the signs to watch for and suggestions on what to do.
NEW YORK (ETF Expert) -- Long-time readers and clients already know how I feel about the current U.S. stock market bull. For example, the absence of revenue growth at corporations (e.g., average sales growth for Dow components in 2013 is -0.7%) and the exceptionally high cyclically-adjusted P/E (i.e., 25) do not matter right now. And that's okay.
Pending home sales have dropped for five straight months and mortgage applications have declined for five consecutive weeks, placing a potential damper on the real estate recovery. That's okay, too. Not to be outdone, bearish sentiment by investment advisers, a well-tracked contrarian indicator, has plunged to its lowest level in a quarter century (14.3%). That's fine as well.
In other words, as long as the investment community believes Federal Reserve maneuvers will benefit equity risk-taking, it is sensible to participate in the easy-to-identify uptrends.
On the other hand, let me present a hypothetical scenario whereby the Dow at 16,000 rises to 20,000 over the next 12-24 months. Should the 25% price gains occur, even the most strident bulls would recognize the historical probability of a stock bear emerging after six to seven years of upward movement. It follows that those 25% gains would be wiped out in a buy-n-holders account if a 20% bear came to the picnic table. Moreover, with the average bearish erosion at 30%, a Dow Industrials stock that reaches 20,000 might see 14,000 before it sees 24,000.
The point here is not to discourage advocates of exchange-traded funds from participating in the Fed-fueled rally. Rather, the point is to drill home the notion that, at this point in the cycle, you cannot afford to buy-n-hold your stock assets.
Fortunately, there are a number of simple ways to determine whether it is time to lighten up. One of the most basic methods? Bolster your cash account if the price of the SPDR S&P 500 Trust (SPY) - Get SPDR S&P 500 ETF Trust Report breaches its 200-day on the downside and fails to bounce back quickly. You could sell a small portion, a large portion or the whole kit-n-kaboodle. Just be certain to be consistent with your personal discipline for reducing risk.
Decisions based solely on trendlines are far from perfect. Nevertheless, they'd have helped you avoid the bulk of the 2000-2002 bear, the panicky portion of the 2008-2009 collapse as well as provide a measure of comfort during the extreme price swings in the 2011 eurozone crisis.

Recognizing that bull markets differ, however, it is worthwhile to examine the current bull rally in the context of Federal Reserve intervention. In fact, the last two years' worth of gains are primarily attributable to the Fed's ultra-accommodative approach. That is why I look to several influential ETFs for additional clues.
For instance, the Fed's orchestration of the wealth effect with the phenomenal rise in home prices now increases the importance of watching the homebuilder ETFs. The iShares DJ U.S. Home Construction (ITB) - Get iShares U.S. Home Construction ETF Report is already flashing a warning sign, whereas SPDR Homebuilders (XHB) - Get SPDR S&P Homebuilders ETF Report has been a bit more resilient.
Some emerging-market ETFs can also assist investors identify if they might need to reduce U.S stock exposure. This is because a number of emergers are particularly dependent on foreign capital to help fund their deficits. It follows that if the Fed signals an ongoing plan for reducing its money printing, as opposed to a one-time, data-dependent gesture of lowering the dollar creation from $85 billion to $75 billion, I would expect WisdomTree India Earnings (EPI) - Get WisdomTree India Earnings Fund Report to fall back below its 200-day trendline. Right now, though, EPI's momentum is a sign that cheap money may be around for quite some time.
Last, but hardly least, keep an eye on the iShares 7-10 Year Treasury Bond Fund (IEF) - Get iShares 7-10 Year Treasury Bond ETF Report. A price movement below the September lows would likely correspond with a 10-year yield closing well above the 3% mark. The U.S. stock market is currently pricing in a 10-year between 2.5% and 3.0%, and not much more.
This article was written by an independent contributor, separate from TheStreet's regular news coverage.
Disclosure Statement: ETF Expert is a website that makes the world of ETFs easier to understand. Gary Gordon, Pacific Park Financial and/or its clients may hold positions in ETFs, mutual funds and investment assets mentioned. The commentary does not constitute individualized investment advice. The opinions offered are not personalized recommendations to buy, sell or hold securities. At times, issuers of exchange-traded products compensate Pacific Park Financial or its subsidiaries for advertising at the ETF Expert website. ETF Expert content is created independently of any advertising relationships. You may review additional ETF Expert at the site.
Gary Gordon reads:
On Twitter, Gary Gordon follows: