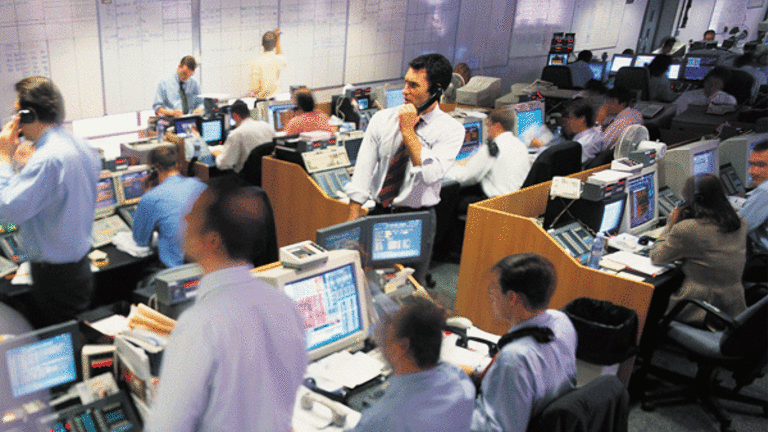 Publish date:
When Mutual Funds Are Cheaper Than ETFs
Mutual fund managers hold down costs with low-turnover strategies.
Mutual fund managers hold down costs with low-turnover strategies.
NEW YORK (TheStreet) -- Investors have been dumping mutual funds and shifting to exchange-traded funds, often because they figure ETFs are cheaper to hold, with lower expense ratios and better tax-efficiency.
But the difference between mutual funds and ETFs is not as great as some people think, says Joel Dickson, a senior investment strategist at
Vanguard Group
. Dickson says that many ETFs are expensive, and some are no more tax efficient than comparable mutual funds.
To make his case, Dickson divides the market into two groups: actively managed funds, which seek to top the benchmarks; and passive funds that track indices such as the
S&P 500
. Actively managed mutual funds are more expensive, because they spend heavily in an effort to beat the market.
The picture is different when you compare passive mutual funds to similar ETFs. Typical investors pay higher expense ratios for passive ETFs than they do for index mutual funds, Dickson says.
To prove the point, he calculates the asset-weighted expense ratios. Using this method, big funds carry more weight than small ones. On an asset-weighted basis, index mutual funds have an expense ratio of 0.15%, while passive ETFs charge 0.30%.
Dickson clearly has an ax to grind. Although Vanguard Group sells ETFs, it has long been famous for offering low-cost mutual funds. Still, investors should consider his warning about the need to make careful comparisons before buying any fund.
In recent years, ETF fees have changed. A few broad ETFs have lowered their fees with dramatic public announcements. Notable moves came when
Schwab U.S. Broad Market
(SCHB) - Get Report
lowered its expense ratio to 0.04% and
iShares Core S&P 500
(IVV) - Get Report
dropped to 0.07%.
But at the same time, a host of relatively expensive ETFs has appeared. Funds with expense ratios that top 1.5% include
Teucrium Sugar
(CANE) - Get Report
and
YieldShares High Income
(YYY) - Get Report
. Dickson says that during 2011 and 2012, 8% of ETFs raised their expense ratios, and 17% decreased them.
Although some ETFS have raised expense ratios, Vanguard and other operators of index mutual funds have held the line. Index mutual funds with share classes that charge expense ratios of less than 0.10% include
Fidelity Spartan Mid Cap Index
(FSTPX)
and
TIAA-CREF Equity Index
(TIEIX) - Get Report
.
Dickson says that more index ETFs have been charging higher expense ratios because they follow complicated strategies. Some emphasize factors such as low volatility or high dividends. Though the funds may be considered passive, their approaches require more trading and expenses.
"These strategies are really just active management wearing a Halloween costume," Dickson says.
Funds that track traditional benchmarks such as the S&P 500 simply buy and hold stocks. As a result they do little trading. That limits taxable capital gains and enables the funds to charge rock-bottom expense ratios.
During the past decade, index mutual funds have proved to be highly tax efficient.
Consider the showing of
Vanguard 500 Index
(VFINX) - Get Report
, a mutual fund that tracks the S&P 500.
During the past 10 years, the mutual fund returned 7.4% annually, compared to a return of 7.5% for
SPDR S&P 500 ETF
(SPY) - Get Report
, according to Morningstar. But after taxes, the Vanguard mutual fund returned 7.1%, compared to 7.0% for the SPDR ETF.
Part of the reason for the strong tax efficiency of the mutual funds could be attributed to the difficult markets of the past decade. In bull markets, mutual funds often sell stocks for profits and generate taxable capital gains. But during the downturns of this decade, the funds recorded capital losses that could be used to offset gains. As a result, the Vanguard S&P 500 fund did not distribute any capital gains during the decade.
If the bull market continues, mutual funds could prove less tax efficient. When a shareholder makes a withdrawal from a mutual fund, the portfolio manager may have to sell some stocks to raise the cash. If the sale produces a profit, then the fund records a capital gain that must be distributed to shareholders who can face bills at a tax time.
An ETF's structure can protect against taxes. When an institution seeks to make a withdrawal, the ETF portfolio manager does not sell stock. Instead, the fund makes an in-kind payment, giving the institution stock instead of cash. Because the fund does not sell stock, there is no taxable capital gain. In-kind payments do provide an advantage, Dickson says. "The in-kind redemption can help a little bit," he says.
But ETFs can sometimes generate taxable gains. The main reason that many ETFs are tax efficient is that they follow low-turnover passive approaches, Dickson says.
He argues that low-turnover mutual funds are extremely tax efficient because they rarely trade. "Traditional mutual funds can be pretty tax efficient if they follow a passive approach," he says.
At the time of publication, Luxenberg had no positions in securities mentioned.
This article is commentary by an independent contributor, separate from TheStreet's regular news coverage.
Stan Luxenberg is a freelance writer specializing in mutual funds and investing. He was executive editor of Individual Investor magazine.