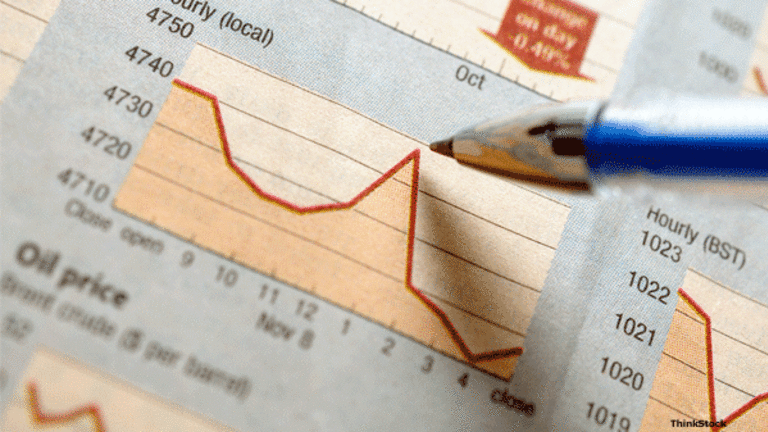 When a Trade Becomes an Investment
The Russell 2000 has been the leading sector since the market bottom in 2009; use these leveraged ETFs to benefit from this opportunity.
Editor's note: This piece originally ran earlier today on our newest Premium service, ETF Profits. Click here for a 14-day trial to this exciting product!
There is an old joke on Wall Street about when investors allow a position to lose more than 30%, and that security suddenly mentally transforms from a bad trade into a long-term investment. I hear the mantra that many people are long-term investors. What does that mean? Aren't we all planning to invest for the rest of our lives? Hopefully that will turn out to be a very long time.
How have long-term "holders" of investments done? Back in the late 1990s "Money" magazine was touting the purchase of index funds, specifically the
index, and holding them for the long term. In March 2000, the S&P reached a high of 1553. Yesterday, it closed at 1306. Not accounting for dividends, on a price basis only, that is almost a 16% decline over an 11-year time frame. Is that long term enough?
Some of the most popular mutual funds also have negative returns over that same timeframe.
American Funds Investment Company of America
(AIVSX) - Get Free Report
lost 12% and the
Fidelity Magellan Fund
(FMAGX) - Get Free Report
lost 11%, not accounting for dividends or commissions on both funds.
My philosophy is somewhat opposite of the buy-and-hold believers. It would be great to pick ETFs and hold them forever. However, we live in a dynamic world, where flexibility is important.
I suggest that each position should start as a trade that could turn into a long-term investment should the price continue to increase over time. Since markets move in two directions, if a trade goes against you it is best to cut your losses quickly. This will allow you to keep the majority of your capital intact for another try, perhaps at lower prices.
Long term, the bias remains to the upside for the major indices. Short term, we just experienced a very quick correction, and the markets are in the midst of their worst week since last August. Near term, the market is oversold and due for a rally. Whether or not that rally turns out to be a continuation of the bull market run that began in September remains to be seen.
This week one of the hardest hit indices was the Russell 2000. It dropped 5.4% from last Friday's high to this week's low. For traders, now may be a good time to put money to work in what has been the leading sector since the market bottom of 2009.
The current pullback did not violate the Russell Index's uptrend from late August or its 50-day moving average. Using leverage may be a good way to take advantage of this opportunity. The
ProShares Ultra Russell 2000
(UWM) - Get Free Report
fell 10.5% from peak to trough over the last few days. It closed yesterday at $44.80. If it just moves back to last Friday's high, that would produce a 9% gain -- not a bad trade. If the markets continue higher, UWM could go from being a good trade to a longer-term investment. The key would be a continued uptrend for that sector.
An even more aggressive way to trade the recent decline would be to use the
Direxion Daily Small Cap Bull 3X
(TNA) - Get Free Report
. TNA closed at $77.20 yesterday, off more than 13% from last week's high. This would be a tidy profit should TNA reach the peak that it hit last Friday. If this interruption of the bull market is over and we reach new recovery highs, TNA could become a longer-term hold, as well.
No one knows if the correction is over or how far this relief rally will run. Use stop losses of $43.60 on UWM and $74.10 on TNA to limit your downside risk should these trades not work out. The lesson is don't take big losses. The distance of the market's upside run will determine whether this is a short-term trade or a longer-term investment. Do what you can to avoid having a bad trade become a long-term joke.
At the time of publication, Slusiewicz held no positions in any of the holdings mentioned.
Jerry Slusiewicz has over two decades of professional investment experience. He has worked with individuals and institutions to manage monies for both short and long-term investment horizons. This extensive experience through various stock and bond market cycles enables him to offer a unique blend of professional investment counsel and personal service.