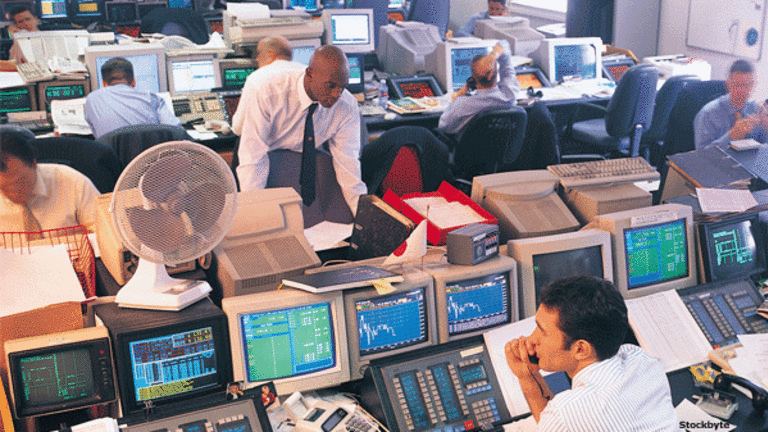 NEW YORK (
) -- As you know by now,
Caterpillar
(CAT) - Get Caterpillar Inc. Report
came in with a
strong earnings report and reasonably upbeat outlook for 2012, which is providing optimism that we are not on the precipice of another recession -- a recession that seemed to be a certainty one month ago.
Amusingly, there was a commentary recently suggesting that August was a one-month recession that we have now emerged from. Although a one-month recession seems unlikely, I suppose it is not impossible even if a technical misnomer. The reason to mention a theoretical one-month recession is the typical trading patterns for heavy industrial stocks like Caterpillar going into and coming out of a recession. If the one-month theory is somehow correct, then it is possible that as well as industrial stocks have performed over the last month, the surge could continue.
News like CAT's earnings report naturally might lead to ETF investors trying to assess the best way to ride the coattails of Caterpillar's fundamental performance and stock price gains.
In terms of broad-based funds like the
Industrial Sector SPDR
(XLI) - Get Industrial Select Sector SPDR Fund Report
or the
iShares DJ Industrial Sector Index Fund
(IYJ) - Get iShares U.S. Industrials ETF Report
, Caterpillar only weighs in at 4% to 5% of the funds making them more of a proxy for the entire sector and by extension a proxy for the U.S. economic cycle.
It is important to understand what this really means. In the seven weeks leading into the Oct. 4 low, the S&P 500 fell 15% while XLI and IYJ each fell 22% and CAT fell 30%. Since that low, the S&P 500 is up 13%, XLI and IYJ are each up about 16% and CAT is up a whopping 30%. This is normal cyclical behavior. On the way down, cyclically, industrials do far worse and on the way up they do far better.
As you can tell by the numbers, the broader funds like XLI and IYJ are not great proxies for CAT's performance. On the way down, an investor would rather own the ETF and on the way up it would be better to own the common -- an intentionally obvious observation.
Other fund providers have funds similar to XLI and IYJ with similar weightings in CAT but those funds trade less volume while offering the same sort of imprecise tracking of Caterpillar's share price.
This example isolates one of the big drawbacks of ETFs. They are fantastic tools for investors to build diversified portfolios that cover a lot of ground (ETFs exist for the fishing industry and infrastructure in India) but in terms of capturing a specific stock, they come up short other than maybe if one stock dominates the weightings of a particular fund.
There are some stocks, like Caterpillar, that people who typically only use ETFs may want to consider owning directly. Over the last 10 years, the S&P 500 is up 16% and XLI is up 35% while CAT is up 300%. While there is no guarantee of the past repeating, we do know that revenue from Asia-Pacific was up 55% for CAT in the past quarter which shows that for all the legitimate worries about certain segments of the Chinese economy, money on infrastructure is still being spent and the modernization that goes with an ascending middle class is continuing. We also know that Brazil has a lot of work ahead of it, infrastructure wise, before it hosts the World Cup in 2014 and the Olympics in 2016, and although funds like XLI and IYJ will benefit they will benefit less so than Caterpillar.
Roger Nusbaum is a portfolio manager with Your Source Financial of Phoenix, and the author of Random Roger's Big Picture Blog. Under no circumstances does the information in this column represent a recommendation to buy or sell stocks. Nusbaum appreciates your feedback;
to send him an email.