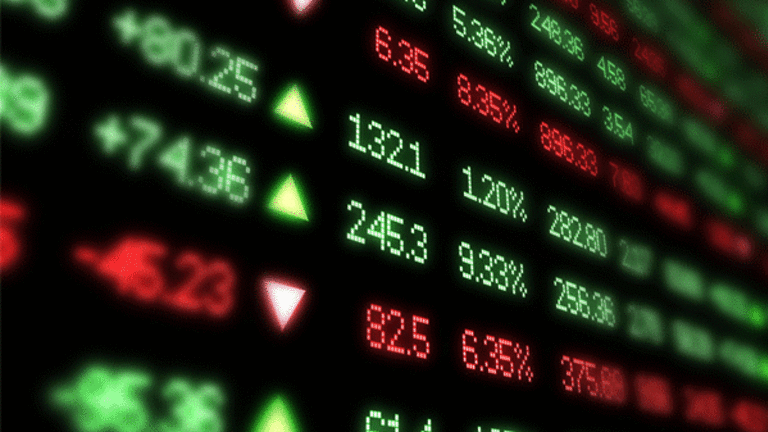 Weak U.S. Dollar Lifts Precious Metals
Even though I expect to hold gold in the near term, I'm also reviewing silver and platinum funds given their relative underperformance.
NEW YORK (
) -- Demand for precious metals exchange-traded funds such as
iShares COMEX Gold
(IAU) - Get Free Report
and
iShares Silver
(SLV) - Get Free Report
have remained strong even as investors have taken profits in other commodities.
Some of the positions that have worked best for my momentum-based client portfolios and newsletter subscribers over the past one to two years have been gold and gold stocks, such as
Market Vectors Gold Miners
(GDX) - Get Free Report
and
Fidelity Select Gold
(FSAGX) - Get Free Report
. Although I expect all precious metals to appreciate further over the next 12 months, I have begun to look more closely at the relative performance of platinum and silver ETFs, which have lagged those of gold until this latest bullish spurt.
One of the reasons I have advocated small positions in both the bullion and mining stocks is their potential to hold up during times of financial crises. Although gold didn't respond entirely as expected during the height of the crisis last year, gold investments have rebounded to their pre-crash levels. And whether you are a believer of inflation or deflation as the near-term course for U.S. dollar-denominated assets, there is a good chance that precious metals will hold their value, even at these elevated levels.
There are many factors that have supported the price of gold throughout the downturn and even during the latest rally, but I believe it is the weakness in the U.S. dollar and the growing expectations for higher inflation that will remain primary driving forces. As long as the dollar can depreciate further, both retail and institutional investors alike will continue to generate financial and speculative demand for precious metals, and primarily gold because of its perceived utility as a store of value. One only needs to look as far as India and China, where consumers have been encouraged to diversify away from the dollar and buy precious metals directly in place of jewelry.
There are many structural reasons for the dollar to remain weak, including large budget and trade deficits, as well as low savings rates, but since March it has been the resumption of risk-taking that has weighed on the U.S. currency. Investors who flocked to the stable greenback during the financial crisis have become sellers again, looking to invest in assets with greater appreciation potential, such as stocks, commodities and high-yielding corporate credit securities. Until these markets correct or the
begins raising its benchmark interest rate, we can expect the U.S. dollar to remain weak against other currencies.
So even though I expect to hold gold in the near term, I am also reviewing silver and platinum funds given their relative underperformance. These two metals have more numerous industrial uses: Silver is used in dentistry, alloys, photography, and circuits; platinum is used in auto catalysts. If industrial demand for these metals increases along with the rebounding economy, they may very well close the performance gap from here.
Two good funds to use as proxies for silver and platinum are iShares Silver and
iPath Dow Jones-UBS Platinum Subindex Total Return ETN
(PGM) - Get Free Report
. Since the launch of these two funds investment demand has become a larger portion of overall demand, diverting supply away from pure industrial uses in order to satisfy financial demand. In the case of silver, such demand is now 60% of overall global supply, while platinum investments equate to 20% of global supply.
If the auto recovery continues and auto emission standards become stricter than they are today, or simply if the demand for alternative precious metals becomes more acute, we could see the relative performance gap narrow and traditional ratios to gold decline.
-- Written by Don Dion in Williamstown, Mass.
At the time of publication, Dion owned iShares COMEX Gold, Market Vectors Gold Miners and Fidelity Select Gold.
Don Dion is president and founder of
, a fee-based investment advisory firm to affluent individuals, families and nonprofit organizations, where he is responsible for setting investment policy, creating custom portfolios and overseeing the performance of client accounts. Founded in 1996 and based in Williamstown, Mass., Dion Money Management manages assets for clients in 49 states and 11 countries. Dion is a licensed attorney in Massachusetts and Maine and has more than 25 years' experience working in the financial markets, having founded and run two publicly traded companies before establishing Dion Money Management.
Dion also is publisher of the Fidelity Independent Adviser family of newsletters, which provides to a broad range of investors his commentary on the financial markets, with a specific emphasis on mutual funds and exchange-traded funds. With more than 100,000 subscribers in the U.S. and 29 other countries, Fidelity Independent Adviser publishes six monthly newsletters and three weekly newsletters. Its flagship publication, Fidelity Independent Adviser, has been published monthly for 11 years and reaches 40,000 subscribers.