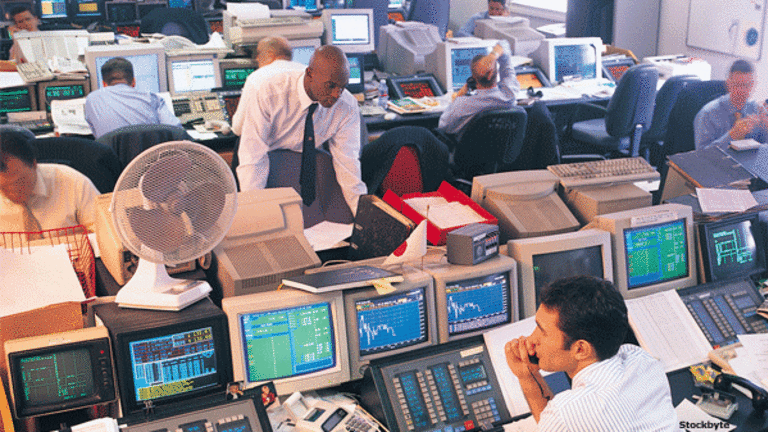 Water Shortage Opens Floodgate of Opportunities
Demand for potable water will likely grow 6% annually. This, in conjunction with the water shortage in several parts of the world, is drawing heavy attention to the commodity.
NEW YORK (TheStreet) -- As global populations continue to grow, advancements in medical technology continue to prolong life and developing economies add wealth, the PowerShares Water Resources (PHO) - Get Invesco Water Resources ETF Report, the Claymore S&P Global Water (CGW) - Get Invesco S&P Global Water Index ETF Report and the PowerShares Global Water (PIO) - Get Invesco Global Water ETF Report are likely to reap the benefits.
Water is a commodity that is absolutely essential to survive and is essential in the cultivation and production of food. At current rates, it is expected that demand for potable water will grow 6% annually. This, in conjunction with the water shortage already seen in numerous parts of the world, is drawing heavy attention to the commodity.
The imbalances of supply and demand are currently hitting India and China and are expected to get worse. According to a study conducted by McKinsey & Co., water demand in the next two decades will double in India to 1.5 trillion cubic meters and rise 32% in China to 818 billion cubic meters. Additionally, at current consumption rates, the 1.2 billion people in India, where farmers use 80% of available water, will exhaust their fresh-water supplies by 2050.
The uptick in demand for water is well known, but what is expected to truly support price movements in the highly sought-after resource is supply. Granted, the globe is comprised mainly of water, but of this water, a mere 1% can be used by populations for agricultural production, industrial uses and human consumption.
Additionally, Mother Nature is not helping water supplies in India or China as Southwest China had its worst drought in a century this year and India witnessed the weakest monsoon in more than three decades last year. To make things even more challenging, a group of scientists recently reported that soil moisture levels on Earth are declining and are expected to result in a depletion of fresh water tables around the world.
Water supply in China has been further impacted by its rapid industrialization and growth. The Asian nation is home to nearly 20% of the world's population but houses a mere 7% of the world's fresh water. To put things really into perspective, the World Bank reports that the Asian nation's rapid growth has contaminated 70% of its rivers and lakes, while half the cities have polluted groundwater. With these current trends, by 2030 China will have a supply shortfall of nearly 201 billion cubic feet.
As for India, nearly 60% of the emerging market's arable land depends on rainfall from the annual monsoons. Additionally, the nation's fresh water reserves are unevenly distributed and do not have the proper infrastructure that would enable control over floods and curtail shortages. India has implemented mandates that focus on conservation of water, but is still far from curbing wastage, improving efficiency and having an answer for its expected supply shortfall.
Instead, India has concentrated on conservation. The government has made it mandatory for new houses and condominiums in cities to collect rainwater in an effort to curb a decline in groundwater levels.
According to recent government data and reports, water infrastructure all over the world, including the United States, is crumbling and will soon need a major overhaul. To make it even worse, investment in the sector is virtually non-existent and almost every nation is well behind in water system upgrades.
With all things in mind, there will come a point where water scarcity will force an influx of investment into the sector on both the domestic and international stage, enabling companies that specialize in extraction, treatment and water conveyance to reap the benefits.
The PowerShares Water Resources should benefit because it boasts environmental services giant
Veolia Environment
(VE)
and flow-control equipment specialists
Flowserve Corporation
(FLS) - Get Flowserve Corporation Report
in its top holdings. PHO closed at $14.95 on Monday.
Similarly, the Claymore S&P Global Water holds Swiss-based Geberit AG, which specializes in water sanitary systems and the transportation of water through piping systems. CGW closed at $17.14 on Monday.
As for the PowerShares Global Water, it gives exposure to international companies that are in the water business, like French-based Suez Environment, which specializes in producing, distributing, treating and recovering water, as well as wastewater treatment specialists Kemira Oyj in its top holdings. PIO closed at $16.50 on Monday.
Although both macro and micro economic factors suggest that an investment in the global water sector is inevitable, it's important to keep in mind the inherent risks involved when investing in equities. A good way to protect against these risks is through the use and implementation if an exit strategy, which triggers price points that represent abnormal price weaknesses and indicate that further price weaknesses are likely to follow.
According to the latest data at SmartStops.net, the price points for the aforementioned ETFs are PHO at $14.44; CGW at $16.72; PIO at $16.08. These price points fluctuate on a daily basis and reflect changes in market conditions. Updated data can be found at www.SmartStops.net.
Written by Kevin Grewal in Houston, Texas
Kevin Grewal is the founder, editor and publisher of
ETF Tutor and serves as the editor at
www.SmartStops.net , where he focuses on mitigating risk and implementing exit strategies to preserve equity. Additionally, he is the editor at The ETF Institute, which is the only independent organization providing financial professionals with certification, education, and training pertaining to exchange-traded funds (ETFs). Prior to this, Grewal was a quantitative analyst at a small hedge fund where he constructed portfolios dealing with stock lending, exchange-traded funds, arbitrage mechanisms and alternative investments. He is an expert at dealing with ETFs and holds a bachelor's degree from the University of California along with a MBA from the California State University, Fullerton.