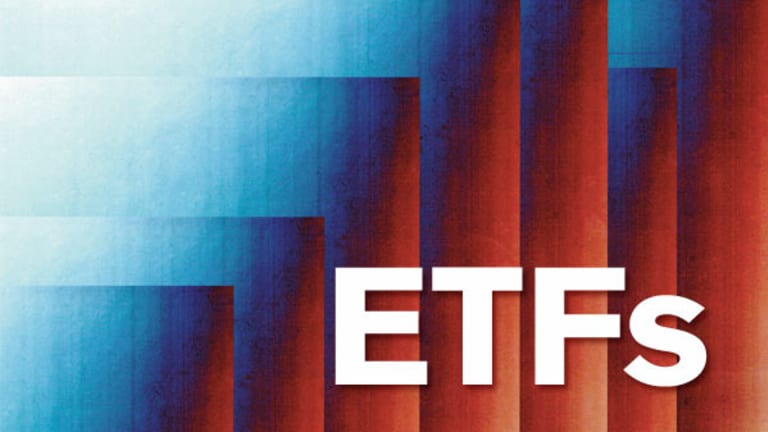 Water Funds Are Surging
Demand for scarce supplies is growing.
NEW YORK ( TheStreet ) -- Wall Street periodically develops funds that target hot investment themes. In the 1950s, a television fund appeared. During the technology bubble of the 1990s, Internet funds were the rage. Most of the theme funds have vanished quickly. But a few have lasted for longer periods. Among the survivors are water ETFs, and they could prove to be winners.
The funds have been delivering solid results by investing in water utilities as well as producers of pumps, filters and wastewater treatments. During the past five years,
First Trust ISE Water Index
(FIW) - Get Free Report
returned 6.4% annually, compared to 5.0% for the
, according to Morningstar.
Critics scoff that the water funds are really mixes of utilities and industrial stocks, sectors that have performed well lately. That is true enough, but during the past five years, First Trust Water outdid both
Industrial Select Sector SPDR
(XLI) - Get Free Report
and
Utilities Select Sector SPDR
(XLU) - Get Free Report
by more than two percentage points.
Global water funds have also outperformed. During the past five years
Guggenheim S&P Global Water
(CGW) - Get Free Report
returned 2.9% annually, compared to 1.6% for the MSCI World benchmark and -3.6% for
iShares S&P Global Utilities
(JXI) - Get Free Report
.
>>Also see: Facebook Home: A Google Killer >>
Managers of winning funds say the group has thrived because water companies have been growing faster than the overall economy. The portfolio companies of
PowerShares Water Resources
(PHO) - Get Free Report
have been increasing earnings at a 12. 1% annual rate. Managers say that the growth is poised to continue.
"Our companies should have earnings growth in the mid teens for the next two years," says Matt Sheldon, portfolio manager of
Calvert Global Water
(CFWAX) - Get Free Report
, a mutual fund.
The earnings are likely to continue climbing in the U.S. because demand for water grows every year. Since many pipelines and pumping stations are ancient, municipalities and corporations must invest in new equipment. The U.S. Environmental Protection Agency estimates that the country will have to spend more than $300 billion on infrastructure in the next three decades to maintain the flow of water.
In many developing markets, the problems of water shortages are already acute. Countries such as China are spending heavily to support growing industrial and agricultural water uses. All that spells continuing demand for companies that provide equipment for desalination and filtration.
Growing demand has helped water stocks lately. During the past 12 months, PowerShares Water Resources returned 16.5%, compared to 13% for the
S&P 500
. The revival of U.S. housing markets has provided a special boost. With construction starts increasing, there are more customers for water utilities as well as increasing demand for pipes and pumps.
The water ETFs track a variety of different benchmarks. Some funds only hold companies that derive most revenues from water industries, while other portfolios include companies that obtain a minority of their revenue from the water business.
PowerShares Water Resources tracks the
Nasdaq OMX
U.S. Water Index, which only includes 28 companies that derive most of their revenue from water. The fund has about 20% of assets in utilities and most of the rest in machinery makers and other industrial companies.
A steady utility holding is
American Water Works
(AWK) - Get Free Report
, which supplies water and wastewater treatment in 16 states. An industrial holding is
Pentair
(PNR) - Get Free Report
, which makes pumps and valves.
>>Also see: Pandora Will Crash, Then Head to $20 on Apple Radio >>
While it also owns American Water Works, First Trust ISE holds some industrial companies that only derive part of their revenues from water. A top holding is
Emerson Electric
(EMR) - Get Free Report
, a blue-chip industrial company that serves a variety of industries. Emerson has a long history of annual dividend increases and fat profit margins. Such reliable performers have enabled First Trust to prove relatively steady in downturns.
Guggenheim S&P Global Water has 37% of assets in the U.S. and the rest in overseas markets, including big stakes in the UK, Switzerland, and Brazil. The fund has 50 stocks, with half the holdings in utilities, and the rest in industrials. The fund holds some stocks that only get a minority of their revenue from water. A holding is
Danaher
(DHR) - Get Free Report
, which makes systems for analyzing water quality.
This article was written by an independent contributor, separate from TheStreet's regular news coverage.
Stan Luxenberg is a freelance writer specializing in mutual funds and investing. He was executive editor of Individual Investor magazine.