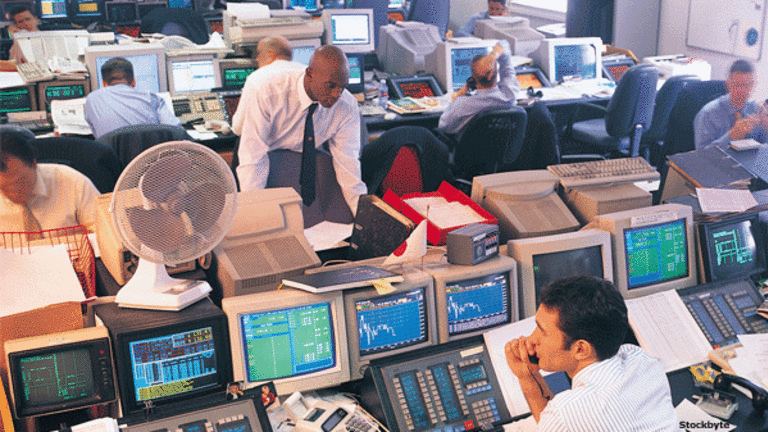 Wary Investors Flock to Ultra-Short ETFs
By taking extra risk, the funds yield a bit more than money markets.
NEW YORK (
) -- Investors have been pouring into ultra-short ETFs, including
PIMCO Enhanced Short Maturity
(MINT) - Get Report
. In September, the PIMCO fund emerged as the largest actively managed ETF, according to
Morningstar
. With $3.8 billion in assets, the ultra-short bond fund took the top spot away from
PIMCO Total Return ETF
(BOND) - Get Report
, an intermediate-term fund that has $3.7 billion in assets. Run by bond star Bill Gross, the intermediate ETF is similar to
PIMCO Total Return
(PTTRX) - Get Report
, the largest bond mutual fund.
The move to short-term funds accelerated as investors became concerned about rising rates. When rates rise, most bonds tend to fall, but short-term issues are relatively resilient. The migration to ultra-short funds represents a sharp change from the trends of recent years. As the financial crisis unfolded in 2008, investors began dumping stocks and racing to bonds. At first, ultra-short funds attracted little attention. Instead, investors focused on intermediate-term funds, which offer higher yields.
In May this year, interest rates spiked. For the month, PIMCO Total Return ETF lost 2.2%, while the PIMCO ultra-short ETF only declined 0.1%.The losses caused investors to scramble.
From June through the first week in November, shareholders pulled $1.2 billion out of PIMCO Total Return ETF and invested $857 million into the ultra-short ETF, according to IndexUniverse.com.
Along with PIMCO, other fund companies have been introducing ultra-short ETFs and attracting assets. Competitors include
FlexShares Ready Access Variable Income
(RAVI) - Get Report
,
Guggenheim Enhanced Short Duration Bond
(GSY) - Get Report
and
SPDR SSgA Ultra Short-Term Bond
(ULST) - Get Report
.
For many investors, the ultra-short funds offer a way to get a bit more yield than money-market funds offer -- without taking on much more risk. According to Crane Data, the average money market yields only 0.02%. In contrast, the Guggenheim ultra-short ETF yields 0.92%, while the SPDR ETF yields 0.54%.
Yields on money markets are being held down by new regulations imposed since the financial crisis. Under the rules, money markets are required to maintain average weighted maturities of 60 days. In contrast, the ultra-short funds often own securities with maturities ranging from a few days to 7 years. In the current market, bonds with slightly longer maturities deliver substantially higher yields. While 3-month Treasury bills yield 0.08%, 5-year Treasuries yield 1.42%.
The new rules also require money markets to hold only securities of very high quality. Ultra-short funds can gain an edge by owning bonds with lower qualities.
PIMCO's ultra-short ETF holds a stake in securities that are rated BBB -- the lowest investment-grade rating. The fund can dip into securities that are rated below-investment grade. The PIMCO ETF can also boost yields by investing in emerging markets. The portfolio currently has small positions in Brazil, Mexico and Russia -- emerging markets with investment-grade ratings.
For many ETF investors, the ultra-short funds have a clear appeal, offering convenient ways to get higher yields on cash holdings. The ultra-short vehicles can be especially attractive for portfolios that maintain long-term positions in cash. But investors should be clear that the ETFs are not money markets. While money markets nearly always avoid losses, the share prices of ultra-short funds fluctuate with market conditions.
Instead of holding the ETFs, many retail investors would be better served by bank CDs, says
Morningstar
analyst Samuel Lee. Investors who lock up their assets in 1-year CDs can get yields of up to 1%, he says. "Retail investors can go on the Internet and look up high-yield CDs," Lee says.
Besides offering better yields, the CDs are safer because they are backed by FDIC insurance. Recently the ultra-short funds have been steady. But Lee cautions that the funds do take on some risks that could prove hazardous the next time markets collapse.
Lee says that some ultra-short mutual funds suffered double-digit losses in the turmoil of 2008. Before the financial crisis, such funds appeared safe.
"Once every 10 years, markets blow up," he says.
At the time of publication the author had no position in any of the stocks mentioned.
This article was written by an independent contributor, separate from TheStreet's regular news coverage.
Stan Luxenberg is a freelance writer specializing in mutual funds and investing. He was executive editor of Individual Investor magazine.