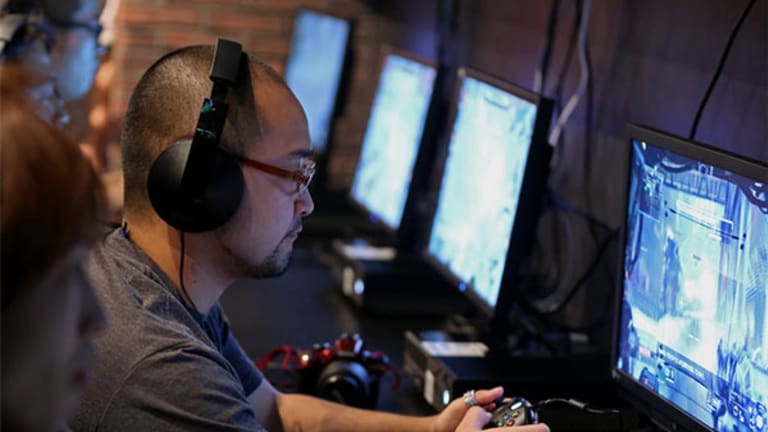 Publish date:
Video-Gaming ETF on a Roll With No Signs of Booting Down
Teens, Millennials and tech nerds are no longer the only ones obsessing over video games. Investors are piling into a video game ETF to cash in.
Teens, Millennials and tech nerds are no longer the only ones obsessing over video games. Investors are piling into a video game ETF to cash in.
Video gaming - once the obsession of teens and tech nerds - has become mainstream and so have investors hoping to cash in on this sector's explosive growth. PureFunds Video Game Tech ETF (GAMR) - Get ETFMG Video Game Tech ETF Report , the lone ETF that focuses solely on this niche, is up more than 30% since its March launch and shows no signs of slowing.
"There's a misconception by some of how large the industry truly is," said Andrew Chanin, founder and chief executive of the family of PureFunds ETFs, which includes the Video Game ETF. "It's a truly global industry" that crosses many demographics, he said.
The U.S. video gaming business alone is a $23.6 billion market, with 179 million people playing games - or about 61% of the online population, according to Newzoo, a gaming market research company. And it's growing.
Video games have long been associated with teens and millennials slumped over consoles, clicking furiously and obsessively over the latest game. But that's no longer the case.
The average gamer is 35 years old, with 59% being male and 41% female, according to the Entertainment Software Association, or ESA, which is the industry's lobbying body. Breaking it down by age - 27% are under 18, 29% are between 18 and 35, 18% are between 36 and 49, and 26% are over 50, the ESA said.
Also, 63% of all U.S. households have at least one person who plays video games three hours a week or more, according to the ESA.
Much of the change has come in recent years as video gaming moved into the digital world, making games easy to access by smartphone, tablet, TV, and computer by people of all ages and backgrounds.
"Now most people have a smart device - and [therefore] a mobile gaming platform," said Chanin. "So, they don't need to spend several hundred dollars on a console." He said it's never been easier to access games.
Also, the industry's expansion into such areas as e-sports, fitness and educational games has attracted a bigger demographic. And, more recently, its move into the augmented and virtual reality worlds has been a game-changer.
Indeed, the frenzied popularity of the Pokemon Go app, an augmented reality game, took the gaming world by storm as it lured everyone from teens to seniors outdoors to chase down virtual creatures in the real world with their mobile phones.
"There were 30 million initial downloads in the first month of Pokemon Go and it was from people of all ages," said Chanin. People met new friends, played with existing friends and even bonded with parents while playing the game.
He sees augmented and virtual reality games being key drivers of future growth.
All of this bodes well for Chanin's PureFunds Video Game Tech ETF, whichcontains a basket of 36 companies that track the EEFund Video Game Tech Index.
In the past, investors interested in cashing in on this burgeoning sector's growth needed to either purchase individual stocks or buy a broader technology-related ETF, such as iShares Global Tech (IXN) - Get iShares Global Tech ETF Report in the hopes it might include a few token names in the video gaming industry.
Betting on individual names posed tremendous risk while the general tech ETF offered little real exposure to the sector.
PureFunds Video Game ETF encompasses the entire video gaming eco-system: It includes mobile game makers, such as Zynga Inc. (ZNGA) - Get Zynga Inc. Class A Report ; video game retailers, such as GameStop Corp. (GME) - Get GameStop Corp. Class A Report ; console-makers, such as Microsoft Corp. (MSFT) - Get Microsoft Corporation (MSFT) Report ; chip makers, such as NVIDIA Corp. (NVDA) - Get NVIDIA Corporation Report ; peripheral equipment makers, such as Logitech International (LOGI) - Get Logitech International S.A. Report ; and game software developers, such as Activision Blizzard Inc. (ATVI) - Get Activision Blizzard, Inc. Report .
"It gives investors a pure play exposure to this industry," said Chanin.
PureFunds Video Game ETF recently traded at $33.12, up 31% from its closing price of $25.23 on its first day of trading on March 10.
Of course, the PureFunds Video Game ETF isn't without risk. Any time an investor bets heavily on a particular niche, there's always potential upheaval if the sector turns sour. This is particularly true for a startup ETF, like PureFunds Video Game, that doesn't trade much and has only $6 million in assets.
Also, gamers can be fickle and easily bored with the latest trendy game. If this happens, the game maker better have the next killer game ready to roll out - and hope it catches on. Social game maker, Zynga, for example, fell on hard times, with its stock losing more than 70% of its value when it's hugely popular FarmVille and CityVille games fell out of vogue in 2012.
Then there's the economy and stock markets. If the economy turns south, people will have less money to spend on games, and any broader market correction would likely drag gaming-related stocks down with it.
But Chanin said gaming-related stocks actually weathered through the 2008 financial crisis pretty well, as some people turned to video games as a cheaper form of entertainment. "It's been a really compelling industry for many people," he added.
This article is commentary by an independent contributor. At the time of publication, the author held TK positions in the stocks mentioned.