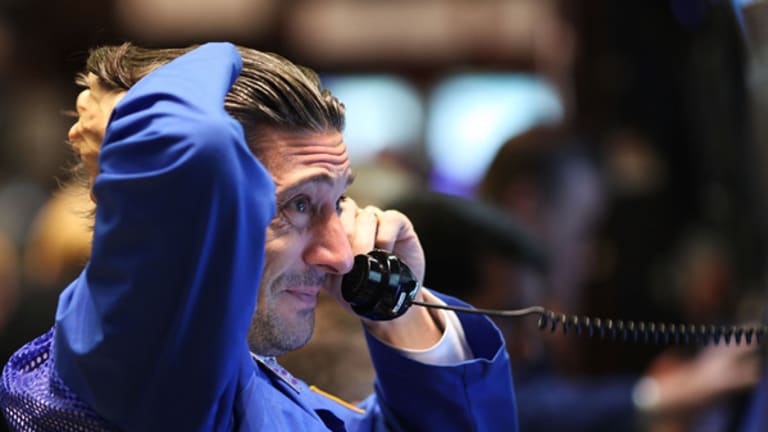 Vanguard Launching Seven Bond ETFs
The new Vanguard funds are a shot across the bow for iShares, the ETF giant that currently dominates the fixed-income ETF product line.
The new Vanguard funds are a shot across the bow for iShares, the ETF giant that currently dominates the fixed-income ETF product line.
Vanguard
is set to launch seven new bond ETFs in what is an illustrative example of how the ETF industry is growing. The latest editions to the rapidly growing fixed-income ETF family are expected to include three U.S. Treasuries funds, three corporate bonds and one mortgage-backed securities fund.
The new Vanguard funds are a shot across the bow for iShares, the ETF giant that currently dominates the fixed-income ETF product line. Currently, iShares offers 27 bond-based ETFs with assets of more than $63 billion, according to Morningstar. Vanguard has a smaller shop with five fixed-income funds whose assets total $8 billion.
Vanguard is vying for a popular piece of iShares' business. The top two asset gatherers for iShares in 2009 have been fixed income products:
iShares Barclays TIPS Bond
(TIP) - Get Report
and
iShares iBoxx $ Investment Grade Corporate Bond Fund
(LQD) - Get Report
. (See
Fixed-Income ETFs Attracting Investors
.
Vanguard's strategy revolves around fees. The new ETFs are slated to have an expense ratio of 0.15%. This is the same pricing that iShares uses for its U.S. Treasury ETFs like the
Barclays 1-3 Year Treasury Bond Fund
(SHY) - Get Report
.
The twist is when it comes to the new Vanguard corporate bond and mortgage-backed ETFs, which at 0.15% will be priced lower than comparable iShares ETFs.
iShares' Barclays MBS Bond Fund
(MBB) - Get Report
, for example, has an expense ratio of 0.25%.
Vanguard isn't the first ETF issuer to realize how popular iShares' fixed income funds have become. Bond giant
Pimco
recently entered the arena, offering a
1-3 Year U.S. Treasury Index Fund
(TUZ) - Get Report
that currently has the winning price point of 0.09%. Pimco, already a fixed-income giant, is well positioned to release more funds that will go toe to toe with iShares (
Pimco Breaks Ground on Active ETFs)
.
Schwab
(SCHW) - Get Report
is also well positioned to be a contender in an arena where cost is king. Earlier this year, Schwab announced its intention to launch its own line of proprietary funds. (
) Schwab has shown no fear when it comes to offering cheaper alternatives: in May, Schwab cut the expense ratio of its
Schwab S&P 500 Index
(SWPIX)
to 0.09%, a fee that is less than the
Vanguard 500 Index
(FVINX)
fund.
We are entering an age of mega ETF issuers. Small ETF issuers have always dotted the landscape, grabbing for volume in previously untested territory. The booming popularity of ETFs, however, has large asset managers thinking bigger.
BlackRock
(BLK) - Get Report
acquired iShares recently, while Schwab and Pimco already offer a variety of securities.
New ETF strategies appear to be aimed at the longer-term investor who is looking for an alternative to mutual funds. This approach will be a double-edged sword for issuers. On the one hand, the low-cost structure of ETFs could draw more long-term investors into these products. On the other hand, long-term investors won't be trading in and out of these strategies, potentially depriving the funds of trading volume.
Low-volume ETFs have withered and died on the vine in the past. The advantage to being a Mega ETF Issuer like Vanguard is that you can afford to cultivate these products until they draw investors. (
ETF Investors: Look for Liquidity
.)
At the time of publication, Dion was long TIP and SHY.
Don Dion is president and founder of
, a fee-based investment advisory firm to affluent individuals, families and nonprofit organizations, where he is responsible for setting investment policy, creating custom portfolios and overseeing the performance of client accounts. Founded in 1996 and based in Williamstown, Mass., Dion Money Management manages assets for clients in 49 states and 11 countries. Dion is a licensed attorney in Massachusetts and Maine and has more than 25 years' experience working in the financial markets, having founded and run two publicly traded companies before establishing Dion Money Management.
Dion also is publisher of the Fidelity Independent Adviser family of newsletters, which provides to a broad range of investors his commentary on the financial markets, with a specific emphasis on mutual funds and exchange-traded funds. With more than 100,000 subscribers in the U.S. and 29 other countries, Fidelity Independent Adviser publishes six monthly newsletters and three weekly newsletters. Its flagship publication, Fidelity Independent Adviser, has been published monthly for 11 years and reaches 40,000 subscribers.