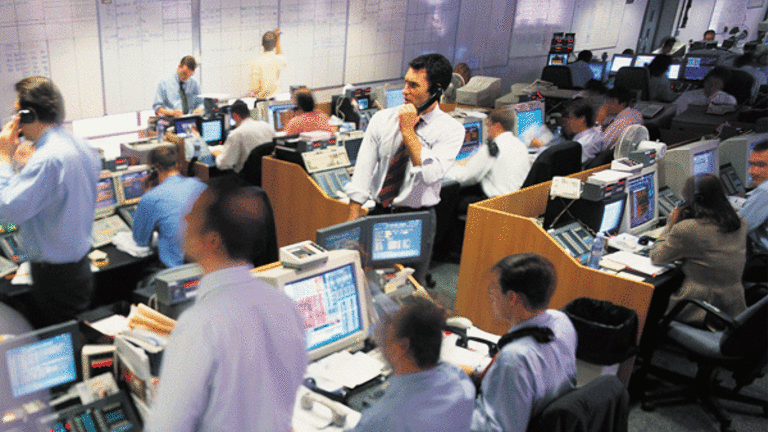 Using an ETF Portfolio to Mimic an Endowment Portfolio
ETFs might let you invest like CalPERS, but you may not want to.
NEW YORK (TheStreet) -- The California Public Employees' Retirement System, commonly known as CalPERS, recently posted investment results for its year ended June 30. CalPERS reported a 1.0% return for the year, which lagged the benchmark's 1.7% return.
You may not want to emulate that performance, but CalPERS uses what is generically referred to an endowment-style allocation that targets nine asset classes, some of which performed better. The continued issuance of specialized ETFs makes it easier to mimic these types of investment pools.
Public Equities and Private Equity
The first category in the report is labeled "public equities," and it shows a loss of 7.2% for the year. That might seem surprisingly low, but the
iShares MSCI World Index Fund
(ACWI) - Get Free Report
was down 8.8%.
Foreign markets have been lagging U.S. markets for a year and a half, so logically any portfolio that includes foreign stocks is likely to have lagged a domestic-only portfolio in that time. This is probably the easiest asset class to mimic. Any sort of equity portfolio is by definition public equities.
Private equity showed a return of 5.4% for CalPERS last year. There are so called private equity ETFs like the
PowerShares Global Listed Private Equity Portfolio
(PSP) - Get Free Report
. The structural drawback to this fund is that it includes companies that are not pools of invested capital but are companies that manage pools of capital. As such, those stocks benefit from operating private-equity funds, not the holdings within private equity funds.
A possible substitute to consider is the
UBS E-TRACS Wells Fargo Business Development ETN
(BDCS) - Get Free Report
. This is an exchange-traded note, so it is an unsecured debt obligation of UBS. If UBS were to somehow go under then this fund would be wiped out.
Candidly, this has never been an easy space to replicate with exchange-traded products. For the trailing 12 months, PSP is down 17% and BDCS is down 1%. The return histories have been especially unpredictable and volatile, thus it's not a space I would want to own.
Fixed Income and Real Estate
CalPERS did very well with fixed income with a 12.7% return. Of course, during the same time Treasuries did very well, and it seems likely that CalPERS correctly positioned to benefit from the flight to safety. Fixed income is easy to capture with broad index funds like the
iShares Barclays Aggregate Bond
(AGG) - Get Free Report
. There are also plenty of specialized bond funds targeting corporate, high-yield and foreign segments of the bond market for anyone looking to try to outperform a broad index like AGG.
Real estate is easy to capture in that there are plenty of products to choose from in terms of ETFs and individual issues. The CalPERS real estate portfolio reported a 15.4% gain vs. just 7% for the
iShares Cohen & Steers Realty Majors
(ICF) - Get Free Report
.
Real estate has been tricky since the start of the financial crisis. REITs got crushed in 2008 and 2009, and ICF fell 72% from its peak. From the low in 2009, ICF is up 194%, but it's still well below where it was five years ago. Exposure now requires making a decision about whether the rally from the last three years was fundamentally based with more to come, or simply a reflex bounce with another down-leg waiting to occur.
Forestland and Infrastructure
Forestland is a standalone category in the performance report. This asset class gained attention many years ago when Jack Meyer, the former CEO of the Harvard Management Co., allocated money to the space due to its low correlation to equities and steady returns.
There are ETFs for this space, including the
Guggenheim Timber ETF
(CUT) - Get Free Report
, which was down 20% in the last year compared to CalPERS allocation, which declined 11%. Many investors are probably familiar with
Plum Creek Timber
(PCL)
, which was only down 2%.
PCL has consistently outperformed CUT since CUT's inception, but that is probably due to CUT's holdings being more cyclical versus PCL, which is more defensive. The economic recovery has been quite weak so it is likely that, in the face of a strong recovery, CUT would outperform PCL.
Infrastructure performed well for CalPERS, returning 8.4%. There are various types of infrastructure ETFs. The PowerShares
Emerging Market Infrastructure Portfolio
(PXR)
has 50% in materials stocks and 47% in industrial stocks and is relatively volatile. The
SPDR FTSE/Macquarie Global Infrastructure 100 ETF
(GII) - Get Free Report
has approximately 80% in utilities stocks and so is less volatile.
A reasonable compromise between the two extremes could be the
iShares MSCI Emerging Markets Infrastructure Index Fund
(EMIF) - Get Free Report
, which allocates 40% to industrials, 30% to utilities and 27% to energy companies.
Liquidity, Inflation and Absolute Return
CalPERS has a category called liquidity, which can hold cash, cash proxies and government bonds. The return for this category was 4.6%, which seems very high considering cash has zero yield in most currencies. One currency with some yield is the Australian dollar, which can be captured with the
CurrencyShares Australian Dollar Trust
(FXA) - Get Free Report
and has a trailing yield of 3.79%.
Like most endowment-style portfolios there is an allocation to inflation assets. This shows up in some places as "real return" or "inflation protected" and is comprised of commodities and TIPS bonds.
These segments are, of course, easily captured with funds like the
PowerShares DB Commodity Index Tracking Fund
(DBC) - Get Free Report
and the
iShares Barclays TIPS Bond Fund
(TIP) - Get Free Report
. In the tailing 12 months DBC is down 11% while TIP is up 9%. This segment was up 0.1% for CalPERS, implying it had exposure to both segments.
The final category reported was "absolute return," which was down 0.2%. There are many funds offering access to this segment, usually in the form of long-short funds. The
PowerShares DB G10 Currency Harvest Portfolio
(DBV) - Get Free Report
is down 0.1% for the same time period, which is obviously very close to the CalPERS return, but the
WisdomTree Managed Futures Fund
undefined
was down a shocking 20%.
For most individual investors, managing nine different asset classes is going to be a lot of work to achieve a 1.7% return (the result of the benchmark, not what CalPERS earned). But there is value in studying the portfolio to see how the managers of a $200 billion investment fund believe that volatility can be dampened, and how correlations can blend together to seek a desired risk-adjusted result.
Just keep in mind that some of the categories are not easily captured in exchange-traded products. For instance, a timber ETF might be a good purchase at a given point in the cycle, but it will probably have a higher correlation to equities than a stand of trees in Canada or New Zealand that a fund like CalPERS might own.
At the time of publication, clients of the author's firm held EMIF and TIP
.
This article is commentary by an independent contributor, separate from TheStreet's regular news coverage.
Roger Nusbaum is the portfolio manager of the AdvisorShares Global Alpha & Beta ETF, the chief investment officer with Your Source Financial in Phoenix, the author of "Random Roger's Big Picture Blog and the fire chief of the Walker Fire Protection Association.
This contributor reads:
On Twitter, this contributor follows: