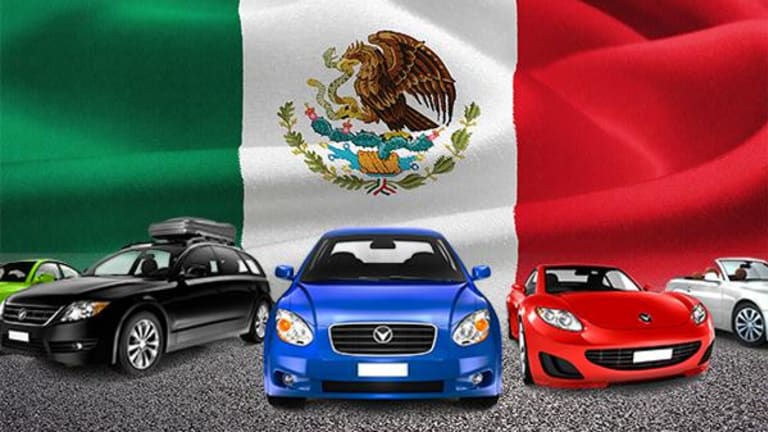 Trump's Tough Talk on Trade Puts Mexican Auto ETFs at Risk
The Trump administration vows to negotiate better trade terms with Mexico, and wants to keep U.S. companies north of the border. What does that mean for the Mexican auto industry?
Under the Trump regime, all eyes are on the auto sector, both in Mexico, where companies like Ford and General Motors have rolled out new manufacturing plants, with cheaper labor, and also in the U.S., where jobs have gone south of the border for decades.
The Trump team has been sounding the rallying cry to keep auto industry jobs in the U.S. keep fewer going to Mexico.
So far, that effort, demonstrated by Tweets, threats, and some old-fashioned arm-twisting has produced results, with Ford Motor canceling a new $1.6 billion manufacturing plant in Mexico's San Luis Potosi state, and keeping 2,800 jobs out of Mexico in the process. Fiat Chrysler is playing ball, too: this week, Fiat Chrysler CEO Sergio Marchionne stated his company would leave Mexico altogether if the Trump White House comes through on a campaign pledge to slap tariffs on autos exported to the U.S. from Mexico.
"It's possible that if the economic tariffs that are imposed by the U.S. Administration on anything that comes into the United States...are sufficiently large that it would make the production of anything in Mexico uneconomical," said Marchionne in comments to a trade show audience in Detroit.
Taking the brunt of the pain, to date, is the Mexican auto industry, especially country and global exchange-traded funds that seek to leverage the power of the Mexican auto industry, which produced 3.5 million light vehicles in 2016 compared to 1.98 million in 2006. Mexico is also the seventh-largest auto producer in the world, and the auto sector accounts for 20% of the country's total manufacturing base, according to government figures.
But that sector is at risk these days. Zacks Research notes that First Trust NASDAQ Global Auto ETF (CARZ) - Get First Trust NASDAQ Global Auto Index Fund Report was down about 1.9% on November 9, the day after Trump's election. The fund has been on a downward trend since then, trading at $35.55, down from $37 per-share in January. That after a big price run-up in CARZ from $28 per share in January 2016.
Also sliding is the iShares MSCI Mexico Capped ETF (EWW) - Get iShares MSCI Mexico ETF Report , which is trading at new all-time lows at $45 per share, compared to $53 per share six months ago. In the last 90 days alone, EWW has been in free fall, down 17.2%, due primarily to a weaker peso in relation to the U.S. dollar, and Trump's tough talk on trade.
Obviously, Trump's sharp stance on the Mexican auto sector isn't solely responsible for declines in these key country ETFs, but it contributes to their slide.
"Absolutely this is going to hurt," notes Luke Glofcheskie, a money manager with Echelon Wealth Partners. Trump's stance on the Mexican auto market is "limiting capital investment and the ability to export into one of the largest car markets in the world."
That doesn't necessarily mean the country's auto economy is a lousy investment right now. But experts say it's best to look more closely at the investment scenario south of the border before committing big money to Mexico's auto sector.
"Although the Trump administration has made it difficult for the U.S. auto Industry to make investment announcements in a public manner, the Mexican financials are still solid -- cheap and qualified labor, low transportation costs, and tax incentives," notes Ana Janaina Nelson, vice-president for Mexico, Central America and the Caribbean for Speyside Corporate Relations, and a former U.S. State Department official.
"But if the U.S. decided to leave NAFTA, Mexico goes back to most favored nation status, with preferred tariffs for exported goods to the U.S," she added. "For those reasons, the Mexican Auto Industry is a good long-term investment."
Patient investors will let the U.S.-Mexico auto trade battle play out before taking any big positions. But with things moving fast on the ground, patience may be an attribute in short supply in Mexico in 2017.