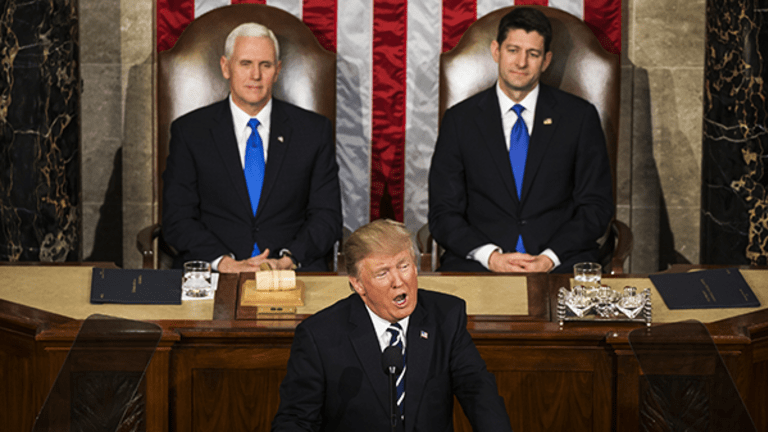 Trump's Military Spending Should Have Defense ETFs on the March
President Trump wants to increase military spending by a record 9%. If Congress goes along, expect a run-up in defense-based stocks and ETFs
The Trump administration is planning a "historic" spike in military spending, and the numbers involved indicate a big uptick in defense industry investments, especially for exchange traded funds.
Last week, the Trump White House unveiled a budget plan that would raise military spending by $54 billion - a record-breaking 9% rise from previous budgets. (Trump plans to offset that spending hike with $54 billion in budget cuts, most of it coming from foreign aid.)
"We plan an historic increase in defense spending to rebuild the depleted military of the United States of America," Trump told a group of U.S. governors.
"This is a landmark event and message to the world in these dangerous times, of American strength, security and resolve," Trump added. "We must ensure that our courageous servicemen and women have the tools they need to deter war and when called upon to fight in our name, only do one thing: Win."
Currently, the U.S. spends $600 billion annually in military spending.
The iShares Dow Jones US Aerospace & Def. ETF (ITA) - Get iShares U.S. Aerospace & Defense ETF Reportgained $1.26% just after the military spending news hit the market.The fund measures the performance of the aerospace and defense sector of the United States equity market.
Stock market observers say the news really doesn't come as a surprise, as increased military spending was a main plank in Trump's electoral platform, and was a drum he beat consistently on the campaign trail.
"Trump indicated that he advocated a stronger military during the campaign, so this announcement really doesn't represent new information," says Robert R. Johnson, president and CEO of The American College of Financial Services, in Bryn Mawr, Pa.
Johnson says the stock market is forward looking and represents the consensus expectations of market participants. "I believe that stock market participants have anticipated that higher military spending is likely," he says. "We also see what Trump has done in terms of targeting specific companies with respect to certain expenditures. We witnessed this with Boeing and Air Force One when Trump tweeted "Boeing is building a brand new 747 Air Force One for future presidents, but costs are out of control, more than $4 billion. So, even if military spending does increase, the president may want to put pressure on those firms to reduce costs."
Besides ITA, Johnson likes two other sector ETFs - the SPDR S&P Aerospace & Defense ETF (XAR) - Get SPDR S&P Aerospace & Defense ETF Report  and the PowerShares Aerospace & Defense Portfolio ETF (PPA) - Get Invesco Aerospace & Defense ETF Report . "ITA is by far the largest at $2.39 billion under management with modest expense fees of 0.44%," he notes. "XAR has $483 million under management with fees of 0.35%. PPA is about $500 million in size with expenses of 0.64%."
XAR may be a dark-horse candidate with plenty of room to run on the rail, other experts say.
"I like XAR," states Bryan M. Lee, chief technical analyst with Total Investment Management, Inc., in Phoenix. "It broke out to new highs post-election and hasn't looked back. It went sideways for almost two years which should allow it to run here."
XAR is up 6.3% on a year-to-date basis, and another defense industry-linked fund, the PureFunds ISE Cyber Security ETF (HACK) - Get ETFMG Prime Cyber Security ETF Report is up 10.9% in late February. Those figures "handily beat" the benchmark SPDR S&P 500 ETF (SPY) - Get SPDR S&P 500 ETF Trust Report , which is up 4.7% over the same time frame, states Mike Larson, a senior analyst for Weiss Ratings in a recent research note.
Larson says several factors that are moving defense industry stocks and funds forward really have little to do with Trump's push for higher military spending. For example, North Korea recently test-fired a medium-range ballistic missile this past weekend, he notes.
"I wouldn't be surprised if we see even more demand for products like the Terminal High Altitude Area Defense, or THAAD, system that Lockheed Martin LMT makes," he adds. "South Korea is due to receive its first such system later this year, but delivery could be accelerated as a result of the North Korea news."
Matt Schreiber, President of WBI Investments, in Red Bank, N.J., says he likes the defense sector "for several reasons."
"First is the terrorism issue," Schreiber offers. "The White House is looking to thwart terrorism domestically and tackle it abroad. Then there's the rising threat of bad actors, like North Korea, and the resurgence of Russian influence."
Schreiber says with the domestic and global threats, the Trump administration intends to deliver on the president's campaign promise to keep America safe. "To do so, they'll have to spend massive amounts of money on protecting America, its borders, and trying to make sure those threats do not get to or inside of those borders," he says. "Similar to the presidential rhetoric of 30, 40 years ago during the Cold War times, we are moving closer to realizing we need to hit these threats head-on. The first way to do so is to spend a ton of money making sure our military is the strongest."
With the White House intently focused on bolstering domestic security and military superiority, Schreiber says he likes aerospace and defense. "Companies like Boeing (BA) - Get Boeing Company Report , Lockheed Martin (LMT) - Get Lockheed Martin Corporation (LMT) Report , and Raytheon (RTN) - Get Raytheon Company Report could soar to new highs off increased spending by the government," he says.
As Schreiber attests, with Trump backing a stronger U.S. defense policy, and with a Republican congressional majority that backs a more robust U.S. military, the spigots should soon be opening for defense industry stocks and ETFs.
That's an opportunity for profit-minded investors, who may see military spending as a good way to open another tactical front in their investment portfolios.