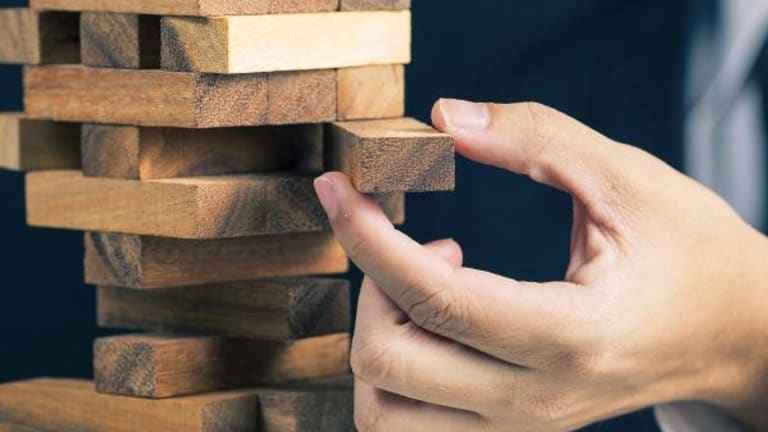 Publish date:
Trump Revives 'Triple-X' ETFs That Regulators Wanted to Kill
In 2015, the SEC proposed to ban exchange-traded funds from using risky derivatives to triple returns for investors. Trump's victory is likely to keep the funds thriving.
In 2015, the SEC proposed to ban exchange-traded funds from using risky derivatives to triple returns for investors. Trump's victory is likely to keep the funds thriving.
Editors' pick: This story was originally published on Dec. 7.
The best-performing U.S. exchange-traded fund in the two weeks after Donald Trump's surprise presidential victory surged 57% -- eight times more than the Standard & Poor's 500 Index has returned all year.
The entire trade might have been illegal had the U.S. Securities and Exchange Commission moved forward faster with its year-old plan to crack down on so-called "triple-X" ETFs, which use the magic of financial engineering to give investors three times the gains of regular ETFs. While such vehicles can bring big profits, they also have the potential to exacerbate market volatility and prove too risky for retail investors who don't understand them, according to the agency. 
Instead, Trump's win has shaken the SEC's balance of power, so that the new rule is unlikely to see the light of day. And fund companies that previously were preparing to retire triple-X ETFs altogether are now dusting off new ones that could be rolled out early next year.
The episode highlights how dramatically the financial industry's prospects have changed since the Nov. 8 election, as Trump pledges to roll back regulations that were written or proposed in the wake of the 2008 financial crisis to protect consumers and reduce overall market risk; the pendulum that had swung toward stiffer regulation is now swinging the other way.
In December 2015, SEC Chair Mary Jo White, an appointee of President Barack Obama, began pushing to rein in investment funds' use of derivatives -- a type of thinly-capitalized trading contract -- to multiply returns. With a Democratic majority on the commission, White had the votes and momentum to push through her initiative. 
But within a week of Trump's election, White announced plans to step down when Obama leaves in January. And SEC observers say the president-elect is likely to appoint new Republican commissioners who will halt her agenda or even roll back rules adopted during her nearly-four-year tenure.
"This rule was a fait accompli, and now it's anything but," said Matt Hougan, CEO of Inside ETFs, which tracks the industry. "With the resignation of Chair White, things are changing dramatically. The tide is anti-regulatory."
The SEC's derivatives rule was hotly contested by the money-management industry, drawing opposition not just from boutique triple-X ETF purveyors like ProShare Advisors and Direxion but big bond-fund managers like Pacific Investment Management Co. The agency's lone Republican commissioner, Michael Piwowar, voted against the proposal, saying in a dissenting statement that the measure would "restrict funds' current practices" and was based on insufficient analysis.
Triple-X funds would have been hit particularly hard, since the SEC planned to cap the use of derivatives for anything beyond double-returning funds, known as 2x. Among the SEC's concerns were that the triple-X vehicles were too risky for individual investors, with the potential for losses as steep as any gains.
"Registered investment companies were never intended to be highly leveraged vehicles," Commissioner Kara Stein, a Democrat, said at the agency's December 2015 meeting.
It's still possible White could push through the proposed rule prior to her departure, said Robert Plaze, a former deputy director at the SEC's Division of Investment Management. But it's very unlikely; Piwowar could simply sit out the vote, denying the commission the quorum it needs to pass new regulations.
"It will turn on whether there is some unanimity among commissioners," said Plaze, now a partner at law firm Stroock & Stroock & Lavan in Washington. "But this was a very controversial rule."
White, Piwowar and Stein didn't return calls for comment. Nor did Paul Atkins, a former SEC commissioner who is advising the Trump transition team on financial policies and appointments. 
As it is, triple-X funds are thriving. After Trump came from behind in polls to win, U.S. stocks soared, based on expectations that he'll cut taxes and boost government spending to stimulate the economy.
And according to Morningstar, seven of the 10 best-performing ETFs during the two weeks after the election were all triple-X.
Topping the list was the 57% gain in the Direxion Daily Regional Banks Bull 3X ETF (DPST) - Get Direxion Daily Regional Banks Bull 3X Shares Report , which is linked to a stock index comprised of medium-size lenders. Those stocks rallied on bets that Trump's economic policy would spur higher inflation, leading to interest-rate hikes that would in turn drive up loan payments.
Another winner was the ProShares UltraPro Russell2000 ETF (URTY) - Get ProShares UltraPro Russell2000 Report , geared to an index of small-company stocks, at triple the rate.
Of course, the worst-performing performing ETFs were also triple-X, underscoring the risks of such vehicles for individual investors.
The Direxion Daily Latin America Bull 3X ETF (LBJ) - Get Direxion Daily Latin America Bull 3X Shares Report plummeted 38%, mainly on speculation that Trump will crack down on free trade and immigration, stifling capital flows to Mexico and hurting companies south of the border that are big exporters. The Direxion Daily Gold Miners Bull 3X ETF (NUGT) - Get Direxion Daily Gold Miners Index Bull 3x Shares Report  sank 36%.
Executives at New York-based Direxion are elated that the rule's chances of passage now look slim, and they've started preparing new triple-X ETFs that previously were deemed to be non-starters, a person with knowledge of the matter said.
Representatives of Direxion and ProShare Advisors, which runs the ProShares funds, declined to comment publicly.
Consumer advocates, meanwhile, are increasingly worried that White's departure and Trump's appointees could usher in a reversal of policies that would unleash the rapid growth of exotic and lightly-regulated financial instruments such as the complex mortgage-backed securities that precipitated the 2008 crisis.
"To the extent they take an approach that relies on deregulating the financial system, we have real concerns about that," said Micah Hauptman, financial-services counsel at the Consumer Federation of America. "Because, as we've seen time and time again, when you allow market participants to police their own activities, they don't, and they just do really risky things that harm investors and ultimately expose the financial system to excessive risk."