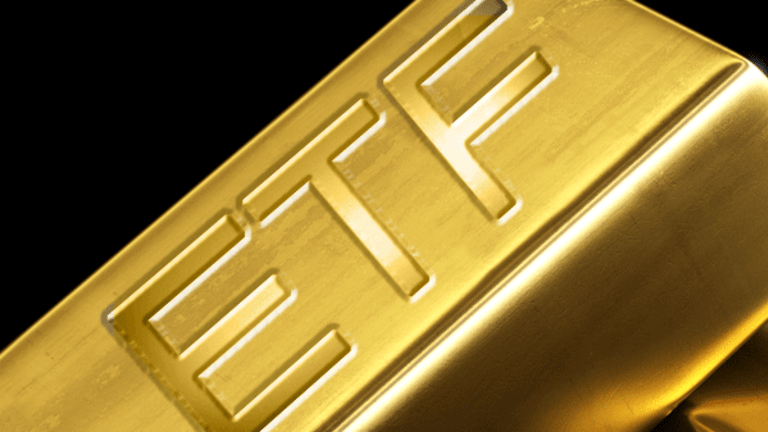 Trump-Induced Chaos Is Manna for These 2 Gold ETFs
As the new president angers allies and threatens critics, one group is cheering: gold bugs.
This week, Donald Trump has alienated America's longtime ally Australia over the issue of immigration and threatened to invade Mexico to keep out "bad hombres." We'll see what happens next week.
Face it: the dust will never settle during a Trump administration, especially when it comes to foreign policy. And when geopolitics gets messy, investors flee to the safe haven of gold.
Below we examine a benchmark gold exchange-traded fund (ETF), SPDR Gold Shares ETF (GLD) - Get SPDR Gold Shares Report , that's an easy way to hedge your portfolio against crisis. We also spotlight SPDR Long Dollar Gold Trust (GLDW) , a gold ETF that launched on Monday.
Gold rebounded from Wednesday's losses on Thursday to close at its highest point in more than two months. Helping boost gold was a sinking U.S. dollar and a flagging stock market. Gold gained 0.92% to close at $1,216.70 per ounce, its highest level since Nov. 16. Gold was up to $1,218 in late Friday trading.
Over the past 30 days, gold has risen nearly 5%.
Indeed, tailwinds are getting stronger for the yellow metal.
RBC's Capital Marketsargued this week that gold miners are on the cusp of major merger and acquisition activity due to falling reserves and stronger balance sheets. In a note to investors, RBC's strategists asserted:
"Everyone's kicking tires: Barrick has several large scale development projects but is talking more openly about acquisition opportunities. Goldcorp and Agnico-Eagle have strong internal project pipelines but could be opportunistic as they have in the past..."
RBC is calling for gold prices of $1,500 per ounce in 2017. Credit Suisse echoes that forecast, projecting that gold will hit $1,500 by the early part of this year on continued geopolitical and macroeconomic turbulence. Some analysts are even more positive.
James Steel, a widely followed gold analyst at HSBC, predicts that the price of gold could hit levels as high as $1,575 per ounce by the end of this year. That would make gold not just a way to protect your portfolio, but a smart moneymaking move as well.
However, the time to make a move isn't when the gold bugs are shouting from the rooftops and gold prices have soared to unsustainable levels. Hedge your portfolio with gold now, while prices are still relatively reasonable.
If you prefer the safety of funds, consider the SPDR Gold Shares ETF. SPDR Gold Shares is the largest gold ETF backed by physical holdings of bullion. Year to date, SPDR Gold Shares has generated a return of nearly 6%. Net assets: $31.6 billion.
Also consider a sibling fund, SPDR Long Dollar Gold Trust. This is the first physically backed gold ETF with a currency hedge against a strong U.S. dollar.
SPDR Long Dollar Gold Trust gains when gold prices spike and the value of the dollar increases. Historically, a stronger dollar has been a drag on gold prices. But if both gold and the U.S. greenback rise together, as analysts expect to happen this year, the ETF's investors win on both sides of the trade.
Buying these ETFs provides a simple, cost-effective means of investing in gold. You can obtain exposure to the underlying commodity, without actually holding gold. ETFs are liquid and trade like stocks, whereas acquiring and storing physical bullion can be an expensive burden.
---
Boring, Predictable, No-Surprises Strategy Safely Generates $67,548
If big, triple-digit winners get your adrenaline pumping, then stop reading this right now. Because this probably isn't for you... Only traders who would calmly enjoy raking in an extra $67,548 with no surprises or hiccups will appreciate this strategy. In fact, over the course of 1,586 days, I've been leisurely collecting giant payouts with this boring approach. I win 8 out of every 10 trades - GUARANTEED. Click here to join me.
John Persinos is an analyst with Investing Daily. At the time of publication, he owned shares of the SPDR Gold Shares ETF.