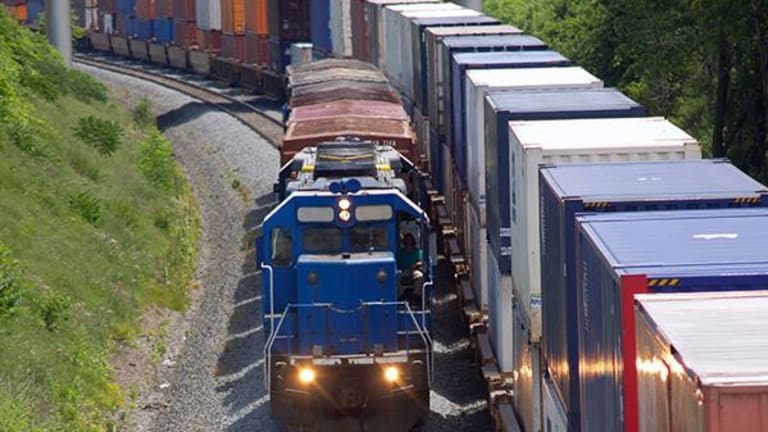 If You Are a Crazy Bullish Investor Right Now This Chart Should Be Terrifying
So far in August only the Dow Jones Industrial Average is setting new highs. Transports have peaked, which warns that stocks may decline soon.
The iShares Transportation Average ETF (IYT) provides a warning to reduce equity holdings on strength, as its weekly chart will be downgraded to negative at Friday's close. The investment strategy is "sell on strength," as stocks appear vulnerable for a correction.
There are warnings away from the negative weekly chart for the transportation exchange-traded fund.
The July reading for the American Association of Individual Investors (AAII) Asset Allocation Survey showed the lowest level of cash in more than 17 years, while the allocation to stocks was at a 12-year high in June. What happened to all the so-called cash on the sidelines?
The NYSE Margin Debt through June is near a record high of about $550 billion. Record high margin debt preceded the peaks of the tech bubble of 2000, and the bear market of 2008.
The Dow Jones Industrial Average opened above my annual risky level of 22,041, making it a pivot or magnet for the remainder of 2017. There is a risky area from this level to my semiannual risky level of 22,127 and up to my monthly risky level of 22,695. Between 22,041 and 12,695 the upside is only 3%. Whenever this setup occurs within my proprietary analytics, I advise investors to reduce holdings in stocks by 50% up to Dow 22,695. The downside risk is at least to my quarterly value level of 20,317.
Tracking the transportation ETF is important, as recent weakness implies that the goods we produce are not being ordered by stores or businesses slowing shipments. The good news is that this ETF held its 200-day simple moving average of $164.23 on Aug. 2. 
The transportation ETF closed Thursday at $165.76, up just 1.8% year to date. This ETF is up 13% from its post-election low of $146.73 set on Nov. 9. It is also 5.7% below its post-election high and all-time high of $175.75 set on July 14.
Here's the weekly chart for the iShares Transportation Average ETF.
Courtesy of MetaStock Xenith
The weekly chart for the transportation ETF ($165.76 on Aug. 3) is negative with the ETF below its five-week modified moving average of $168.85. The 200-week simple moving average or "reversion to the mean" at $148.01 last tested during the week of July 8, 2016, when the average was $132.92. The 12x3x3 weekly slow stochastic reading is projected to decline to 73.52 this week, falling below the overbought threshold of 80.00.
Investment Strategy: Buy weakness to my quarterly value level of $158.89. Sell strength to my monthly, semiannual and annual risky levels of $170.08, $181.18 and $182.54, respectively.
More of What's Trending on TheStreet:
This article is commentary by an independent contributor. At the time of publication, the author held no positions in the stocks mentioned.