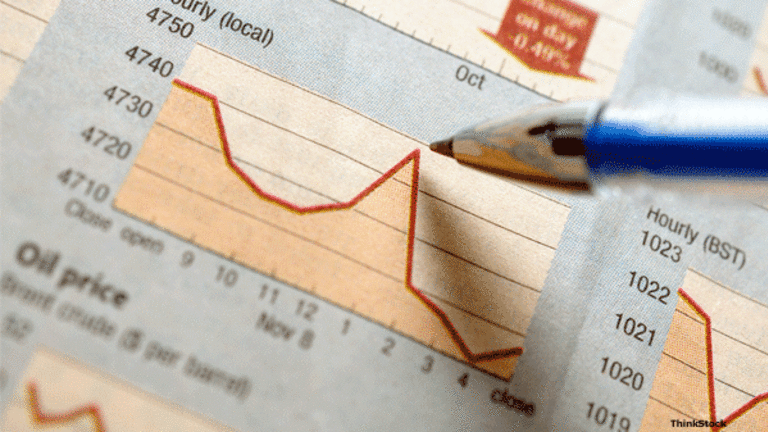 Time to Sell Those Small-Cap ETFs
Two popular funds are exposed to consumer-discretionary but underweight defensive.
The
iShares Russell 2000
(IWM) - Get iShares Russell 2000 ETF Report
index fund is the undisputed favorite small-cap fund among ETF investors, with twice the assets and 50 times the average trading volume of the
iShares S&P SmallCap 600
(IJR) - Get iShares Core S&P Small Cap ETF Report
.
Despite its popularity, the Russell 2000 has consistently underperformed the S&P SmallCap 600 since listing in May 2000, and the performance gap is growing.
We examined the fundamentals of underlying stocks in each of these indices and found that not only are stocks in the Russell 2000 substantially more expensive than those in the S&P SmallCap 600, but companies in the Russell also are consistently less profitable and tend to see earnings crater much worse during an economic downturn.
Although companies in the S&P SmallCap index suffered sagging profitability during the recession of 2001-02, as did most companies, firms in the Russell 2000 actually lost money on the whole (see chart below).
Of course, companies in IWM have collectively shown faster earnings growth over the period, but that's bound to be the case when you're starting from nothing.
Despite this, IWM is substantially more expensive than IJR, and both are in turn more expensive than the large-cap
S&P 500 SPDR
(SPY) - Get SPDR S&P 500 ETF Trust Report
.
IWM is trading at 24 times 2006 estimated earnings, compared with 18 times for IJR and a full 57% premium to the S&P 500's P/E of 15.
Both small-cap funds are heavily exposed to the consumer discretionary sector, at about 30% of assets, compared with about 10% for the S&P 500, so they are more vulnerable to any consumer slowdown.
Further, they both have negligible exposure to the defensive consumer staples sector at just 1% to 2% of assets, vs. about 10% for the S&P 500.
Even Within Small-Caps, Smaller Is Better
The IJR has consistently outperformed the more popular IWM
As a result, small-caps in general could be headed for some rough times in the event of an economic slowdown. That's been conventional wisdom for years, so we wouldn't abandon small-caps altogether. However, it may be time swap the 800-pound gorilla in favor of the lesser known iShares SmallCap 600 index fund. The bigger they are, the harder they fall.
Small-Caps Get Expensive
Higher P/E and falling profits are a bad combination
REITS: How Low Can Yields Go?
Real estate investment trusts, or REITs, have been one of the best-performing asset classes in recent years, far outperforming the stock market. Now we realize that predictions of REITs' imminent downfall abound, but there's another reason it may be time to take the money and run: Yields are not only at historic lows, they may be even lower than you think!
According to the National Association of Real Estate Investment Trusts, the dividend yield on the average REIT has fallen to 4.4%, its lowest level in 35 years of recorded history. But what about the
iShares Dow Jones U.S. Real Estate Index Fund
(IYR) - Get iShares U.S. Real Estate ETF Report
, a popular REIT ETF?
Using a weighted average of the consensus estimates of 2006 dividends for the individual REITs which comprise IYR, the fund's yield is about 4.1%. However, that figure likely includes not just dividends paid from operating cash flow but also so-called return of capital to shareholders. This can happen, for example, when a REIT sells a property at a capital gain, and then distributes these gains to shareholders. It's been happening a lot in recent years. In fact, such returns of capital have grown from nothing in 2000 to 27% of total distributions paid by IYR in 2005.
Cash is always welcome in our pocket, regardless of its origin. But the point is that return of capital, driven by capital gains, may not persist in a cooling real estate market and should not be relied upon. Further, expenses of the fund are deducted from dividends received by the fund before they are paid to shareholders. That's true of all funds, but where yield is the primary focus it's particularly important. Finally, many investors do not realize that dividend income from REITs does not qualify for the lower tax rates enacted by Congress in 2003.
The result is a substantial reduction in the income that investors in IYR can expect to receive going forward. Assuming about 25% of 2006 estimated dividends are really returns of capital (similar to 2005), then IYR's true, dependable yield would decline from 4.1% to 3.1%. From this, subtract the fund's 48 basis points of expenses, and after fees you're looking at about 2.6% yield.
Finally, if you own IYR in a taxable account, its after-tax yield is only about 1.7% assuming a 35% tax rate.
The Incredibly Shrinking Yield
REIT dividends may be even lower than they first appear
Michael Krause is president and founder of AltaVista Independent Research. Previously, he worked at the UBS investment bank in New York, analyzing corporate profits, where he developed and published Global Profit Picture -- the first attempt by any major Wall Street firm to measure and dissect corporate profitability worldwide. Krause previously was a senior equity analyst at a Japanese buy-side firm in New York, where he specialized in disciplined valuation analysis. He also had worked as an analyst and editor of research at Clarion Capital in Taiwan. Having lived and worked in Asia for six years, Krause speaks Japanese and Mandarin Chinese. He is a graduate of Georgetown University, with a degree in finance, and is a frequent contributor to broadcast and print media.