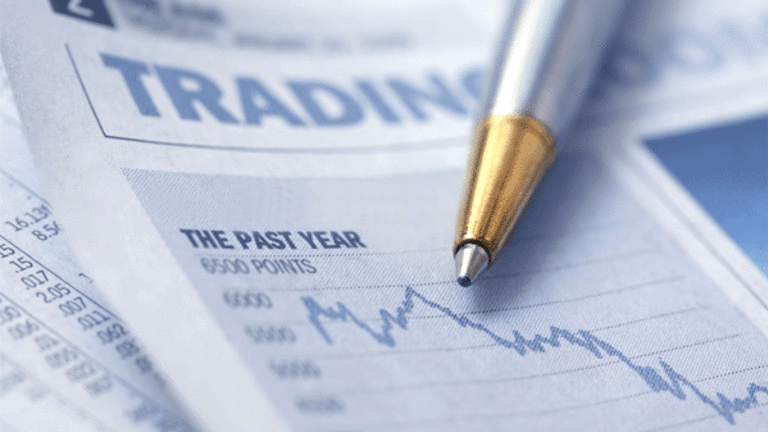 Tight Europe Credit Weighs on Some ETFs
Relatively tight credit in Europe continues to weigh on overseas exchange-traded funds.
The following commentary comes from an independent investor or market observer as part of TheStreet's guest contributor program, which is separate from the company's news coverage.
NEW YORK (
ETF Expert
) -- It's a funny thing managing money for families, small businesses and high net worth individuals.
One minute, you can be helping them overcome the terror of a 5% portfolio pullback in a world that appears bent on self-destruction. ("OMG... Greece is going to default...war is going to erupt in the Middle East!")
The next minute, you can be assuring them that 7% YTD represents solid returns in an economic environment that they're feeling good about. ("Isn't the
Dow
up 11%? The whole Greece thing was overblown anyway.")
Although I may be paraphrasing, investors really do swing between preparing for "The Rapture" and coast-is-clear greed. As a money manager, I need to be skeptical when others are giddy.
That doesn't mean that I will sell risk assets on a contrarian's whim. Instead, I employ stop-loss orders and volatility hedges like
iPath S&P 500 VIX Volatility Mid-Term Futures
(VXZ) - Get iPath Series B S&P 500 VIX Mid-Term Futures ETN Report
. It lets my clients continue to benefit from a reasonably modest allocation to stocks.
That said, I wonder how long it will be before influential hedge fund managers get their "shorts" on. Some, such as Seabreeze's Doug Kass, have maintained a net short on the broader U.S. market for weeks. Others may be deciding to selectively fight battles where economic sentiment remains relatively weak.
For instance, the bearish stock activity of 2008 and 2011 strongly correlated with rising 3-month LIBOR rates -- the rate at which foreign banks are willing to lend to one another.
Yet at the onset of 2012, 3-month LIBOR began falling for the first time since July. Indeed, the willingness of European banks to lend again has been one of the reasons for skyrocketing calendar-year equity gains across the globe.
On the other hand, 3-month LIBOR seems to be stuck at about .475 right now. Even as U.S. large-caps have broken out substantially in March, emerging markets via
Vanguard Emerging Markets
(VWO) - Get Vanguard FTSE Emerging Markets ETF Report
and Europe via
Vanguard Europe
(VGK) - Get Vanguard FTSE Europe ETF Report
are straddling a break-even point in the month.
While one-half of one percentage point (.475) may not seem like an onerous rate to borrow at, it's a whole lot higher than it was last year (.25) and a world away from the U.S. rate of .08. And without a doubt, if 3-month LIBOR flatlines, or begins climbing, I would expect a flare-up of sovereign debt concerns in the region.
So how might one profit from a potential flare-up of sovereign debt concerns? Here are two aggressive possibilities:
1. Short the
iShares MSCI Spain Fund
(EWP) - Get iShares MSCI Spain ETF Report
. Even as Germany, France and Italy look to be getting back to business, Spain via its exchange-traded investment is still wallowing. An aggressive short-seller might recognize the resistance EWP faces at its 50-day moving average as well as the fact that the current price is still below a 200-day trendline.
2.
ProShares UltraShort Euro
(EUO) - Get ProShares UltraShort Euro Report
. This one has not been successful at all in 2012. So why mention it? Because a longer-term perspective on rising 3-month LIBOR rates since July shows that EUO has been immensely profitable. In essence, it comes down to the fact that EUO is only going to work if 3-month LIBOR completely stalls out and/or heads higher, but EUO will fail if 3-month LIBOR resumes a downtrend.
You can listen to the ETF Expert Radio Show
"LIVE", via podcast or on your iPod
. You can follow me on Twitter
.
Disclosure Statement: ETF Expert is a website that makes the world of ETFs easier to understand. Gary Gordon, Pacific Park Financial and/or its clients may hold positions in ETFs, mutual funds and investment assets mentioned. The commentary does not constitute individualized investment advice. The opinions offered are not personalized recommendations to buy, sell or hold securities. At times, issuers of exchange-traded products compensate Pacific Park Financial or its subsidiaries for advertising at the ETF Expert website. ETF Expert content is created independently of any advertising relationships. You may review additional ETF Expert at the site.
Gary Gordon reads:
On Twitter, Gary Gordon follows: