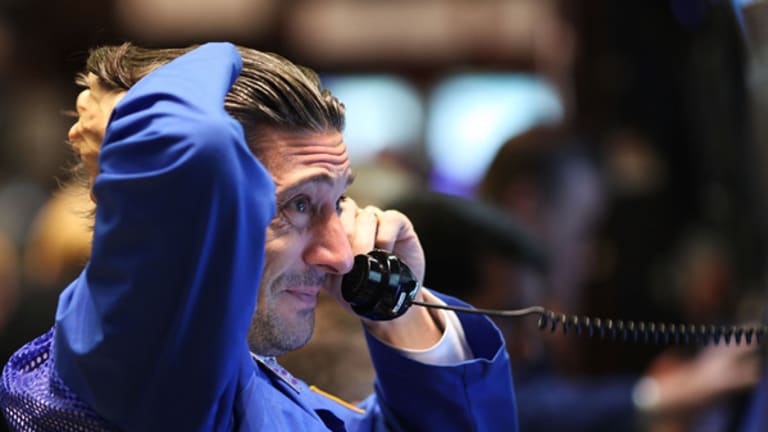 Three Physical Gold ETF Plays
The demand for shares of physically backed gold ETF funds continues to climb as investors' concerns about declining purchasing power and inflation spur investment.
The demand for shares of physically backed gold ETFs continues to climb as investors' concerns about declining purchasing power and inflation spur investment.
According to September data from the National Stock Exchange,
SPDR Gold Shares
(GLD) - Get Free Report
is second only to
SPDR 500
(SPY) - Get Free Report
when it comes to ETFs with the largest amount of assets.
SPDR finished September with more than $35 billion in assets. As of Oct. 23, State Street reports that there are now nearly $38 billion in assets in GLD.
While GLD may be the largest physical gold ETF, it is not the only U.S. ETF to be backed by physical gold holdings.
iShares Comex Gold
(IAU) - Get Free Report
had $2.4 billion in assets at the end of September. According to the fund's Web site, IAU's assets were $2.55 billion as of Oct. 23.
ETF Securities
, whose founder launched the first physically backed gold fund in Australia in 2003, has also grabbed a slice of the pie with its U.S. gold fund. The company's
Physical Swiss Gold Shares
(SGOL) - Get Free Report
launched on Sept. 9, 2009, and has already attracted more than $201 million in
as of Oct. 23.
Gold ETFs Shiny Future
All three funds have a similar structure and fee schedule. GLD and IAU both have management fees of 0.40%, while newcomer SGOL has a 0.39% fee. All three funds offer investors exposure to a physical stockpile of gold held for investors by the trust.
The biggest difference between the funds is size and where the gold is stored. GLD is the largest fund when measured by assets and also has the highest trading volume. GLD's three-month average daily trading volume is more than 12 million shares. IAU has a three-month average daily trading volume of 260,000 shares, while SGOL has an average daily trading volume of 100,000.
Liquidity is an important factor when deciding between two similar ETF funds, but all three of these physically backed gold ETFs have ample trading volume. Because the average investor would not have difficulty trading in or out of any of these three funds, the decision may come down to fees and storage.
Those investors who are frequently trading physically backed gold ETFs on their own may find SGOL's small difference in management fees to be the deciding factor. Investors who are comfortable with only the biggest funds might choose GLD instead.
SGOL's gold bullion is held in Zurich, Switzerland. All of the vaults that contain this gold are approved by the London Bullion Market Association (LBMA) to meet "good delivery standards." Gold bullion held for the fund is inspected twice a year by an external auditor, and gold bar identification numbers are published on the fund's Web site.
The gold that underlies GLD is held in the form of allocated 400-ounce London Good Delivery bars in the London vault of
HSBC
(HBC)
Bank USA, or in the vaults of subcustodians. GLD's gold bars are also held to the "good delivery standards" of LMBA. While the trustees of GLD are allowed to inspect the gold holdings twice a year, there seems to be a slightly different auditing process than SGOL.
While SGOL has an external auditor inspect the gold holdings twice a year, GLD simply notes that: "The Trust's independent auditors may audit the Gold holdings in the vault as part of their audit of the Financial Statements of the Trust." Investors who like guaranteed outside audits might prefer SGOL's process.
Shares of IAU are backed by gold held by the custodian in the vicinity of New York, Toronto, Montreal, London and potentially other locations in the future. Gold held for IAU meets the same LMBA standards as GLD and SGOL. IAU also has the option to inspect the gold or have independent auditors inspect the gold.
GLD, SGOL and IAU are all offer exposure to physical gold in a cost-efficient format. Selecting a fund comes down to individual preferences about the quantity of underlying gold, liquidity concerns and geographical location.
As physically-backed gold funds grow in size, concerns will inevitably arise about the location and safety of the gold holdings. The central location of SGOL's bullion and the process that ETF Securities uses to audit their gold holdings both internally and through independent auditors give this fund an edge.
While GLD still outmatches the U.S. competition when it comes to size, investors concerned with the auditing process or geographic diversification should consider SGOL. Investors looking to hold a large position in physically backed gold ETFs might consider splitting assets between GLD and SGOL to achieve diversification by issuer, location and vault.
At the time of publication, Dion was long IAU.
Don Dion is president and founder of
, a fee-based investment advisory firm to affluent individuals, families and nonprofit organizations, where he is responsible for setting investment policy, creating custom portfolios and overseeing the performance of client accounts. Founded in 1996 and based in Williamstown, Mass., Dion Money Management manages assets for clients in 49 states and 11 countries. Dion is a licensed attorney in Massachusetts and Maine and has more than 25 years' experience working in the financial markets, having founded and run two publicly traded companies before establishing Dion Money Management.
Dion also is publisher of the Fidelity Independent Adviser family of newsletters, which provides to a broad range of investors his commentary on the financial markets, with a specific emphasis on mutual funds and exchange-traded funds. With more than 100,000 subscribers in the U.S. and 29 other countries, Fidelity Independent Adviser publishes six monthly newsletters and three weekly newsletters. Its flagship publication, Fidelity Independent Adviser, has been published monthly for 11 years and reaches 40,000 subscribers.