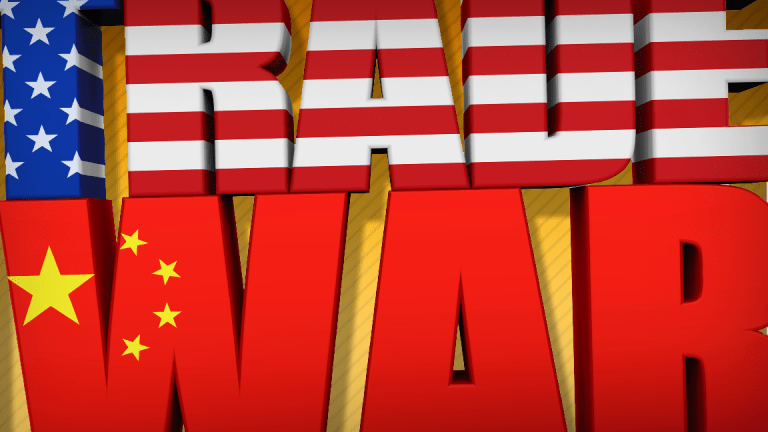 3 Big-Name ETFs Being Hurt by U.S. Trade War With China
This markets expert sees these three exchange traded funds as most susceptible to a tariffs standoff.
Tread lightly. 
Investors seeking safety in exchange traded funds during these volatile times might want to look elsewhere than these three ETFs that investment expert David Russell, vice president of TradeStation, says will be affected the most by a trade war between the U.S. and China.
iShares MSCI Emerging Markets ETF
There's always collateral damage during times of war, and while a trade war between the world's two largest economies might not lead to any casualties, emerging markets in developing countries will feel the trickle-down effects of the U.S.-China tariff battle.
One-month returns show that the iShares MSCI Emerging Markets ETF (EEM) - Get iShares MSCI Emerging Markets ETF Report has been the worst-performer among the five largest ETFs, posting a decline of 6.79%, according to data from Morningstar. Go back two more months and that figure rises to a decline of 8.92%. 
Investors have been pulling out of emerging markets at the highest rates since 2008, and the trend does not look to be slowing. Seven of the top 10 holdings in the ETF are based in China, including online retail giant Alibaba Group Holding Ltd. (BABA) - Get Alibaba Group Holding Limited American Depositary Shares each representing eight Report and global tech company Baidu, Inc. (BIDU) - Get Baidu Inc. Report .
"Emerging markets like China are big exporters," Russell said. "If they lose an export market to the United States, the world's biggest economy, that is going to weigh on their economic growth. That will filter through to lower earnings in countries like China."
These markets have already been nailed by the Fed raising interest rates, which has forced countries like Argentina and Turkey to battle depreciation of their currencies and high inflation rates. Trade tensions have only added to the pressures facing developing economies.
VanEck Vectors Semiconductor ETF 
Semiconductor stocks have shown impressive growth over the year, but the past month has been significantly troublesome for the sector, even before a Chinese court barred Micron Technology (MU) - Get Micron Technology Inc. Report  from selling some of its products in China.
The VanEck Vectors Semiconductor ETF (SMH) - Get VanEck Vectors Semiconductor ETF Report has reflected this sentiment, evident by the fund being down 6.23% over the past month. The recent decline bucks the 27.23% growth the ETF has seen over the last year.
The ETF, which includes top tech names such as Intel Corp.  (INTC) - Get Intel Corporation Report , Nvidia Corp.  (NVDA) - Get NVIDIA Corporation Report and Qualcomm Inc. (QCOM) - Get QUALCOMM Incorporated Report , has also under-performed compared to the S&P 500 undefined by 6.4% over the past month.
The volatility surrounding the sector seems to be dictated by investor anxiety, Russell said.
"Semiconductors have definitely been hurt by the impact we have seen in terms of sentiment with China. There have been concerns the United States, the American companies would not be able to export to China," Russell said.
iShares China Large-Cap ETF 
Investors in China are trending toward a more bearish outlook on the country's economy. Hence, large-cap Chinese stocks have sold off in anticipation of the U.S. implementing its first round of tariffs July 6.
"Chinese economic data has started to really been hurt by what the president has been doing in terms of hurting Chinese business confidence," Russell said. "That in turn has weighed down on the Chinese stock market and Chinese economic numbers."
Chinese entrepreneurs' confidence in the country's economy actually improved to 75.8 from 74.2, according to a June survey from the People's Bank of China. However, banker's confidence fell slightly from 81.9 to 81.2 against the index.
But that doesn't mean investors are buying into large-cap Chinese companies. Returns for the iShares China Large-Cap ETF (FXI) - Get iShares China Large-Cap ETF Report during the past month have shown a decrease of 9.8%. The ETF has been a laggard against the S&P 500, under-performing by almost 13%.