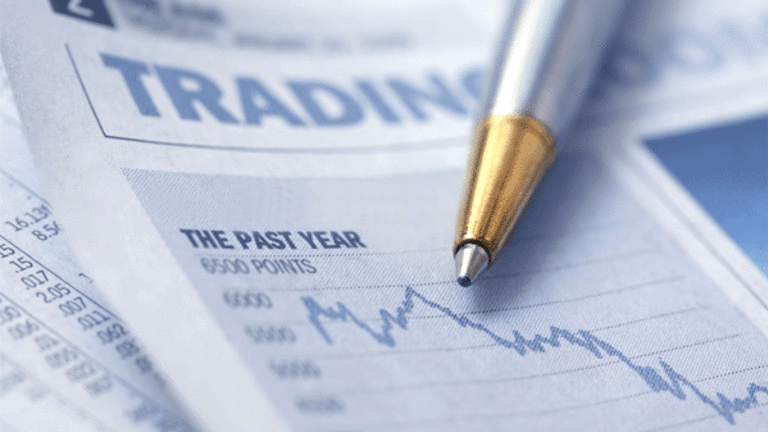 This Week May Not Be as Good as the Last
Macro-economic data and technical factors put a potential damper on this week.
NEW YORK (
) -- Last week was a good week for the U.S. stock market and its major indexes. However, macro-economic data and technical factors put a potential damper on this week. Last week's gains need followthrough before the bulls can celebrate new highs.
For the week, the
gained 1.7%, the
Nasdaq Composite
climbed 2.3% and the
Dow Jones Industrial Average
added 1%.
All three major stock market indexes and their related ETFs --
SPDR S&P 500 ETF Trust
(SPY)
,
PowerShares QQQ Trust, Series 1
(QQQ)
and
SPDR Dow Jones Industrial Average ETF
(DIA)
remain below their recently recorded all time highs which now demarcate significant resistance levels.
Tech Talk
In the chart of the S&P 500 below, we can see how the stock market index is near overbought conditions with RSI at 66.79 and momentum is declining as MACD turns south. This sets up a divergence between momentum and the recent rally back to significant resistance levels and typically these divergences are resolved in one direction or other.
Also see: Renewable Energy Becomes a Utility Lifeline >>
With major resistance at the 1600 level, just above current price, the most likely resolution is down as the S&P makes another stab at its all time high of 1593 set on April 11. Should that directional correction unfold, Fibonacci retracement levels find support between 1530 and 1550 so the likely parameters for an initial correction fall between 5% -12%.
Chart courtesy of StockCharts.com
The Big Gorillas in the Room: Oil and Energy Rally
Oil and energy ETFs,
Energy Select SPDR
(XLE)
rose significantly last week, likely in response to fewer unemployment claims and renewed hope for global economic growth. Oil was up more than 5% as West Texas Intermediate Crude closed at $92.90 per barrel.
VIX Croaks Again
The VIX Index, the CBOE S&P 500 Volatility Index, also known as the "fear index," declined sharply last week in response to higher equity prices and fewer unemployment claims. The VIX Index lost 9.08% for the week to close at 13.61,while the
iPath S&P 500 VIX Short Term Futures ETN
(VXX)
lost 5.87% and the
VelocityShares Inverse VIX ETN
(XIV)
added 5.92%.
Markets remain decidedly complacent and fearless in the face of a global macro economic slowdown and weakening technical factors.
However, VIX is a fickle friend, and if equity markets begin to dump in a big way, VIX ETFs could generate significant profits, once again. Additionally, VIX ETFs face heavy resistance from their respective 200-day moving averages just above current levels. As VIX rises, stock markets fall and so all eyes will be watching VIX in the days ahead to see if this mean reverting indicator reverts to mean.
Chart courtesy of StockCharts.com
Bonds Flash a Warning; Stocks Say 'Take a Hike'
As everyone knows, the bond market and the stock market tend to move inversely to each other. As stocks rise, bond prices fall and bond yields rise.
Also see: Best Ways to Invest in Gold >>
As stock market prices fall, bond market prices rise and bond market yields falls.
This is simply a reflection of the flow of capital between "risk on" and "risk off" assets and tends to be reliable over long time frames.
However, in today's central bank influenced, Wizard of Oz economy, interesting divergences are now taking place between the bond market and the stock market.
Chart courtesy of StockCharts.com
In the chart above, it's easy to see how 10-year bond,
iShares 7-10 Year Treasury Bond
(IEF)
and the S&P 500 tend to move in harmony. As the S&P 500 rises in price, bond yields tend to rise and as the S&P 500 falls in price, bond yields tend to fall and bond prices rise which is the natural flow of supply and demand in U.S. financial markets.
Now, however, we see a sharp divergence between these two asset classes as the S&P 500 continues to climb while the yield on the 10-year Treasury bond has entered a steep decline.
What this means is that the stock market as represented by the S&P 500 is bullish and continues to climb while the bond market is saying that money is migrating to the safety of bonds and so driving bond yields down and bond prices up. The bond market is saying that today's environment is a "flight to quality" environment and that "risk on" assets are simply too risky. Since the bond market is typically viewed as the "smarter" of the two markets, bond action could be bad news for stocks as we move into May.
The Week Ahead: What to Expect
Major economic reports come our way this week as follows:
Tuesday: Case/Shiller Home Price Index, consumer confidence, Chicago PMI.
Wednesday: Federal Open Market Committee meeting announcement, April Institute of Supply Management, construction spending and ADP private employment.
Thursday: Weekly jobless claims
Friday: April Non-Farm Payrolls, Unemployment Rate, service sector ISM, factory orders.
Action Plan
Never a dull moment as central banks around the world struggle to fight off deflation and depression and promote growth. We'll see more of the same this week with announcements from the European Central Bank and U.S.
Federal Reserve
. Will easy money be able, yet again, to offset terrible macro economic data? Stay tuned. Wall Street Sector Selector remains in
status, expecting a summer swan dive ahead.
This article was written by an independent contributor, separate from TheStreet's regular news coverage.
John Nyaradi is Publisher of
, a financial media site focused on news, analysis, and information about Exchange Traded Funds (ETFs) and global financial and economic developments. John's investment articles have appeared in many online publications and he is a frequent guest on numerous financial media outlets. His book,
Super Sectors
, is published by John Wiley and Sons and included among the "Year's Top Investment Books" in the
2011 Stock Trader's Almanac
.