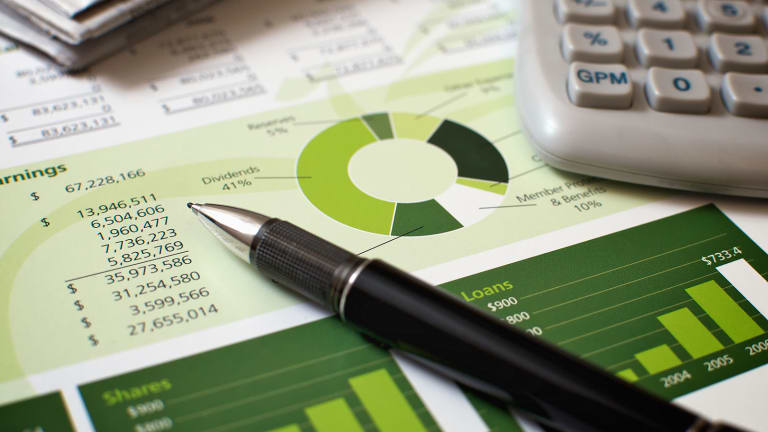 This Dividend ETF Does Your Investing for You
Dividend investing can be tricky if investors don't know which stocks or funds to buy. The Amplify YieldShares Prime 5 Dividend ETF seeks to remove the guesswork.
Dividend investing can be tricky if investors don't know which stocks or funds to buy. Should investors go for a higher yield? How important is dividend growth? Will the investor need this money for retirement, or do they have a big expense coming up? All of these questions pop up for investors, and if an investor doesn't have money for a financial advisor, it can be difficult to know where to turn.
That's where the Amplify YieldShares Prime 5 Dividend ETF (PFV) comes in. Created by Amplify Investments, which has almost $120 million in assets under management, this exchange traded fund seeks to make it easier for regular investors and take the guesswork out of dividend investing.
Amplify's founder and CEO Christian Magoon said there are two elements to the newly created ETF -- it automates a highly diversified ETF portfolio to take the guesswork out and it reduces trading costs. "The ETF wrapper provides significant cost benefits in both of these areas," Magoon said.
The fund, which was launched September 21, picks five dividend ETFs -- all based in the U.S. -- allowing investors to get high income, along with lower risk (or volatility), as well as a low expense ratio of 0.49%.
The fund is currently has a 21.09% weighting toward the iShares Core High Dividend ETF (HDV) - Get iShares Core High Dividend ETF Report , a 20.39% weighting toward Schwab US Dividend Equity ETF (SCHD) - Get Schwab US Dividend Equity ETF Report , a 19.85% weighting towards Vanguard High Dividend Yield Index Fund (VYM) - Get Vanguard High Dividend Yield Index ETF Report , a 19.88% weighting toward Schwab US Large Cap Value ETF (SCHV) - Get Schwab U.S. Large-Cap Value ETF Report and an 18.56% weighting towards the WisdomTree High Dividend Fund (DHS) - Get WisdomTree U.S. High Dividend Fund Report .
With the fund just launching, there is no official yield just yet, but the index had a 2.95% yield as of July 30 and the first distribution is set to come in December, when an official yield will come.
TheStreet recently sat down with Magoon to discuss how the ETF makes investors lives easier and where he sees the world of dividend investing going.
TheStreet: The Federal Reserve seems likely to raise its federal funds rates in December. If it does, what is that likely to do to dividend stocks and ETFs?
Christian Magoon: All income generating securities including dividend-paying stocks are likely to experience selling pressure around an interest rate rise. The real question will be whether interest rates then continue to rise and the magnitude of that rise. A large rise in rates would have a short-term negative impact on income producing securities like dividend stocks. Over the longer-term, dividend stocks may benefit from a large rise in interest rates as this would likely be due to a red-hot economy which would benefit stock valuations.
TheStreet: If the Fed does not raise the fed funds rate in December, what happens to yields, specifically high-yielding stocks and ETFs, as well as interest rates on U.S. Treasuries?
Magoon: It is hard to say how yields will react to the Fed passing on a rate hike in December. Currently, there is significant demand for income-producing securities like divided paying stocks; that has driven prices up and yields down. If the Fed passes on a rate hike, increased buying pressure could move prices even higher while dragging yields lower. U.S. Treasuries are in a slightly different place, as they are often considered a safe haven asset and in comparison to sovereign debt of other developed nations, they have a significant yield advantage due to monetary policy differences. Regardless of Fed actions which are likely to be minimal in scale in the coming months, U.S. Treasuries are the gold standard for income seekers from around the world due to the position the United States holds in the world. Magoon: With more than 130 dividend ETFs for investors to select from, the challenge of doing the research and monitoring of this popular ETF group is considerable. PFV is designed for an investor that wants to automate their dividend ETF buying and selling decisions within the cost and tax efficient wrapper on an ETF. PFV is an index based ETF that delivers one of the most diversified underlying dividend stock portfolios (760 stocks are represented within the five ETFs PFV owns) in the dividend ETF peer group. PFV provides increased diversification across underlying holdings and portfolio selection methodologies when compared to owning a single ETF. In addition the tax and cost efficient wrapper of the ETF structure allows the strategy to be executed in a way that an individual investor could not do on their own without increased trading costs and/or taxation.
TheStreet: What type of investor is PFV geared towards and why?
Magoon: The portfolio selection process behind PFV seeks to maximize income while reducing volatility by ranking dividend ETFs using three factors: size of dividend, volatility and expense ratio. A fund's dividend and volatility ranking account for 50% and 33% of its total ranking score. This allows a dividend ETF's relative volatility and dividend characteristics to be considered. Ultimately the five dividend ETFs with the highest blended ranking across dividend income, volatility and expense ratio become PFV's holdings. Magoon: PFV's benchmark is the Prime 5 U.S. Dividend ETF Index. The three primary criteria the index utilizes in selecting the top five ranked ETFs are an overall ranking in three areas: low share price volatility, low expenses and high dividend income. Additionally dividend ETFs must have a minimum market capitalization, trading volume and have grown their dividend income year over year to be including in the index and ETF.

TheStreet: How do you keep volatility low but also offer a high yield to investors?
TheStreet: What criteria do you use to determine the top 5 dividend ETFs?
TheStreet: What's the benefit of creating PFV? Why not let people pick and choose their own ETFs?
Magoon: PFV is designed to make dividend investing easy for ETF investors. In a single investment, PFV owns one of the most diversified portfolios of any dividend ETFs in the marketplace. The ETF follows a rules based portfolio selection process that focuses on three primary dividend ETF selection criteria: low expense ratio, low share price volatility and high dividend income. This automated selection process determines what dividend ETFs to buy and sell and when to do it. Additionally, the ETF reconstitutes its portfolio in a tax and cost effect manner each quarter. An investor seeking to follow this strategy outside of an ETF wrapper would be exposed to significant trading and/or tax costs (if in a taxable account) on a quarterly basis when the portfolio reconstitutes.