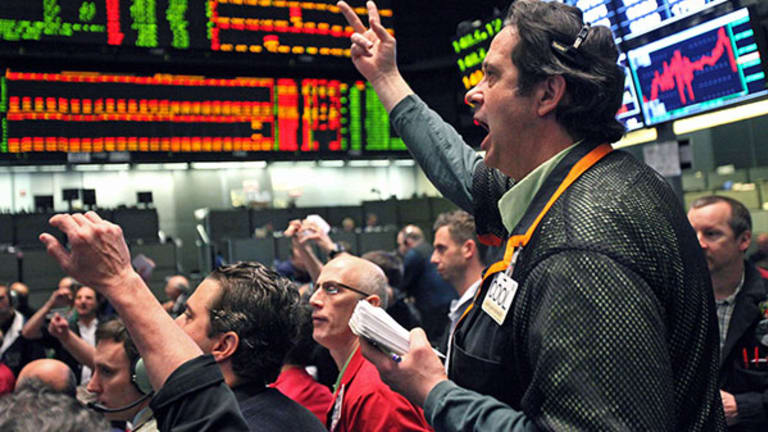 Publish date:
Think Oil Prices Are Going Higher? Here's a Low-Cost Trading Strategy for You
Here's one way to invest in crude oil futures with minimal risk and very low cost.
Here's one way to invest in crude oil futures with minimal risk and very low cost.
United States Oil Fund (USO) - Get Report is an exchange-traded fund designed to track the price of U.S. crude oil as measured by futures contracts at the New York Mercantile Exchange. If you think domestic oil prices will rise, this ETF could be the one for you.
This ETF appears to be settling into a short-term bullish pattern. In this situation, entering a leveraged bullish position makes sense. 
There is a lot going on here. Previous resistance at $10.75 flipped to support. The last four trading sessions saw U.S. Oil Fund's price drop below resistance, but it looks like it will bounce and see a strong upward move in coming sessions. The bullish trend began on Aug. 1 with a bullish engulfing at the bottom of a two-month downtrend. Price moved $2 before a bearish doji star appeared, confirmed by a bearish engulfing pattern. Price moved swiftly below support, however, until a bullish continuation signal appeared in the last two sessions, in the form of a bullish separating-lines signal.
If you are strongly bullish on energy right now, you could look at a leveraged exchanged-traded product such as the VelocityShares 3X Long Crude ETN (UWTI) . If you're strongly bearish, you'd probably prefer VelocityShares 3X Inverse Crude ETN  (DWTI) .
Some traders will not be so sure about the next direction, however, so here is an alternative that combines low cost and low risk with leverage. Look at the Sept. 16 options, which expire in only 10 days. You can set up a leveraged synthetic long position with the following trades:
     Buy two 10.50 calls @ 0.16, for 0.32 plus $10 in trading fees, for a total cost of $42
     Sell one 10.50 put @ 0.41, less the $9 trading fee, for a net premium $32
          Net Debit = $10
For $10, you benefit two points for each point the share price moves above $10.50. If the price moves below that level, the short put can be closed or rolled. If there is very little movement in the next 10 days, you have only $10 at risk.
An ETF like United States Oil Fund is safer than leveraged alternatives, but using options like this helps accomplish leverage with minimal risk.
Keep in mind that if you think oil prices are going to fall in the future, you can apply this kind of thinking in reverse and construct synthetic short stock positions using stock options.
This article is commentary by an independent contributor. At the time of publication, the author held no positions in the stocks mentioned.
Besides blogging atTheStreet.com,Michael Thomsett alsoblogs atSeeking Alphaand several other websites.He has been trading options for 35 years and has published books with Palgrave Macmillan, Wiley, FT Press and Amacom, among other publishers.He is the author ofInvesting in Energy. You can find this book at Amazon.com and Barnes and Noble.