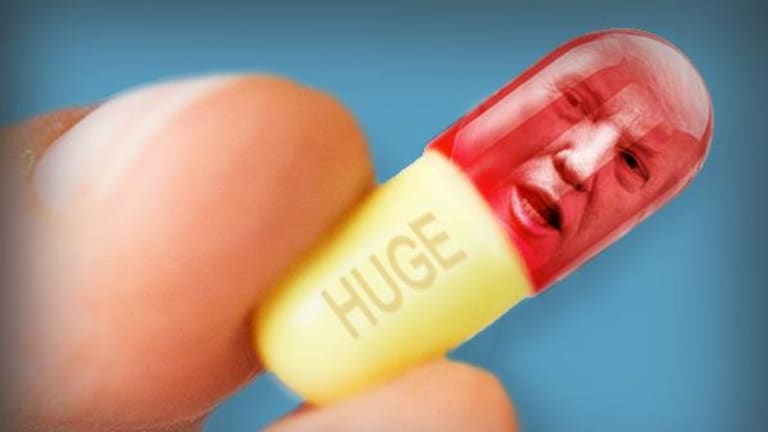 These Health Care ETFs Could Be in Play with the GOP's ACA Repeal
The Republican-led House of Representatives has rolled out a new health insurance bill. How will it affect health care sector companies' bottom lines?
The GOP-led U.S. House of Representatives has finally rolled out its "repeal and replace" health care bill, taking direct aim at the Affordable Care Act that stood as the signature achievement of the Obama administration.
The bill was released this week, and it didn't take long for the partisan gloves to come off arguing the bill's effectiveness, as both parties take hardline stances on "Trumpcare" versus "Obamacare."
As usual, we'll leave the bitter partisan bickering to the political experts. Instead, let's focus on the potential impact of the bill - if it passes into law - on health care industry companies, especially the stocks and funds that invest in that industry.
So far, the only item both Wall Street and health care sector experts agree on is that continued uncertainty remains the order of the day.
"There's no direct impact yet," says Martin Gaynor, professor of economics and health policy at Carnegie Mellon University's Heinz College. "What we have is a proposed bill in its very initial stages. However, quite a few stakeholders are concerned: individuals who have coverage through the ACA, insurers, hospitals, doctors, and governors, among them."
Individuals are worried about whether they'll lose the coverage they have or if it will become substantially more expensive, Gaynor says. "Meanwhile, insurers are concerned about whether any changes will alter their ability to be in the black, or at least break even, in the individual health insurance market," he says. "Hospitals are concerned about whether they will experience an increase in the uncompensated care they provide."
Gaynor says it's not clear yet what features a bill that gets passed will have, or even if a bill will get passed, so "no one knows" whether these fears will be realized. "Some of the concern is over the uncertainty about what will happen," he adds. "Uncertainty is a particularly acute problem for health insurers, who have to make decisions soon about whether they'll participate in the marketplaces for 2018, and if so, what rates they will charge."
As for the health care sectors most impacted by a potential passage of the bill, Gaynor's call includes the usual suspects -- "health insurers, hospitals, doctors, pharmaceutical companies," he says.
Understanding how the bill is structured, and what it will mean in real world terms, is also a key in figuring out any health care industry fallout.
That's the outlook from Harry Nelson, who co-wrote the recently released book From Obamacare to Trumpcare: Why You Should Care.
Nelson, a health care industry consultant, says that on balance, Trumpcare will be a tax reform package - and will take a while before it's ever implemented.
"It will likely take two years to undo Obamacare and the impact of repeal on the most vulnerable will be decided by where you live," save Nelson.
Both Trump and the house GOP are looking for balance, too -- ideally shedding the worst elements of Obamacare and keeping the effective (and necessary ones) in place. "While scaling back on Medicaid and other federal funding, Trump embraces some form of universal health care and not allow 20 to 30 million people to be stricken of health insurance entirely," Nelson says.
Nelson also believes that hospitals will not do well under Trumpcare, and that the insurance companies will be the biggest beneficiaries. "Expect to see rising numbers of mergers in the insurance industry," he says.
Additionally, Trump will take a "hands-on approach" when it comes to drug pricing, departing from Republicans and allowing Medicare to negotiate drug pricing with the pharmaceutical companies, he adds.
"As a result of greater competition in pricing, pharmaceutical companies stand to lose," says Nelson.
Others aren't as sure of that sentiment.
"The repeal of Obamacare should have a minimal impact on the drug sector," states J.J. Feldman, portfolio manager at Los Angeles-based Miracle Mile Advisors. "Yes, certain companies like Gilead (with its Hep C Franchise) have higher exposure to Medicare; however, speeding up the FDA regulatory process could offset any impact on drug price changes."
"Faster approvals could be very meaningful not only to drug companies, but to those with rare diseases that are life-threatening without any existing treatment," he adds.
As for any impact of potential drug price competition (also known as "new system", as Trump tweeted on March 7, 2017) some type of Obamacare repeal and replace is largely priced into the health care sector, Feldman adds
If you're looking to play things more safely, a health care industry ETF may be in order.
"The Health Care Select Sector SPDR ETF (XLV) - Get Free Report has broad exposure to the healthcare/pharma sector, which is the best sector of the S&P 500 so far this year, after being the worst last year," Feldman adds. "To go more narrow and focus on just biotechnology stocks, SPDR S&P Biotech ETF (XBI) - Get Free Report is a good choice, as it holds exposure across 90 names large and small with no position currently exceeding 3.25%."
"XBI is up almost 20% on the year," he notes.
Even senior health care executives aren't too worked up over a bill that may go through many changes before it comes law. If anything, they see opportunity.
"I don't really expect to see any changes in the Affordable Care Act directly affect us as much as I think they will affect other segments of the healthcare industry or business," stated Miles White, CEO of Abbott, in a January 25, 2017 conference call. "I think a lot of the effort will be pointed at other segments more than the spaces we are in. At least as far as that is impacted, we are primarily a diagnostic device company in the United States and so I think that, to some degree, some of that impact could be favorable for us."