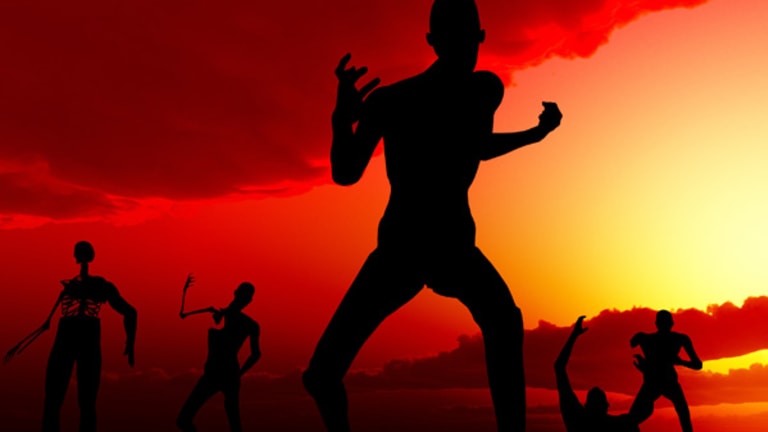 The Zombie ETFs Among Us
Invest With An Edge offers its ETF Deathwatch for October.
NEW YORK (TheStreet) -- October is a time for costumes, and Zombie costumes are a perennial favorite with healthy humans dressing up as the fictional walking dead.
In the ETF world, there are actual Zombies. Many of them dress up in a fancy Web site costumes with an
NYSE
-listing mask in an attempt to make them appear healthy, living beings.
The sad fact is that more than a fourth of all listed exchange-traded products are probably nonprofitable entities for their sponsors. This month's ETF Deathwatch, available on
Invest With An Edge
contains 394 names (293 ETFs and 101 ETNs) out of the 1,456 products listed for trading.
Some are so dead they can't even justify a Zombie label because Zombies at least move.
iPath Long Enhanced MSCI EAFE ETN
(MFLA)
hasn't traded since Jan. 18 (260 days ago but who's counting) and is quoted Thursday with a bid/ask of $67.73/$161.01. This product is beyond dead. The NYSE should be embarrassed to allow such a listing to exist.
Also see: 10 Cities Where You Can Retire Without A Car >>
I'm often told my list is not realistic because many of the named sponsors have never closed a fund. Guess what? Thirty-four different issuers have closed U.S.-listed ETPs. All 34 of them could claim "they never closed an ETF" on the day before their first closure. There is a first time for everything.
Sixteen new names joined ETF Deathwatch for October. Twenty-five products that were on the list last month are no longer there. Seven of those came off due to increases in assets, trading activity, or both. The remaining 18 came off because they actually closed.
The 16 ETPs added to ETF Deathwatch for October:
AdvisorShares Madrona Domestic ETF
Elements Morningstar Wide Moat Focus ETN
First Trust Mega Cap AlphaDEX Fund
First Trust Nasdaq ABA Community Bank
First Trust United Kingdom AlphaDEX
Global X China Financials ETF
Guggenheim MSCI Emerging Markets Equal Weight
iPath DJ-UBS Tin ETN
iPath GEMS Asia 8 ETN
iShares MSCI Emerging Markets Growth
Market Vectors China A-Shares ETF
Market Vectors Indonesia Small-Cap ETF
PowerShares S&P SmallCap Industrials
ProShares Short Oil & Gas
Russell Small Cap High Dividend Yield ETF
Teucrium Agricultural Fund
Also see: The Poorest Counties in Every State in America >>
The seven names removed from ETF Deathwatch due to improved health:
ETRACS Wells Fargo BDC ETN
iShares MSCI Global Select Metals & Mining Producers
iShares S&P Global Clean Energy
Market Vectors CEF Municipal Income ETF
PowerShares DB Agriculture Long ETN
PowerShares KBW Premium Yield Equity REIT
Teucrium Soybean Fund
The 18 ETPs removed from ETF Deathwatch due to delisting and closure:
Direxion Daily Agribusiness Bull 3x (COWL)
Direxion Daily Agribusiness Bear 3x (COWS)
Direxion Daily Basic Materials Bear 3x (MATS)
Direxion Daily BRIC Bull 3x (BRIL)
Direxion Daily BRIC Bear 3x (BRIS)
Direxion Daily Healthcare Bear 3x (SICK)
Direxion Daily India Bear 3x (INDZ)
Direxion Daily Retail Bear 3x (RETS)
ETRACS 1-Month S&P 500 VIX Futures ETN (VXAA)
ETRACS 2-Month S&P 500 VIX Futures ETN (VXBB)
ETRACS 3-Month S&P 500 VIX Futures ETN (VXCC)
ETRACS 4-Month S&P 500 VIX Futures ETN (VXDD)
ETRACS 5-Month S&P 500 VIX Futures ETN (VXEE)
ETRACS 6-Month S&P 500 VIX Futures ETN (VXFF)
ETRACS Daily Short 4-Month S&P VIX Futures ETN (DDVX)
ETRACS Daily Short 5-Month S&P VIX Futures ETN (EEVX)
ETRACS Daily Short 6-Month S&P VIX Futures ETN (FFVX)
iPath Short Ext -3x Russell 1000 TR ETN (ROSA)
Additional Resources
ETF Deathwatch Criteria on
(objective criteria used to generate list)
ETF Deathwatch Archives on
(past monthly issues)
At the time of publication, the author was long XMPT.
This article is commentary by an independent contributor, separate from TheStreet's regular news coverage.
Ron Rowland is the founder and president of Capital Cities Asset Management, a fee-based registered investment adviser in Austin, Texas. He is also the founder and publisher of Invest With An Edge and All Star Investor, where he has been providing market commentary and active investment advice since 1991. Opinions expressed in this article should not be considered personal recommendations to buy or sell any security.