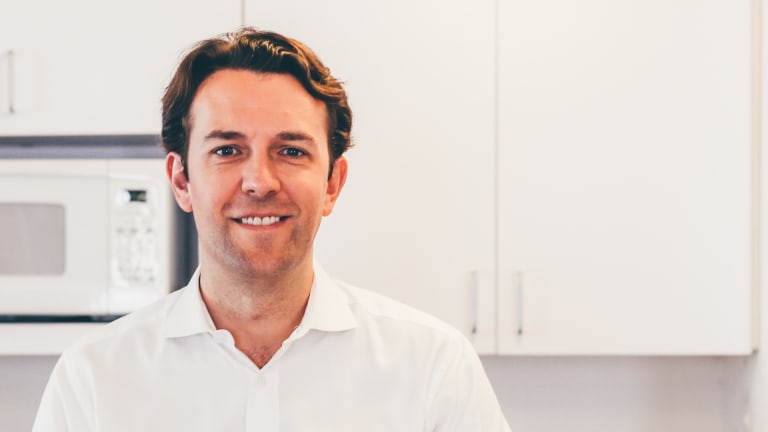 Meet the Guy Who Wants to Cash In on the Trillion Dollar ETF Tsunami
"It's got to be something game changing."
Will Rhind lives in New York City, but the commodities analyst behind a new Bain Capital Ventures-backed ETF startup called GraniteShares has his eye on Silicon Valley.
If exchange traded funds don't seem like iPhones, it's only because you haven't been speaking to Rhind for long enough. He believes GraniteShares can shape the industry. And he wants you to believe, too.
"It's got to be something game changing," Rhind said. "It can't be something incremental - dropping a few basis points and launching a new index. It's got to be an entirely different product."
For GraniteShares, the first new products are ETFs with exposure to the Bloomberg and S&P commodities indices. The commodities space is familiar to Rhind, who had previously served as Head of ETF Securities in the U.S. and CEO of the SPDR Gold Shares ETF GLD.
The ETFs differ from existing commodities ETFs in two ways. First, they are structured to issue 1099s instead of K-1s -- which means investors avoid the high taxes common to commodities funds. And second, they have the lowest operating expenses in the sector, with one at almost a third of the sector average.
Rhind thinks of the company like a tech start-up -- and he certainly uses the lingo. In the press release announcing the company's launch, variants of the word "disrupt" appear no fewer than five times. On Twitter, Rhind follows ETF investors, business newspapers -- and CEOs like Richard Branson and Elon Musk. 
The company also looks more like a tech startup than a traditional financial services company. Tucked into the corner of a floor it shares with a cloud startup run by Rhind's friend, GraniteShares has only three employees so far, with plans to on-board four more. Located several blocks north of Wall Street, the office has the trappings of the Valley: open floor plans, local coffee, a beer fridge.
The small scale of the operation has enabled GraniteShares to charge operating expenses far lower than the sector average: 0.25% for Bloomberg Commodity ETF COMB, and 0.35% for GraniteShares S&P GSCI ETF COMG. For the 151 commodities ETFs tracked by ETF database as of June 15, the average operating expenses were 0.77%, according to an analysis by TheStreet. Recently, the price hadn't been going down, either. Among funds listed in 2016, the average operating expenses were 0.83%.
Last summer, GraniteShares caught the eye of Matt Harris, a managing director at Bain Capital Ventures who invests in fintech, who put in $3.5 million in seed funding. In an interview with TheStreet, Harris said his investment philosophy is simple: "Mainly our rubric is we try to back awesome people," he said. 
Harris and Rhind said they see an opportunity in the large investor migration from actively managed mutual funds and stock picking to index-based funds such as ETFs. 
Over the past decade, investors have been fleeing from the Goliath of actively managed mutual funds and putting trillions of dollars into ETFs, spurred in large part by lower fees, more efficient tax treatment, and greater transparency.
Between 2007 and 2016, actively managed domestic equity mutual funds saw a net outflow of $1.1 trillion. In the same period, almost $2 trillion in net new ETF shares were issued, with a record $284 billion in 2016 alone. Since ETFs were invented, emerging from the Black Monday scare of 1987, the product has become a $3 trillion global industry.
GraniteShares hopes to set itself apart from industry titans such as Vanguard and Blackrock's iShares - where Rhind was once Principal - by leveraging a lean operation to undercut its competitors' fees, as well as by bringing products to market that others are not offering.
Harris said the "oligopoly" of the ETF market was a good investment environment. 
"We like that it's a pretty concentrated oligopoly," he said. "There's nearly always room for innovation when you have that kind of competitive oligopoly."
Rhind said the company is taking its cues from companies such as Apple Inc. AAPL, Amazon.com, Inc. AMZN, and Alphabet Inc's Google GOOGL. Asked about other sources of inspiration, he pointed to a popular business podcast, The Tim Ferriss Show, in which the host conducts longform interviews of entrepreneurs and other leaders. 
Rhind said one of the most important lessons he has learned is that the product is important - but the experience the customer has is more important.
"Being able to delight your customer base is very unusual," he said. "But if we can do that, and create our own tribe of investors who really want to engage with us, and speak to our way of thinking about the world, then that's a powerful thing."
The company secured $3.5 million in seed funding last summer, in a deal led by Bain and joined by Clocktower Ventures and LG Capital.
GraniteShares plans to expand, with a goal of seven to 10 ETFs and up to 12 employees. Harris said, for the company's next funds, the company will be looking to expand beyond commodities. He said the company would look for areas with a lot of activity but no clear leader. Though no date has been set for launch, the company has filed paperwork with the SEC to begin operating an ETF based on an index of master limited partnerships, a structure common to midstream energy companies.
A series-A round is tentatively set for the end of the year. 
Visit here for the latest business headlines.