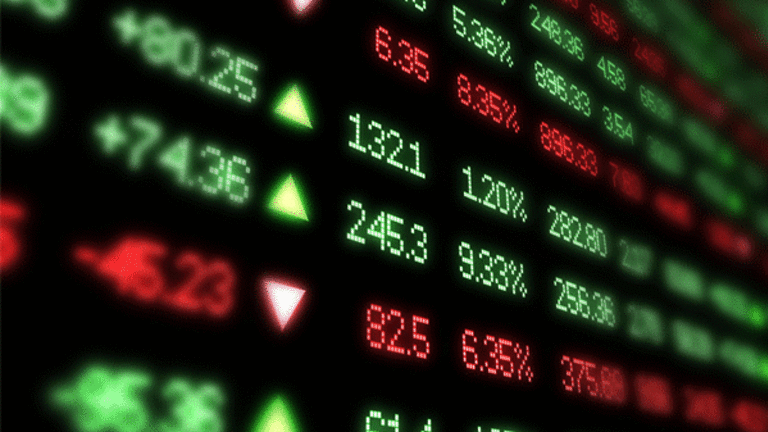 The Rise of ETFs and Stock Market Correlation
As ETFs have grown more popular, stocks have been trading in the same direction.
NEW YORK (TheStreet) -- The U.S. market has experienced increased correlation among stocks, which could have serious implications for investors trying to maintain diversified portfolios.
Some experts blame greater market-driving events and the overall state of the economy as reasons for stocks moving more in lockstep. However, an alternative explanation could be the increase in index-based products such as exchange-traded funds.
Index-based products such as ETFs have opened a new area of arbitrage because investors can profit from the price difference between the ETF and its underlying securities.
When engaging in arbitrage, investors are buying up or selling large baskets of securities at the same time and causing them to move together.
For example, if the
S&P 500 ETF
(SPY) - Get SPDR S&P 500 ETF Trust Report
is selling at a premium, an arbitrageur could buy up the components of the
S&P 500
and exchange them for ETF shares. However, this transaction would seem to move the components of the S&P 500 in the same direction, increasing their correlation.
Since 2007, trading volume of the 10 most actively traded ETFs has been highly correlated to correlations among stocks measured by the
CBOE implied correlation index
.
Periods of increased correlation has been preceded by spikes in ETF trading volume, while periods of low trading volume lead to low correlation among stocks, according to data from
Barron's
and the Chicago Board Options Exchange.
Goldman Sachs
found that ETFs have increased correlations among stocks, but have not affected all stocks equally. Only small-cap stocks whose trading volume are driven largely by ETF trading have seen a substantial increase in correlations among the stocks in the ETF. Goldman estimated that 26 companies from the
Russell 2000
get at least 20% of their average trading volume from ETFs, and as a result have much higher correlations with each other (80% to 90%).
Although some experts argue that stock correlations depend more on macro events and the state of the overall market, Goldman found that correlations among stocks have continued to increase past their 2008-2009 levels. Sectors have also become correlated with each other, up to 70 percent.
1
However, David Abner, WisdomTree's head of capital markets, attributes increased correlation to macro events and changes in how people invest.
"Investors have changed from being single stock investors to investing in baskets," says Abner. ETFs alone have not caused more correlation among stocks, but the type of investing ETFs represent may have caused stocks to move together.
Abner also says that "correlations rise during periods of market turmoil" but eventually correlations will decrease again. The United States has seen high levels of correlation among stocks in the past that are mainly due to macro effects and not one individual security.
In a 2011
,
Credit Suisse
found that "rather than ETFs causing high correlation, it's high correlation that has helped ETFs grow into popularity." Believing that ETFs lead to higher stock correlation is just a problem of correlation versus causation, according to Credit Suisse. ETFs do not control a large enough portion of the market to have any significant effect on correlation compared to other investment tools. Passive indexing only accounts for 15% of the market and US equity futures trade more than twice as much as ETFs.
Macro strategies, such as ETF trading, perform better during periods of high correlation, according to Credit Suisse. So ETF trading would naturally increase when stocks move together during market downturns.
Although correlation has closely followed ETF trading, this relationship may simply be due to investors' preferences for index-based securities in periods of market downturns and high stock correlation.
-- Written by Caitlyn Grudzinski in New York
ETFs Investigated
:
|
|
1. Goldman Sachs, "ETFs for the Single Stock Manager: Correlations, Myths & Realities", January 6, 2012