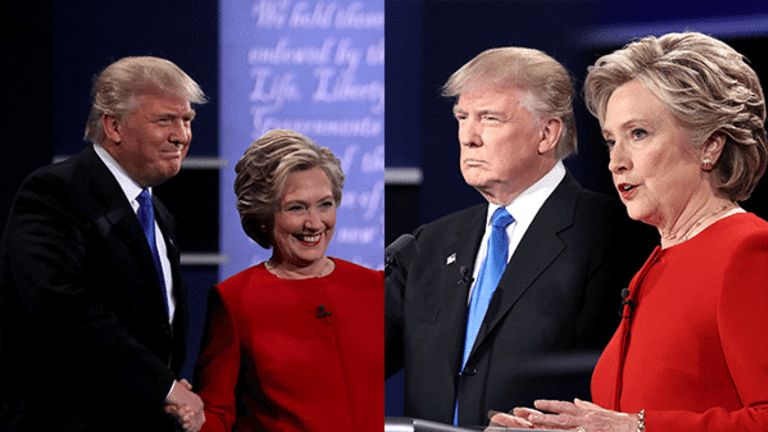 The Presidential Candidates and the Right ETFs to Buy
Talk about starkly different positions. That translates into ETFs likely to prosper under one candid, falter under the other.
You could not ask for more starkly different world and economic views than those of Hillary Clinton and Donald Trump, and for investors, a take-away is that very probably the different candidates will bring prosperity to different industrial sectors. In a Trump presidency some ETFs will soar, and others likely will falter. Ditto for a Clinton presidency. And - in most cases - there are big differences between the candidates and the favored ETFs.
You know which candidate you believe will win. Pick ETFs accordingly.
Like what? ETF experts are ready with suggestions.
Sylvia Jablonski of Direxion, where she is an institutional ETF strategist, said that a Trump win "is a volatility play." That's because, she says, "it can be hard to understand his policies" - at least some of which are murky and, for an investor, that means uncertainty. So Jablonski said, if you believe Trump will win look for ETFs that reward volatility.
She also suggested ETFs that focus on big financial institutions because, she said, Trump is likely to want deregulation of big banks.
K.C. Ma, chair of applied investments at Stetson University, said - because Trump has said he would repeal the Affordable Care Act (Obamacare) - any ETF built around stocks that have prospered under ACA should be avoided.
Vic Patel, founder of Forex Training Group, said that in the event of a Trump victory, he sees vigorous defense spending and ETFs that focus on companies in the space likely will prosper. "Defense and aerospace stocks will see a price surge," said Patel.
Robert Johnson, president of the American College of Financial Services, said similar: "If Trump is elected, there is likely going to be more military spending," he said. Options there include iShares U.S. Aerospace & Defense ETF (ITA) , PowerShares Aerospace & Defense Portfolio ETF (PPA) and SPDR S&P Aerospace & Defense ETF (XAR) .
What about if Clinton prevails? Johnson said "if Clinton wins, clean energy ETFs should perform well as she has clearly indicated her affinity for solar and other alternative energy sources in her campaign." Options include PowerShares WilderHill Clean Energy Portfolio ETF (PBW) , VanEck Vectors Global Alternative Energy ETF (GEX) and iShares Global Clean Energy ETF (ICLN) .
Trump, by the way, has shown no real enthusiasm for alternative energy sources so this is very much a play where one candidate will bring prosperity, the other won't.
Johnson added that in a Clinton win "the health care sector would likely do well as she supports the continuation of the Affordable Care Act." Again, Trump's position is the polar opposite, so health-related ETFs that would prosper under him probably will falter under Clinton and vice-versa.
Jablonski said that with a Clinton win, very probably big banks would fall under more, not less, regulation - another stark difference from Trump's likely outcomes. She also said to look for ETFs that favored small and regional banks -- like SPDR S&P Regional Banking ETF (KRE) and iShares U.S. Regional Banks ETF (IAT)  -- because, she said, they probably will prosper in a Clinton presidency
Jablonski also said that a Clinton presidency probably would be bad news for big pharma - and ETFs that are built around a bear outlook on pharma are worth a look.
Exactly what else are investors looking for in ETFs today? Jablonski said that what she sees in clients is simple: "They are looking for portfolio protection." That is, no matter who is elected president - and regardless what legislation comes down the pike in the first 100 days - investors are looking to construct ETF portfolios that ought to do well. And that is not necessarily easy given how widely different the candidates are.
There are some places where the candidates agree however.
Brock Moseley, founder of Los Angeles-based Miracle Mile Advisors, said that he believed that no matter which candidate prevails, ETFs focused on infrastructure and specifically construction should prosper. He explained: "Both candidates have talked about improving infrastructure including, roads, bridges, tunnels etc. The infrastructure in the US is badly in need of major improvements."
As for another investment that looks good regardless of the electoral outcome, Maxwell Gold, director of investment strategies at ETF Securities, said that he believes precious metals, particularly gold and silver, ETFs ought to prosper no matter who wins and, he said, he is seeing "a resurgence of interest in metals."
Bottomline: For those who see uncertainty ahead, precious metals ETFs might be the ticket.
For those who feel confident predicting the November result, very probably ETFs can be found that will do well under one candidate or the other - and because they have such different world views, there won't be a lot in common. That puts pressure on investors but the reward for those who guess right just may be robust returns.