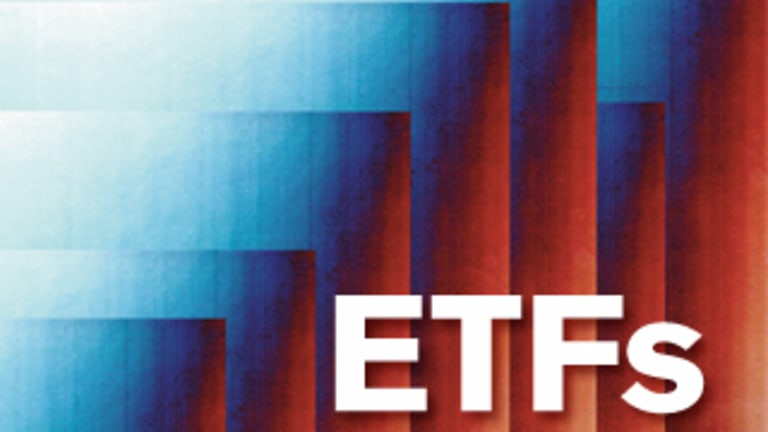 The Perfect Portfolio Does Not Exist
But investors can use ETFs to create a well diversified portfolio that is simple to manage.
NEW YORK (TheStreet) -- Investors of all experience levels are interested in a Holy Grail portfolio that needs no attention, succeeds in most market environments and grows to be sufficient for retirement. To that point, last week I wrote about a risk parity-lite portfolio and over the weekend the Wall Street Journal had an article titled In Search of the Perfect Portfolio.
The reality is there is no ideal portfolio, no simple portfolio that will grow to the sky with no work required. However portfolios can be constructed that are simple, rules based and that won't turn into a full time job to maintain.
Where simple is a primary objective, investors can consider broad based index funds. Even with broad based funds investors can make things very complicated by using large, mid and small cap funds. They sometimes further slice the exposure into growth and value. One theme that gained a lot of traction in 2013 was so called smart beta which weights an index by some sort of factor like low volatility, revenue or several other fundamental factors.
There is little to no need to own more than one or two domestic broad based funds. The other day we looked at the iShares Russell 2000 Value Fund (IWN) - Get iShares Russell 2000 Value ETF Report. Small cap value has a tendency to outperform large cap over long periods of time due in part to being slightly more volatile but it correlates very closely to large cap. ETFReplay.com reports that IWN has a 0.88 correlation to the SPDR S&P 500 (SPY) - Get S&P 500 ETF TRUST ETF Report.
The iShares S&P 400 Mid Cap Growth Fund (IJK) - Get iShares S&P Mid-Cap 400 Growth ETF Report has a 0.92 correlation to SPY and a 0.91 correlation to IWN. The correlations are also high when looking at most of the smart beta ETFs too. Any of these funds might outperform for a short or long period of time but there is not much extra diversification benefit to owning six domestic funds that all have close to 0.90 correlations with each other.
Whatever you choose, know there will be times where that fund does relatively poorly. This year low volatility funds have lagged far behind SPY and IWN. The next time there is a bear market SPY and IWN will lag far behind the low volatility funds.
There can be diversification benefit from adding certain foreign funds. For example the iShares Frontier 100 ETF (FM) - Get iShares MSCI Frontier and Select EM ETF Report which is a proxy for developing market exposure only has a 0.41 correlation to IWN. For developed market exposure the PowerShares DWA Developed Market Momentum Portfolio (PIZ) - Get Invesco DWA Developed Markets Momentum ETF Report has a 0.66 correlation to IWN and a 0.40 correlation to FM. PIZ targets similar exposure as the iShares MSCI EAFE ETF (EFA) - Get iShares MSCI EAFE ETF Report but by employing the momentum factor it looks much different at the country and sector levels than EFA.
Broad based funds like the ones above chosen with an eye toward real diversification can serve as a simple core portfolio. A portfolio that includes foreign exposure like an IWN/FM/PIZ combo regardless of the weightings would have lagged behind SPY in 2013 because U.S. markets have done so well this year. IWN and PIZ performed in line with SPY but FM lagged behind. During years that foreign outperforms domestic, like most of the last decade, then a portfolio with foreign exposure will of course outperform a domestic only portfolio.
The above is not to imply that a broad based fund can be bought blindly. For example, low volatility funds are a valid way to gain broad market exposure but like any fund they have periods where they will lag, like this year as mentioned above. The PowerShares S&P 500 Low Volatility Portfolio (SPLV) - Get Invesco S&P 500 Low Volatility ETF Report which is up 19% this year compared to a 29% gain for SPY.
The next time SPY is up 25 or 30% SPLV will likely lag again but the fundas constituency reveals a risk not found in most other low volatility funds. SPLV simply owns the 100 stocks from the S&P 500 with the lowest volatility. Currently the utilities sector has a 23% weighting in the fund and although that is down from 31% that is still a large enough exposure to hurt the fund if interest rates rise. Historically utilities do poorly when rates rise.
Finally there is no reason that a simple portfolio canat have a tactical overlay. One example could be some sort of defensive action when an uptrend appears to be rolling over into a downtrend. A breach of the 200 day moving average is a warning that an uptrend is ending although it is not an infallible indicator. There will be false positives but on the way to a huge decline a fund will cross through its 200 day moving average. According to StockCharts.com IWN's 200 day moving average is $89 about 10% below the current price of the fund. During the last bear market IWN went down 61%.
A rules based defensive strategy is not indexing as Jack Bogle would advocate but there is no rule that says investors have to ride bear markets all the way down.
At the time of publication the author held no positions in any of the stocks mentioned.
This article represents the opinion of a contributor and not necessarily that of TheStreet or its editorial staff.