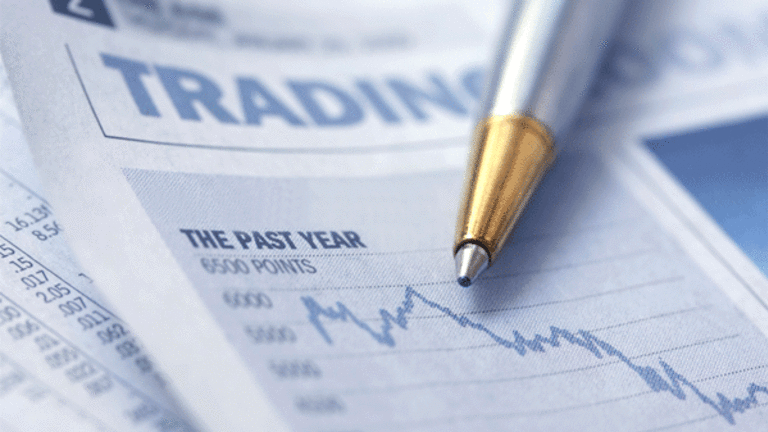 The Mr. X Files
Mr. X has Dion worried that there are many investors who think there's an easy way to make money quickly.
Mr. X has Dion worried that there are many investors who think there's an easy way to make money quickly.
Editor's note: This post appeared June 4 on
RealMoney
.
for a free trial, and enjoy incisive commentary all day, every day.
As I was putting together data for my blog on the
SPDR Gold Shares ETF
(GLD) - Get Report
earlier, a truly disturbing portfolio crossed my desk and commanded my attention. I had just started to feel confident that all of the information out there, warning investors about leveraged ETFs, was beginning to sink in. I guess I was wrong.
In an effort to promote investor education and portfolio diversification, my firm offers complimentary asset-management reviews. This has been a great way for me to get a feel for how investors are thinking and what the latest trends are in investing. Sometimes, I see some pretty strange things.
Today I reviewed the portfolio of an older gentleman, who I will call "Mr. X." He owns
exclusively
leveraged ETFs in an account that he hopes to use to generate income. I imagine most investors subscribed to
RealMoney
are already feeling woozy at the mere thought.
Like many investors, Mr. X reached retirement and took over the reins of his portfolio to keep busy. During the 2008 meltdown, Mr. X was slow to believe in the bear market and ended up hemorrhaging savings. Also slow to react to the economic recovery, Mr. X has now poured funds into leveraged ETFs in an attempt to make up quickly for lost time.
This is the wrong way to approach the leveraged ETF industry -- or any type of investing, for that matter. Leveraged ETFs, like
Direxion's Daily Financial Bull 3X
(FAS) - Get Report
, or the
ProShares UltraShort S&P 500 ETF
(SDS) - Get Report
are designed for sophisticated investors making short-term trades. In some portfolio strategies, they have been very effective. Unfortunately, many investors, like Mr. X, use leveraged ETFs to gamble on market movement, hoping to double or triple returns.
As
RealMoney
investors know, most leveraged ETFs have daily tracking strategies, so compounding error can cause serious portfolio damage over time, especially in volatile markets. Frustrated that funds like
Direxion Daily Small Cap Bear
(TZA) - Get Report
didn't appear to be tracking their objectives over longer periods, Mr. X finally realized that things were getting out of hand.
I'm sure that many of you know investors like Mr. X, or know of people who have felt "duped" by complex investments they don't understand. I'm here to tell you that ETF products will become even more complex, not less, and that doubling down on market movements isn't the only way to make money at a decent pace.
Owning five different leveraged ETF funds certainly doesn't make your portfolio diversified, safe or well balanced. The best way to build a portfolio is by starting at the core, with equity funds like the
SPDR S&P 500 ETF
(SPY) - Get Report
, long-term commodity holdings like GLD, fixed-income funds like
iShares Barclays TIPs
(TIP) - Get Report
and income-generating picks like the
iShares Dow Jones Select Dividend ETF
(DVY) - Get Report
.
Then, if you're looking to target specific market themes, pick highly liquid sector or theme-specific funds. By picking funds with
high trading volume, you'll make it easier to enter and exit positions and to own funds that closely track their objectives.
Themes I've recently been tracking in my
ETF Action portfolio include gold miners, internet investing and high-yield bonds. By using liquid funds like
Market Vectors Gold Miners
(GDX) - Get Report
, the
First Trust Dow Jones Internet Index ETF
(FDN) - Get Report
and the
iShares iBoxx High Yield ETF
(HYG) - Get Report
you can make very specific investments without having to stock pick.
Mr. X has me very worried that there are still many investors out there who think that there's an easy way out. There isn't. While some people get incredibly lucky, well rounded portfolios and cool heads prevail.
The modern marketplace pits expert traders and market makers at firms like
Goldman Sachs
(GS) - Get Report
against everyday investors trying to get by. While some leveraged ETFs are appropriate in the context of some trading strategies, you're better off sticking with a good mix of traditionally indexed, liquid ETFs.
Don't get caught in the Mr. X trap. If a strategy seems too good to be true, it probably is.
At the time of publication, Dion Money Management was long TIP, DVY, GDX, FDN and HYG.
A special note from Don: Put simply, I want to help you profit from ETFs.
You don't have to be an expert trader -- there are potential profits for investors at every level. And I think there's no better way to jump into the world of ETFs than through my brand-new service,
TheStreet ETF Action by Don Dion
.
Membership is limited, so click here to get in on the action!
At the time of publication, Dion Money Management was long TIP, DVY, GDX, FDN and HYG.
Don Dion is president and founder of
, a fee-based investment advisory firm to affluent individuals, families and nonprofit organizations, where he is responsible for setting investment policy, creating custom portfolios and overseeing the performance of client accounts. Founded in 1996 and based in Williamstown, Mass., Dion Money Management manages assets for clients in 49 states and 11 countries. Dion is a licensed attorney in Massachusetts and Maine and has more than 25 years' experience working in the financial markets, having founded and run two publicly traded companies before establishing Dion Money Management.
Dion also is publisher of the Fidelity Independent Adviser family of newsletters, which provides to a broad range of investors his commentary on the financial markets, with a specific emphasis on mutual funds and exchange-traded funds. With more than 100,000 subscribers in the U.S. and 29 other countries, Fidelity Independent Adviser publishes six monthly newsletters and three weekly newsletters. Its flagship publication, Fidelity Independent Adviser, has been published monthly for 11 years and reaches 40,000 subscribers.