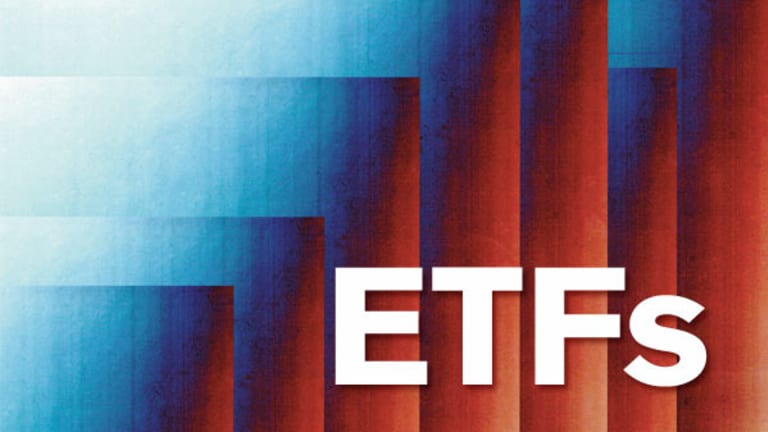 The ETF No One Is Talking About, Including Its Issuer
Smaller fund companies success hinders on communication with fund holders.
NEW YORK (TheStreet) -- One long time strategy utilized by professional investors is sector rotation which is built on the premise that at certain points in the stock market an economic cycles some sectors are better to hold and some are better to avoid. For example, industrial stocks tend to outperform in a bull market, staples hold up better in a market downturn and utilities will struggle in a rising rate environment.
The Huntington US Equity Rotation Strategy ETF (HUSE) - Get Strategy Shares US Market Rotation Strategy ETF Report offers investors access to the strategy in an actively managed fund.
HUSE benchmarks 70% of its assets to the S&P 1500 index which is a total market index tracked by the iShares Core S&P Total US Market ETF (ITOT) - Get iShares Core S&P Total U.S. Stock Market ETF Report. HUSE will overweight and underweight the various sectors based on a top down assessment of the current market environment. The other 30% of the fund will be devoted to a more meaningful overweight positions in the managers' two favorite sectors which as of its most recent report are health care and technology.
Each sector within the fund will be populated with 'high quality' companies that the managers believe are likely to outperform based on their bottom up analysis that considers management track record, balance sheet management and favorable growth trends.
As of its most recent reporting, HUSE was overweight health care and technology as noted above but was underweight every other sector of the S&P 1500.
The decision to be overweight tech and health care is curious because those two sectors tend to have a low correlation. According to ETF Replay the Healthcare Select Sector SPDR (XLV) - Get Health Care Select Sector SPDR Fund Report and the Technology Select Sector SPDR (XLK) - Get Technology Select Sector SPDR Fund Report have a 0.52 correlation with each other which is low. Where the sectors tend to trade differently HUSE appears to be relying more on stock picking than sector selection.
The reason those two sectors tend to have a low correlation is because of the nature of demand for their products. Buying or upgrading technology equipment tends to be cyclical but someone afflicted with diabetes will always take their insulin regardless of what is happening in the economy.
HUSE's performance has been solid. Over the last year it was up 27.8% compared to 25.5% for ITOT according to Google Finance.
To date the fund has attracted $14 million in assets which is low for an ETF and while the performance tells a good story, fund manager Huntington makes it difficult for investors to own the fund. Where HUSE is an actively managed fund, HUSE investors are paying for the managers' opinions, methodology and skill.
Opinions, methodology and skill are typically conveyed by providing timely commentary and portfolio transparency but that has not been the case with HUSE. The fund started trading in August 2012 but there appears to have been no manager commentary from HUSE, the most recent item on the press release and announcement tab of the company website is dated Sept. 7, 2012, and the most recent fact sheet is dated third quarter, 2013.
The most surprising piece of information not found is the current sector makeup of the fund. HUSE is a sector rotation fund, the sector makeup is arguably the most important information that Huntington could provide to its fund holders.
Going forward it will be difficult for HUSE to gain much traction despite very good performance without meaningful improvement of its communication with investors.
At the time of publication the author held no positions in any of the stocks mentioned.
This article represents the opinion of a contributor and not necessarily that of TheStreet or its editorial staff.